Access Common Folders From Gnome Panel In Unity With Indicator Places
One of the biggest grievance of Ubuntu users with Canonical has recently been the emphasis on scrapping the classic Start menu. While one can acquire the classic start menu by installing Gnome Shell or ClassicMenu Indicator, some may prefer the classic menu to simply access common folders from the Gnome Panel. Indicator Places is an app-indicator menu applet that provides access to Ubuntu "Places", including the Home Folder, "Computer", "Network", Documents, Pictures, Videos and Downloads Directories.
Indicator Places is available as a ZIP and GZ package on Github. It can be launched by simply downloading and extracting the compressed archive, and running the indicator-places.py file. When you execute this file, an option will appear, asking you to execute it or display it's content. Click Run to start Indicator Places.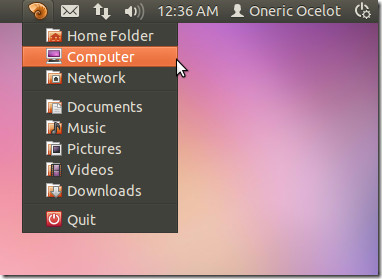 One thing you might find a little annoying about Indicator Places is that, you cannot drag it across the Gnome Panel and, therefore, if you are used to accessing "Places" from the left corner of your screen, this will not be possible. It might be something that will take a little getting used to, especially for users who just switched to Unity and wish to use Places from the Gnome Panel.