Conky – A Light-Weight System Monitor Tool For Ubuntu Linux
Ubuntu offers you a default utility called System Monitor to monitor your system's performance, no doubt it is a great tool but it also consumes a lot of your system's resources. If you are looking for a light-weight utility to monitor your Ubuntu system then you should try out Conky. It is a free, cross-platform, and highly customizable system monitoring tool which lets you monitor the important factors like CPU, disk usage, swap space, processes, network interface, etc. Lets see how we can install and use it in Ubuntu.
To install it, open the terminal and run the following command:
sudo apt-get install conky
It takes less than couple of minutes to install. Once the installation is complete, you can launch it from Applications > System Tools > Conky. If you are unable to find it there, press ALT+F2 and enter /usr/bin/conky in the Run Application box and click Run.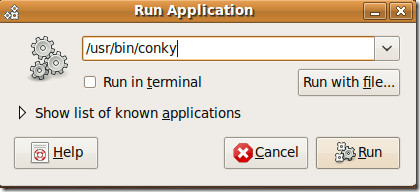 You will be able to monitor almost all the important aspects of your system performance from within a single window.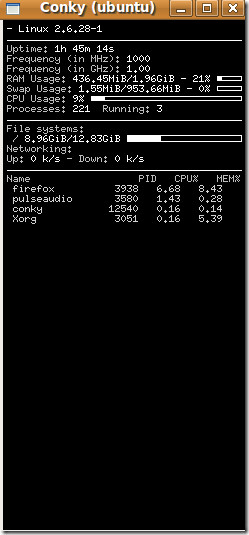 As mentioned in the introductory paragraph that it is a customizable tool, you can customize its various option by editing its configuration file (.conkyrc) in your favorite text editor. Be careful while editing this file, any mistake can corrupt its installation. Enjoy!