FAUmachine – VMware Style Free Virtual Machine For Linux
Many people who have used virtualization to replicate physical machine state know the advantages of a virtual machine. For example, we earlier showed you How to install Windows Server 2008 R2 on VMware. FAUmachine is a virtual machine like VMware and Virtual PC for Linux based operating system like Ubuntu. Some of its main features include fault injection capability for experimentation, VHDL interpreter for automating experiments and tests, replicate state for a real x86/x86_64 CPU, IDE and SCSI controllers, NE2000- and Intel eepro100 network interface adapters, a Sound Blaster 16 sound card, a generic VGA and a Cirrus GD5446 graphics adapter and a 24 and a 48 pin direct-I/O PCI-card.
It contains peripherals, such as, networking hubs and routers, serial terminals, modems, USB-to-Serial adapters, etc. FAUmachine can emulate a PC, as well as a power switcher, monitor and power supply. Unlike the widely used VMware and Virtual PC, FAUmachine can be configured for a memory module which is connected to a PCI-slot. It can also connect to a Local Area Network (LAN) and has the ability to take screenshots of the simulated monitor. It comes with options to record  a screencast of the virtual machine during simulation, which can be re-coded to OGG and Theora formats.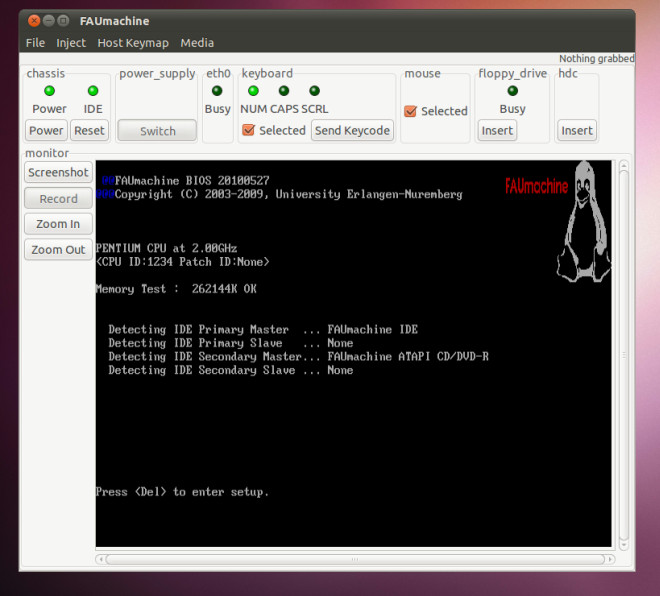 It should be noted that FAUMachine is still under heavy development and some features may be lack luster as compared to some other virtualization software of its kind. Nonetheless, FAUmachine should be a welcome sign for Linux users who require emulating physical machine states, particularly of PC hardware.