Get In Depth Weather Information In Ubuntu With My Weather Indicator
Just recently, we reviewed Forecaster, which is a Windows application for obtaining weather information from the system tray. My Weather Indicator is a similar tool for Ubuntu, which displays in depth weather information of any selected city, including, current temperature, dew point, wind details, sunrise and sunset time, four day weather forecast and periodic prompts for weather condition changes.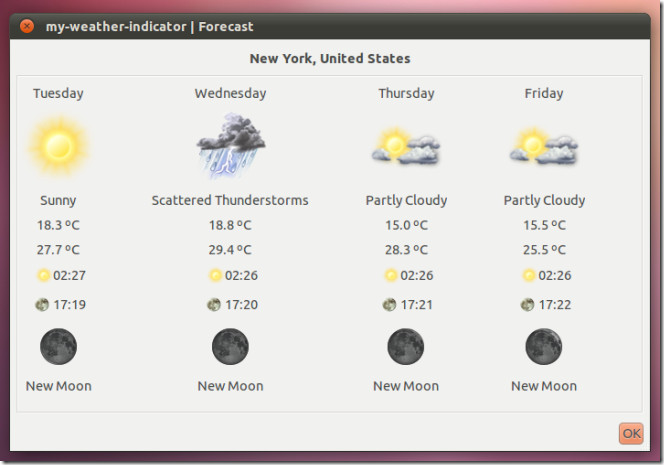 You can install My Weather indicator by entering the following PPA in software sources from Ubuntu Software Center-> Edit (from the Gnome Panel)-> Software Sources.
ppa:atareao/atareao
Alternatively, open a Terminal window and enter the below commands:
sudo add-apt-repository ppa:atareao/atareao && sudo apt-get update

sudo apt-get install my-weather-indicator
When done, open My Weather Indicator from Applications menu, click Search Location, enter your city and country's name. You can also enter the longitude and latitude for your location, but that might not be convenient for most people.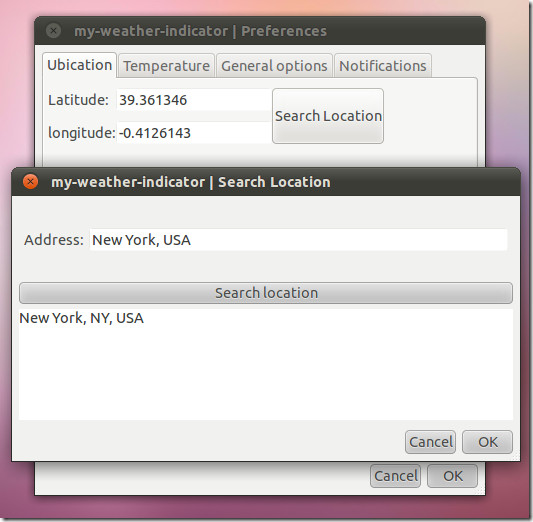 From the Temperature tab, select a weather format to get updates in. The General Options tab can be used to enable auto start for My Weather Indicator and to select a time for fetching updates (e.g. 5 mins, 10 mins, 15 mins, etc).
The Notifications tab allows settings the desired weather details for getting periodic notifications, such as, temperature change, humidity, wind conditions and general weather changes.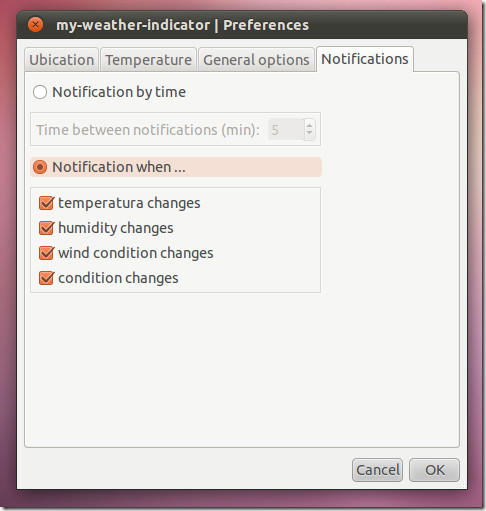 After the configurations are complete, you can get the weather details from the system tray and in pop-up notifications according to your selected time frame.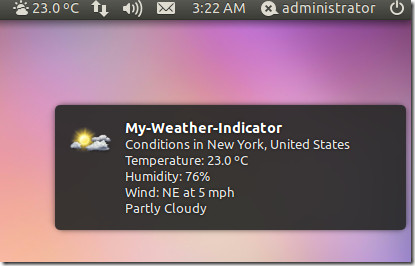 The system tray icon continuously displays the current temperature with a relevant icon displaying dominant weather conditions (such as a cloud or a sun). Clicking on this icon gives further details, including, the sunset, sunrise time, four day weather forecast (as shown in the first screenshot above), humidity, etc. To manually refresh weather details, click Refresh Weather.