Get Ubuntu 12.04 Scrollbar In Ubuntu 11.10 Oneiric Ocelot
The development on Ubuntu 12.04 Precise Pangolin is fast-tracking ahead, and perhaps one of the most discussed features among Ubuntu users regarding Precise Pangolin, is it's scrollbar. The opinion of the overlay scrollbar has always had a mixed reaction. While some seem to like it, others simply can't stand it. If you are a fan of the overlay scrollbar, then you might be interested in updating your Oneiric scrollbar to the Pangolin one, which is available for OS version 11.10 with all new improvements.
The new overlay scrollbar has come with improved thumb appearance, extension of the proximity area to cover the entire window edge, new thumb positioning in accordance to the mouse pointer and bar position. The thumb is now more freely movable, jumping is now triggered using middle-click or via Shift + Button1. The below image displays a comparison of both scrollbars, with the left screenshot displaying the old scrollbar, whereas the right screenshot displays the updated (Ubuntu 12.04) scrollbar.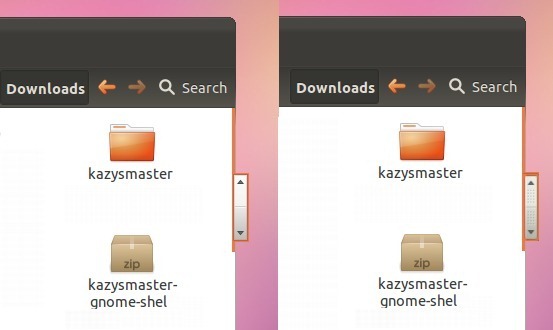 To install the new overlay scrollbar, simply add the following PPA to software sources, and update it.
ppa:ayatana-scrollbar-team/release
Since Precise Pangolin is still undergoing heavy development, it is likely that we will see more updates to the overlay scrollbar in the near future.