Gnome Activity Journal Keeps Log Of All Activities, Opened Files And Folders In Ubuntu Linux
GNOME Activity Journal (formerly known as GNOME Zeitgeist) is Linux based application which is designed to easily find files from your local locations. It keeps a chronological journal, containing all the logs from user activity. These logs can be revisited anytime in order to find the exact location of files. For example, let say, you download a video from YouTube which is saved to a directory that you are having problem finding. Instead of downloading the file again or searching your system endlessly, you can simply open the Gnome Activity Journal and open the file from your log history by double-clicking the file name.  Moreover, it saves visited website history, messenger conversation history, email records and much more.
After installing it in Ubuntu, you will find it residing in Accessories menu.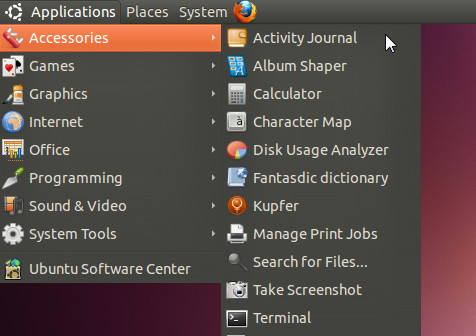 It categorizes logs of your opened files and folders in a chronological order. You can switch between different dates to see which files have been accessed. To open the file, just double-click the file name to launch it from the original location. A graph below every date also specifies the level of activity on a specific date. Gnome Activity Journal provides three kinds of options for viewing the log, these include a regular view, a thumbnail view and a list view.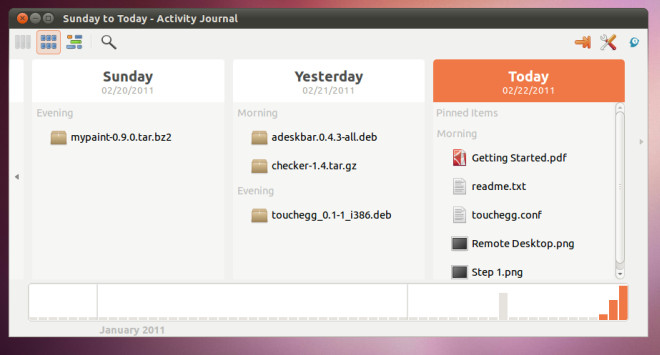 Logs can be viewed in Thumbnail by clicking on the appropriate button (second button to the left) from the main interface. Any item can be removed, pinned, opened and moved from the log via right-click context menu.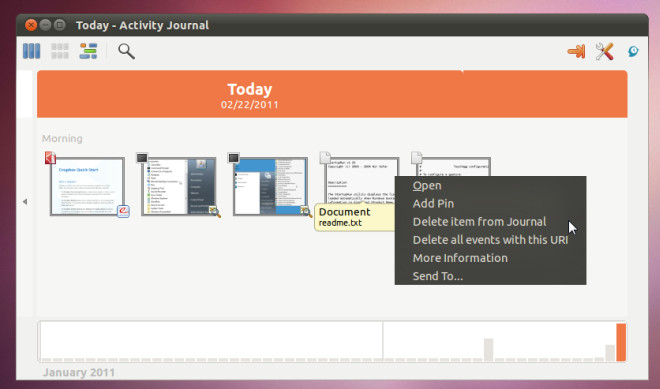 Similarly the List button allows viewing the logs in List form. It also contains a search bar that can be activated by clicking on the magnifying glass icon. This search bar works with all three of the viewing formats. A file or folder can be searched by either typing a search criteria or choosing an option to extract information, e.g. all activities, audio files (Worked With Audio option), video files (Worked With Video option), messenger conversations (Conversations option), etc.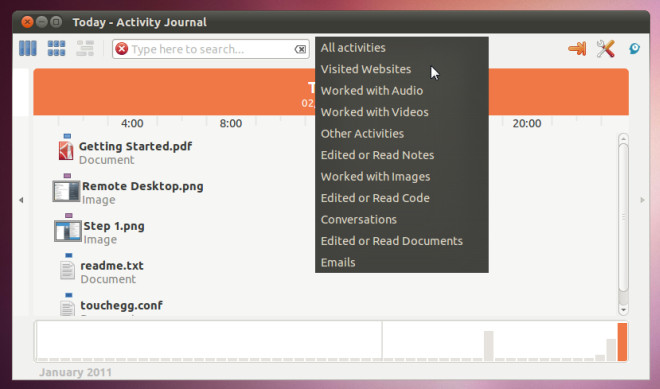 There are some minor plugins that can be enabled to blacklist and whitelist items in the log. These plugins can be accessed and enabled from the Settings.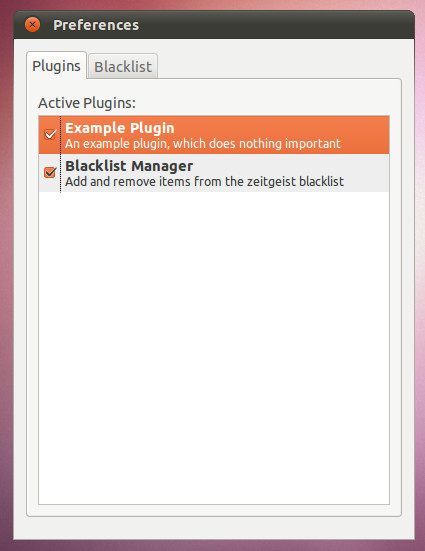 Gnome Activity Journal is a good way of finding files, folder, visited URLs, retrieving messenger conversations, etc. However, users who might be worried about protecting their privacy might not find it very useful, particularly those who use shared computers. Now we need something similar for Windows.
Download Gnome Activity Journal