Gwibber Unity Lens Allows Sorting Gwibber Updates From the Dash
Gwibber is a micro blogging client for the GNOME desktop for keeping tab on your Facebook and Twitter accounts within a single interface and getting on-screen bubble messages for account updates. It is the default micro blogging client for Ubuntu and is widely used by Linux users. One thing that Unity has brought other than frequent Launcher updates from multiple software are new Lens. There have been a number of separate third-party lens released for Unity such as Unity Place File Search. The Gwibber Unity Lens is another Unity Launcher lens which enables sorting messages, replies, posts, images, videos, links and private messages within Unity launcher.
For the Gwibber lens to work, you will require configuring the Gwibber client with atleast one account from a supported website, e.g. Twitter. You can install Gwibber by entering the following commands in a Terminal:
sudo add-apt-repository ppa:gwibber-team/ppa
sudo apt-get update
sudo apt-get install unity-lens-gwibber
Once installed, you can select what items to view in the lens by right clicking on the Unity launcher icon. The available options include, posts, replies, images, videos, links, private messages, public and everything for viewing information from all categories.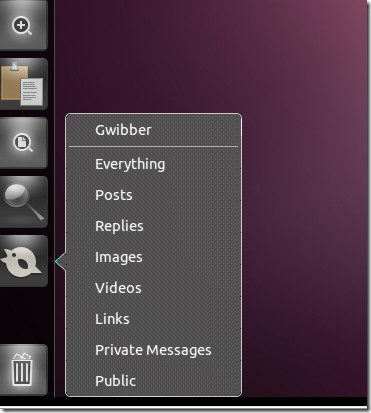 Just click on the Gwibber lens Unity icon and enter a term to start viewing updates from your configured Gwibber accounts.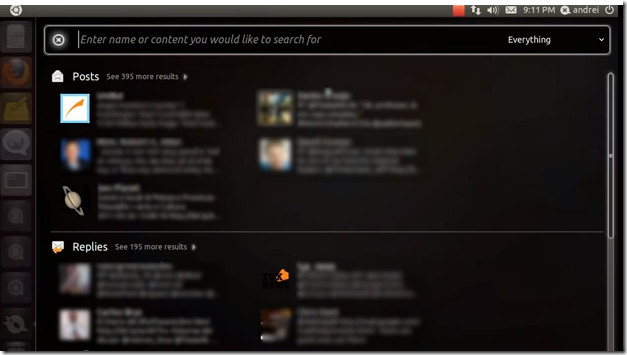 Check out video below which explains the usage in detail.
You can also download the Gwibber lens file from the Launchpad link given below.