Fedora Linux is one of the most solid Linux operating systems if you're trying to find a no-nonsense, open source workstation operating system. With it, users get a taste of the latest new software from Redhat, including features that will appear in later releases of Redhat Enterprise Linux, all for free. Trouble is, the Fedora installer can be challenging to some, leaving many who want to try it out wondering what to do. It is because of this, we've decided to make an article that goes over exactly how you can install Fedora 27.
SPOILER ALERT: Scroll down and watch the video tutorial at the end of this article.
Making The Live Disk
Installing Fedora Workstation requires making a live installation disk. This process is very easy, and works the same way on Windows, Mac and Linux. To get everything going, first go to the Fedora website, and download the latest version of Fedora Workstation.
Keep in mind, there are multiple releases of Fedora. Don't like the standard Gnome edition? Check out Fedora Spins. They're re-implementations of the latest version of Fedora, with different desktop environments. Editions include: KDE, Cinnamon, Mate, XFCE and more!
When you've downloaded your Fedora 27 ISO disk image, go download the Etcher disk imaging tool. Once downloaded, open it and follow the instructions on the website. It's a three-step process that will walk you through flashing Fedora to your USB thumb drive. If you're not using a USB tool to install Fedora, double click on the ISO file, and it'll open with the disk burner tool installed on your operating system.
Setup
Plugging in the newly created USB live disk isn't enough to get Fedora to boot. More than likely, your PC will try to load the operating system that is already on the PC. To fix this, boot to your BIOS screen. Inside this BIOS area, look for the setting to change the boot order, and set it so that the Fedora live USB stick (or DVD) boots before anything else.
Note: PCs have vastly different buttons to press to get into the BIOS. Some use DEL, while others may use ESC or F2. It's best to read your PC's manual to find out this information or check out our guide to access BIOS on your PC.
Installation
Fedora Linux uses the Anaconda installer. To be frank, it's a little more confusing and difficult than other mainstream Linux distributions. If you're new at this, or even a moderate user, you may feel lost. Be sure to follow this guide carefully for best results.
When the operating system first boots up, the Fedora Anaconda installation tool will give two options to choose from. These options are "Try Fedora" and "Install to Hard Drive". Feel free to click the try button if you're not sure that Fedora is right for you. It'll let you use a fully functional, Fedora Linux desktop without installing anything.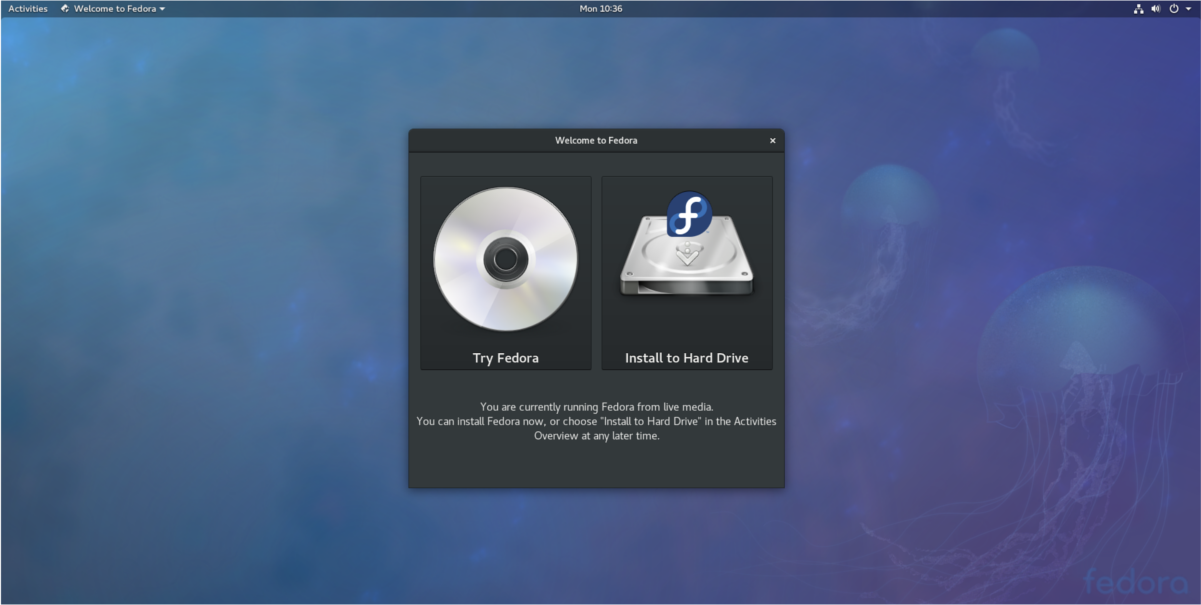 To begin the install process, click the "Install to Hard Drive" button. Select your language, and find "system". Since Fedora isn't installed yet, partitions need to be set. Click on "system" to bring up the drive chooser menu.
By default, Fedora Linux supports automatic partitioning. For most users (both beginner and power users) this option is more than sufficient. It will set up the root, the swap, boot, and everything else. To set automatic partitioning, all that is required is to find your hard drive. Look for the drive you're looking to use under "local standard disk", and click on it. When its selected, you'll see a black check mark.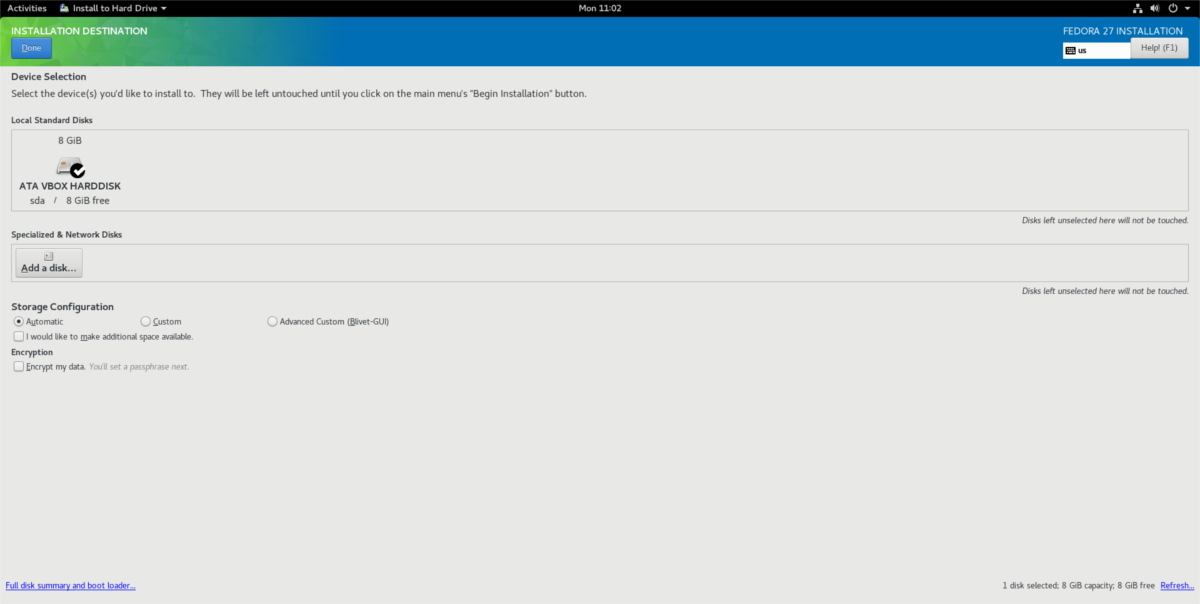 Alternatively, you can manually partition everything by checking the "custom" box instead of "automatic". Click the done button, and move back to the main install selection menu. Look for "begin installation" and click on it to start the install process.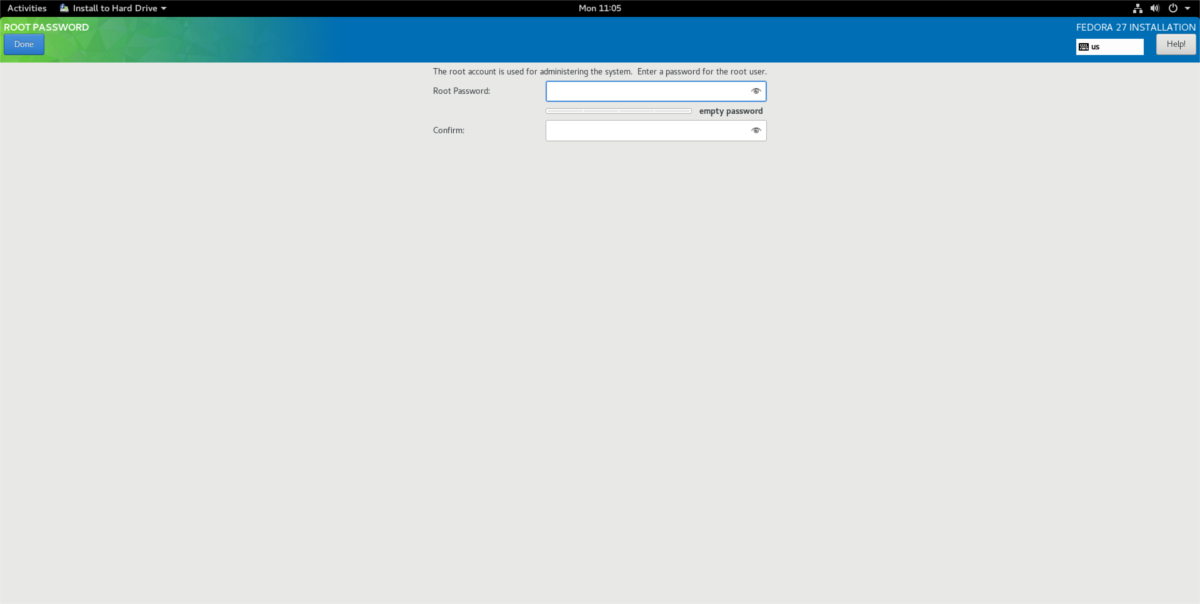 After clicking the install button, you'll be taken to the user setup page. Go through, and first select "root password". This will allow you to set up a root password for your system. After setting it, the installer will take you back to this same page to create a user.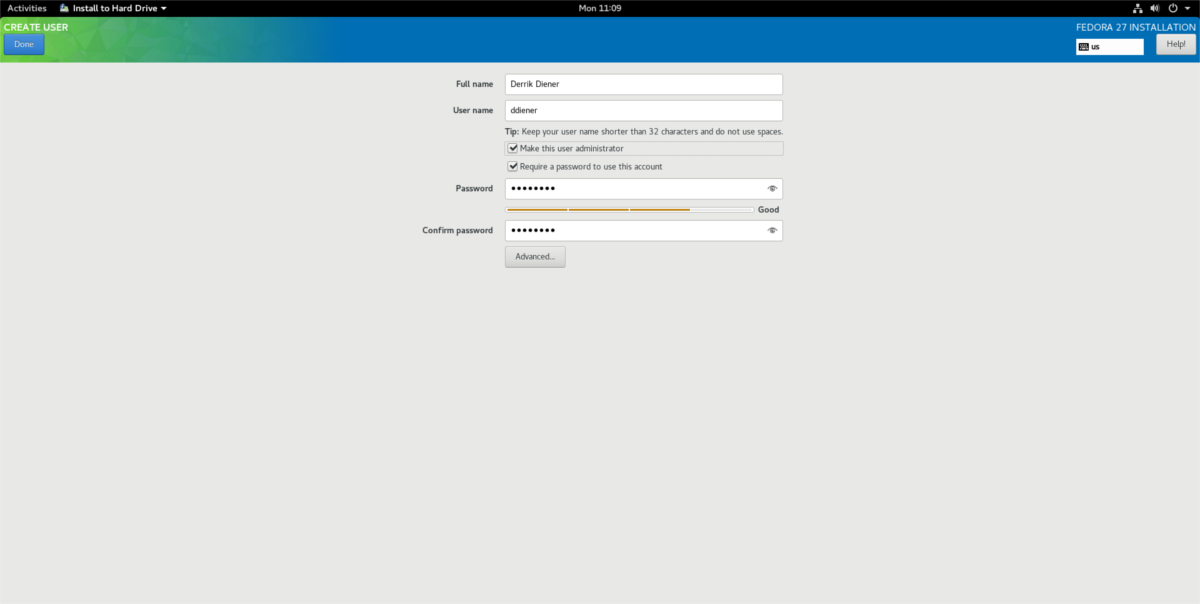 On the user creation page, fill out your full name so that Anaconda can automatically generate a username. Additionally, check the box "Make this user administrator" to ensure you have access to sudo. After filling out everything, click "done".
From here, just sit back and let Fedora finish everything up. When it is complete, you'll see a window pop up that will tell you the installation is complete!
Fedora Tips
So, you've installed Fedora 27 but you're not totally satisfied with the selection of software it offers up. This is understandable, as the default software selection only has open source software. If you're looking to get access to even more software, consider installing RPM Fusion. It's a third party software repository that regularly distributes non-free software. To get it working for Fedora 27, follow these steps:
wget https://download1.rpmfusion.org/nonfree/fedora/rpmfusion-nonfree-release-27.noarch.rpm

sudo dnf install rpmfusion-nonfree-release-27.noarch.rpm
From here, your Fedora Linux PC will have a lot more software choices available!