Track Down & Delete Large Unused Files In Ubuntu Linux
If there are some large and unused files in your system then they will obviously slow down your system performance with the passage of time. It is always recommended that you should identify and delete such type of files. The default Disk Usage analyzer tool does not provide detailed information about such files. Filelight is the most suitable tool for consolidating and deleting unused files. It uses a pie chart to show where the largest files are located and it also offers you option to delete large files with a single click.
It is basically developed for KDE desktop environment but also runs perfectly on Gnome. You can install it by running the following command in the terminal.
apt-get install filelight
If you are on Gnome desktop, then it will take some time to install, while on KDE it will be installed instantly. Once the installation is complete, you can launch it from Applications > Accessories > Filelight. It will display the consumed disk space in an attractive pie chart.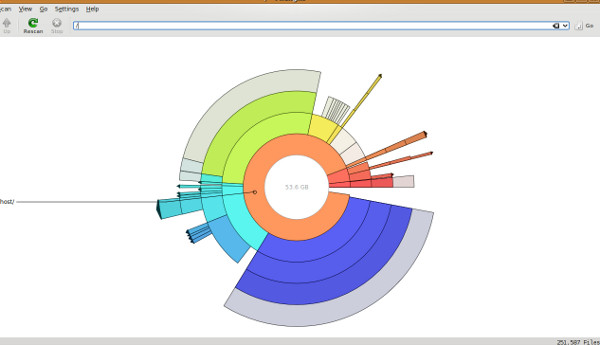 Now you can easily delete unwanted files/directories by right clicking and choosing Delete.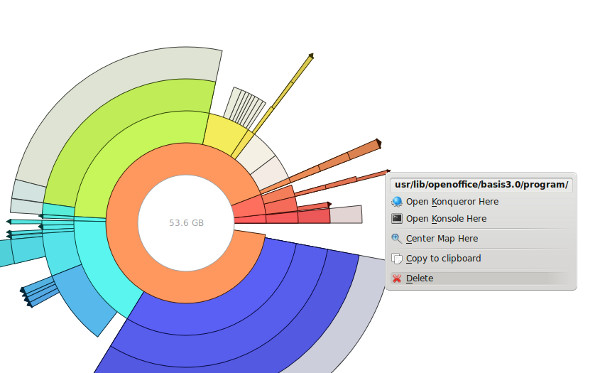 You can scan any particular directory from Scan > Scan Directory and can also scan your whole home partition by clicking Scan > Scan Home Directory. Zooming is also possible from the View > Zoom In and Zoom Out options.  As you can see from the above screenshot, it gives various other options to enhance the disk cleaning pricess, such as, open program, open console, center the map here, and copy to clipboard option. Enjoy!