Inkscape Vector Graphics Editor Now Supports Multipath Node Editing, Airbrush, And Much More
Inkscape Vector Graphics Editor is a graphics editing tool with dynamic and intensive scalability options. It has many features similar to famous vector graphic editing software such as CorelDraw and Xara X, but is less CPU intensive than both. This freeware can be used with Windows, Mac and Linux based operating systems. It supports advanced SVG features including markers, clones, alpha blending, node editing, SVG to PNG export, and many other rich features. Version 0.48  of this application now includes, multipath node editing, new spray tool (Airbrush) , improved text tool (subscript, superscript, numerical inputs for text kerning), LaTeX export with PDF/PS/EPS, JessyInk extension for creating presentations which can be viewable in browsers and much more.
When installing the Inkscape Vector Graphics Editor, additional add-ons can also be selected for installation. Some of these extensions include a diagram editor, an interpreter for object oriented scripting, post script and PDF files to editable vector graphics editor, etc. Options for downloading addons will differ according to your operating system. For example, you can download the additional features in Ububtu via the Ubuntu Software center, whereas you will have to separately install them for Windows 7.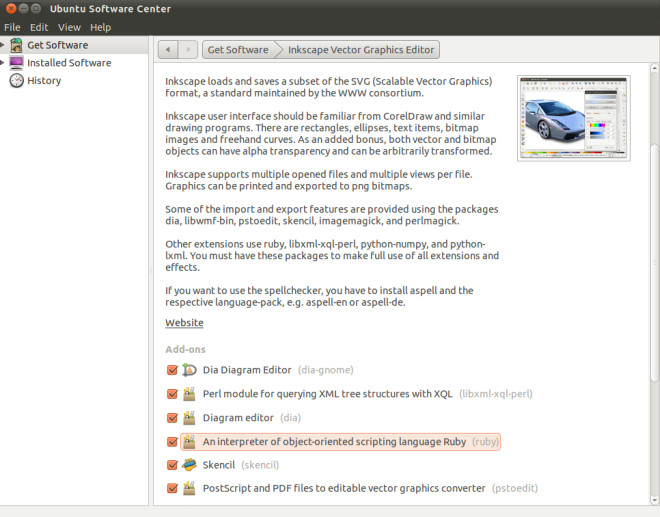 It has many features similar to CorelDraw, which includes, advanced image editing options, scalability tools, image effects, image layers, markers, clones, alpha blending, and node editing, among many others. However, despite such rich features, it is less CPU intensive than similar software of its kind. During testing, Inkscape worked seamlessly on both Ubuntu 10.10 and Windows 7 without causing any system hangs or unnecessary image loading delays.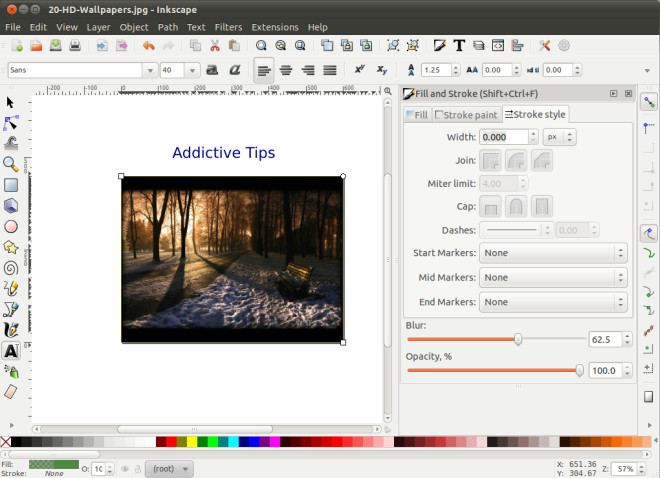 One good feature is that it allows configuration of default settings via the "Edit Global Inkspace Preferences" button located on the the top right corner of the main interface (wrench image button). From this section users can set default settings for anything from nodes, tweaks,  clip paths, masks to the spray tool.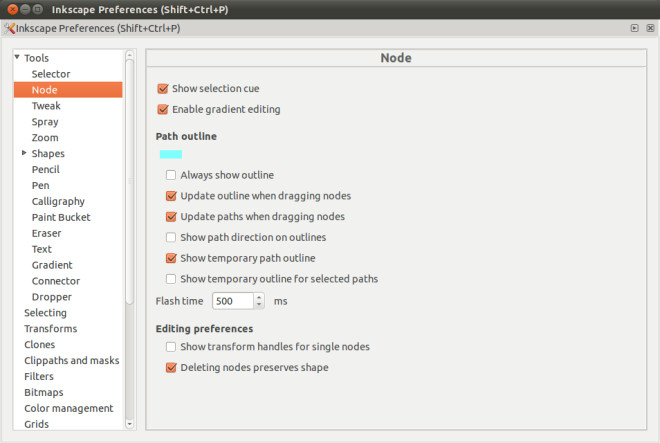 Inkscape Vector Graphics Editor is a wonderful tool for graphic designers who require making still graphics for print and electronic media. The best part is that despite providing functionality options similar to the best vector editing tools in the market, it is open source. It was tested on Ubuntu 10.10 and works with Windows Vista, Windows 7, Mac OSX 10.4-10.6 and Linux based OS.
Download Inkscape Vector Graphics Editor