Install And Use Empathy For Voice Chat In Ubuntu Linux
Gone are days when people used to use Pidgin and Ekiga for instant messaging on Ubuntu. Now, its very important that your IM messenger should also support Voice and Video chat. In Ubuntu, the problem is solved by Empathy. It is a free tool that provides voice and video chat services  as well as usual text chatting service. Lets explore how we can install and use it in Ubuntu.
It does not comes by default in Ubuntu's repositories, to include it in repositories  go through following steps.
1. Go to System > Administration > Software Sources.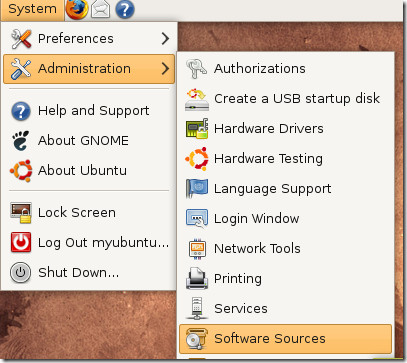 2. Now click Third Part Software tab.
3. Click Add and enter following lines in APT line text box.
deb https://ppa.launchpad.net/telepathy/ppa/ubuntu intrepid main
deb-src https://ppa.launchpad.net/telepathy/ppa/ubuntu intrepid main
The process is illustrated in following screenshot.
Click Add Sources and then Close. Now, you can easily install it, open terminal and just run following command to install it.
sudo apt-get install empathy telepathy-gabble telepathy-mission-control telepathy-stream-engine telepathy-butterfly python-msn
Once completed you can launch it from  Applications > Internet > Empathy Instant Messanger.
During launch it will show you the account window from where you can choose your account type from New Account drop down box.
Once you have chosen the account, enter your username/password and you are good to go.
Now you can start voice chat with some contact by using Call option.
You can perform all normal operations of an instant messenger with it as well, but it has gained more popularity because of its easy-to-use  features like voice and video chat. Enjoy!