How to listen to FM Radio on Linux with Odio
There are some great radio applications on the Linux platform that you can use to listen to FM radio on Linux. In the past, I've written about Gradio, as well as some and others. Since talking about those apps, some time has passed, and a new program named Odio has come on to the scene.
What is Odio? It's a fancy internet radio application. It's got a modern interface, is refreshingly easy to use and has some impressive features like favorites, station rankings and more!
In this post, I'm going to talk about how to get your hands on the Odio app and use it to listen to FM radio on Linux. I'll also talk about how to navigate through some of it's most useful features. Let's get started!
Enable Snap support
The Odio radio application enjoys broad support on Linux, because of Snap packages. The only way on Linux that you can use this application is with a Snap, so before continuing it's critical that you enable Snapd service on your system.
As of now, Snap packages work on nearly every Linux distribution out there. Specifically, Ubuntu, Debian, Fedora, OpenSUSE, Arch Linux, Solus, Gentoo, Linux Mint, Raspberry Pi and much more.
If you're unsure if your Linux distribution has support for Snaps, head over to the Snapcraft developer website, they have a list of what Linux OSes can run Snap packages. Additionally, Snapcraft has detailed instructions on how to get the Snapd runtime working on each one!
Can't figure out the instructions on the Snapcraft website? We can help! Check out our tutorial all about how to set up Snap packages on Linux. It covers how to install Snapd, enable the services and even use Snap packages for most modern Linux operating systems.
Install Odio
Now that the SnapD runtime is working on your Linux system, the Odio application can be installed through the Snap store. Launch a terminal by pressing Ctrl + Alt + T or Ctrl + Shift  + T on the keyboard. After that, enter the command below to start the installation process.
sudo snap install odio
Alternatively, if you dislike the terminal, open up Gnome Software, KDE Discover or the Ubuntu Software Center, click on the search box, type in "Odio" and then select the "install" button.
Accessing popular stations
Odio has several different ways to listen to the radio online, which is why many on Linux prefer to use it for their listening needs. One of its best features is the "Top click" section; a list of the most popular radio stations that the app has to offer.
To access the Top Click category in Odio, launch the app and let it load up. Then, find "Home" in the sidebar and select it to go to the welcome page. Then, from there, look for the option that says "Top Click" and select it with the mouse. You'll then be brought to some of the most played stations.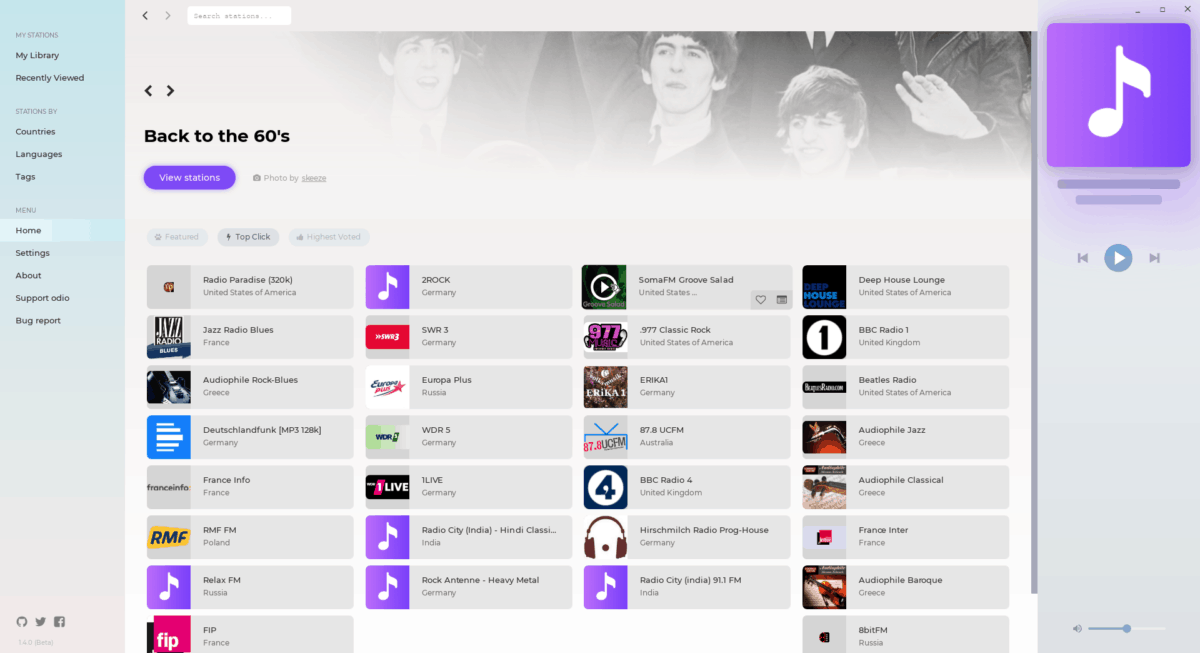 Once you've made it to the Top Click section, look through and find what you'd like to listen to and click the play button to start the stream. Or, click the heart icon to save the station to your favorites for later viewing.
Featured stations
Aside from the "Top Clicks" radio stations, Odio also has some hand-picked radio stations to listen to, located under the "Featured" section under "Home."
Search for stations
The Odio radio application has an impressive search feature that users can use to quickly sift through the extensive library of stations to find something to listen to. To use this feature, click on the search box that says "search stations," and write some keywords into it. Then, press the Enter key on your keyboard to load the results.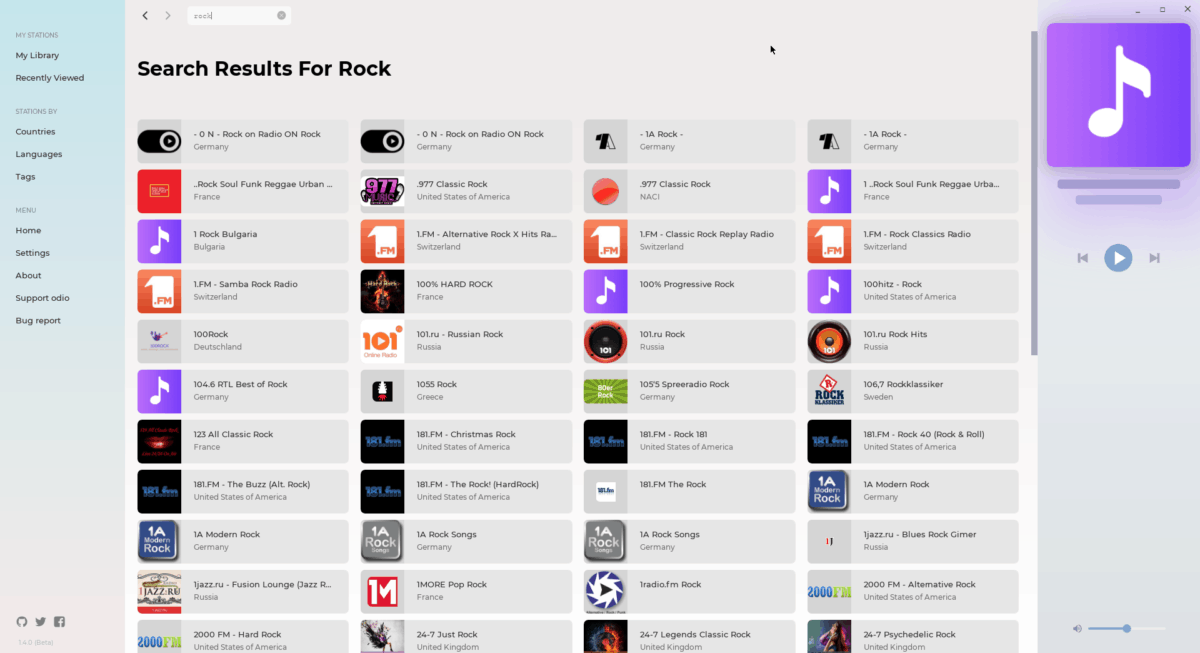 Search results will show you a list of channels based on your keywords. Look through and find the one you'd like to listen to. Alternatively, select the heart icon to save it to your station library.
Sort stations by country and language
A huge benefit to online radio is that no matter where you are in the world, you can check out stations from anywhere. Odio is excellent in this aspect and even lets users sort radio stations based on specific languages and countries.
To sort based on country, look to the left-hand sidebar in the Odio app and click on the "Countries" option. You'll then see a massive list of countries. Go through and click on the flag of the country on the list that you'd like to look at stations from.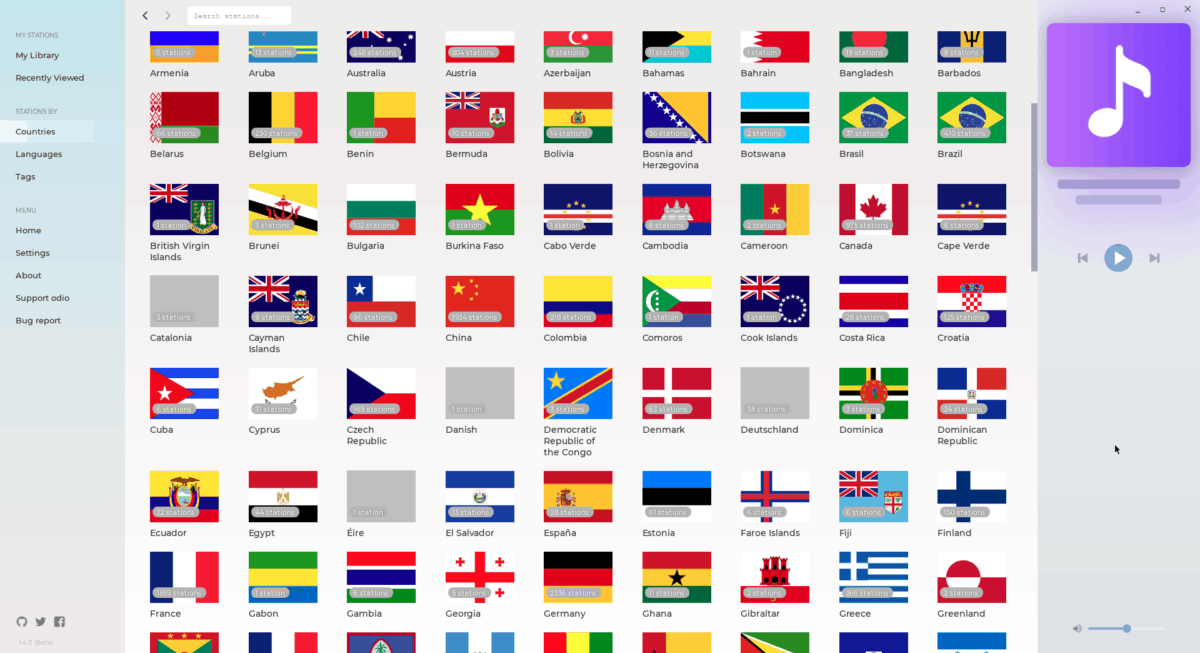 Sorting based on languages works the same as sorting by country. To do it, find the "Language" option in the sidebar and click on it with the mouse. Then, look through the list of languages and select the one you want to see radio stations in that particular language instantly.