Lookit – Take & Save Screenshots To Cloud, Supports CloudApp [Ubuntu]
When it comes to apps which can take screenshots and save them to the cloud, Linux arguably lacks quality applications. A commonly used app for taking screenshots in Ubuntu is Shutter, however, Shutter has suffered from functionality issues frequently. Lookit is a screenshot taking application for Ubuntu, which allows quickly taking screenshots of a selected area, the entire desktop and the active windows, with the help of custom assigned hotkeys. You can also automatically upload a screenshot to an FTP server, SSH, Imgur, Omploader and CloudApp.
For those who don't know, CloudApp is a famous screenshot sharing tool for Mac and we covered two Windows alternatives before, which are FluffyApp and NoCap. Now Ubuntu users can use Lookit to upload images to CloudApp and share them quickly.
After being launched, Lookit sits in the system tray, from where you can configure preferences or take a screenshot by selecting a screenshot taking methods (of a selected area, active window or the entire screen).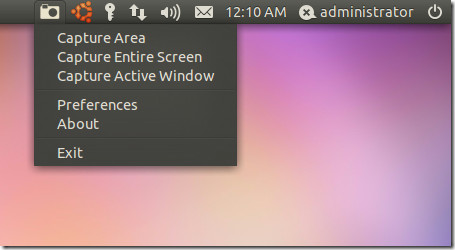 Whenever, you take a screenshot, a pop-up message displays the directory in which it is saved.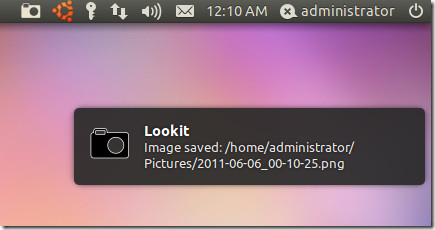 The General tab in Preferences allows setting the default directory for saving screenshots, shortening image URL when it is transferred online and automatically launching it at system startup. You can also check the "Delete Image after upload" option to ensure that copies of the screenshot are only saved online.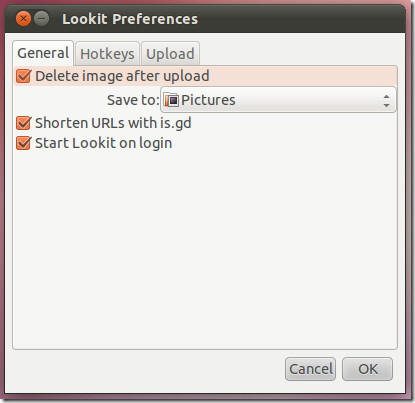 From the Hotkeys tab, you can set custom hotkeys for the three available screenshot taking modes. The Default keys are as follows:
Capture Area Ctrl+ALT+4
Capture Screen Cltrl+ALT+5
Capture Windows Cltrl+ALT+6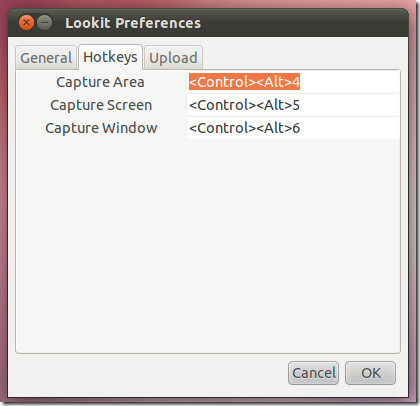 To automatically upload screenshots, head over to the Upload tab and select a website or enter FTP account credentials.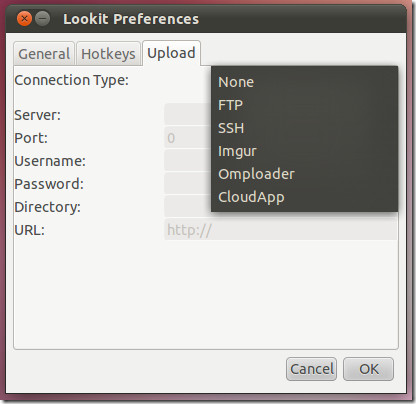 The next time you take a screenshot, the image will be automatically uploaded to online account (e.g. FTP or Imgur account). A copy will only be saved in your local directory if you have unchecked the "Delete Image after upload" option in the General tab (from Preferences).