Manage Your Flickr Albums Offline In Ubuntu Linux With Desktop Flickr Organizer
Desktop Flickr Organizer is a Linux based application that synchronizes Flickr albums for offline editing and organizing. Users can add and remove pictures, edit tags, create new album sets, and much more without Internet connectivity, and sync their changes later with their Flick account.
Click Sync (located on the top left corner) to begin importing your photo albums and to sync the changes made offline to Flickr albums. You can also upload and download specific images using the Up and Down Arrow buttons. Other Flickr account details such as added tags, pools (groups) and blogs can also be viewed offline.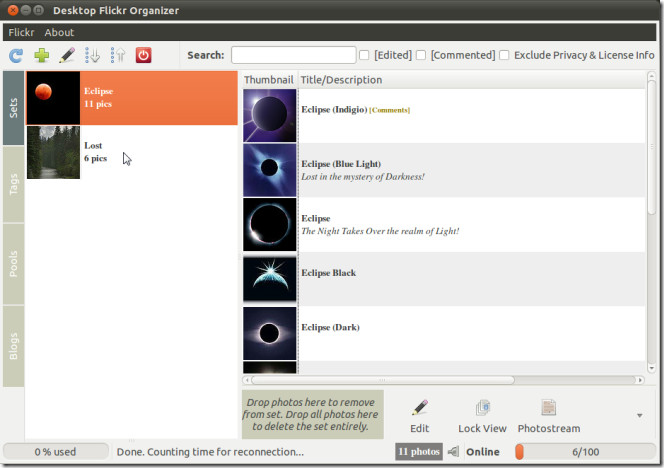 To edit any image simply click on the Edit button (pencil imaged button) after selecting the respective picture. This will allow you to edit and mange tags, comments and other information regarding the picture. Any picture can be deleted by dragging it to the "Drop Photos Here" section located at the bottom of the main interface. There is also a search box (located on the top middle corner) to find specific pictures and albums. Images can also be sorted by clicking on the Edited, Commented and Exclude Privacy & License check boxes. Selecting any of the three check boxes, displays the images according to the selected criteria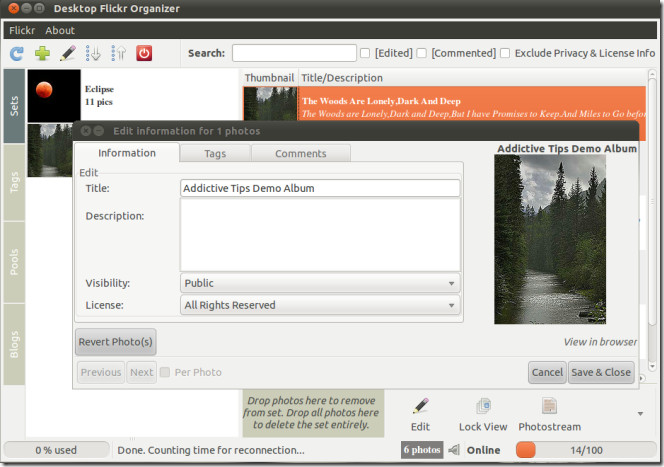 You can upload images from your computer and save them to new and existing albums sets even when  not connected to the internet. Clicking on the Sync button (when connected online), instantly updates your Flickr account with the respective changes.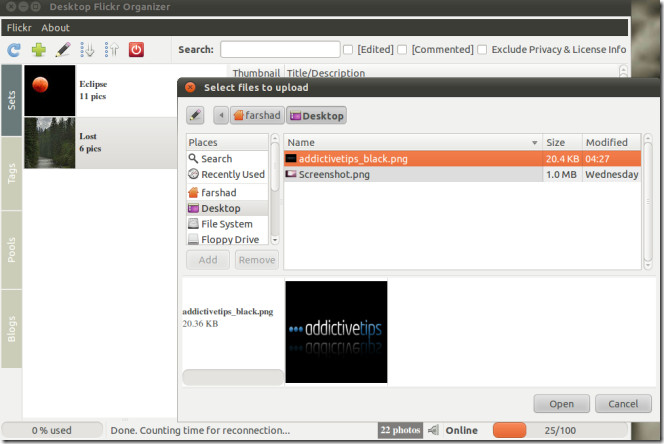 Desktop Flickr Organizer is a handy tool for managing, editing and publishing your album art on Flickr after making elaborate changes to them offline. This application can be particularly useful for people with limited Internet connectivity. This freeware was tested on Ubuntu 10.10.
Download Desktop Flickr Organizer