PlayOnLinux – Install Windows Games And Software In Ubuntu Linux
You might not want to switch to Ubuntu from Windows because you think that you will not be able to play many of your favorite games on Ubuntu or that your favorite windows program might not work there. Guess what? This is no longer an issue as Linux has done a lot to facilitate and provide windows programs.
You can use the well known program called Wine to install and use Windows Applications on Linux, alternatively let me introduce you to another cool tool called PlayOnLinux, which runs Windows games and software on Linux. Actually the base for this tool is still Wine.
Please note that this tool offers many windows software which you may run on Linux but its core purpose is to run Windows games on Linux, that's why it offers lots of Windows games which may be played on Linux. Lets see how we can install it in Ubuntu, please note that this tool does not come in the package repositories of Ubuntu. In order to install it, you will need to first update the repositories of your Ubuntu machine. Run the following two commands to update your Ubuntu repository with it.
sudo wget https://deb.playonlinux.com/playonlinux_jaunty.list -O /etc/apt/sources.list.d/playonlinux.list
sudo apt-get  update
Once the above two command are executed, then you are ready to install PlayOnLinux. Now run the following command in the terminal to install it.
sudo apt-get install playonlinux
It will take some time to install. Once complete, launch it from Applications >Games >PlayonLinux.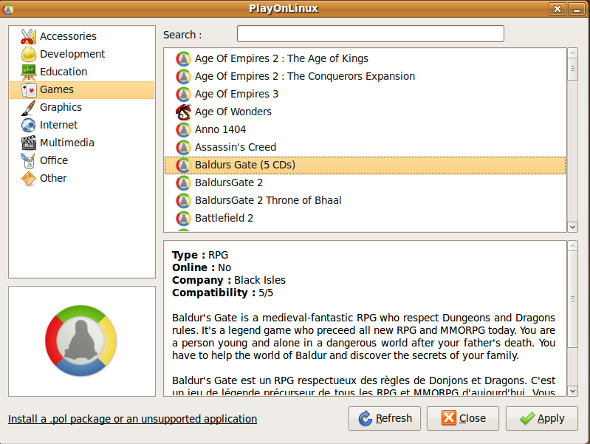 It has a very user friendly interface. Select the category from the left sidebar and the main window will be populated with the available Windows programs relevant to this category, click the required application and hit the Apply button. Check out detailed documentations on their official website.
Enjoy!