Purge PPAs And Clean Ubuntu Cache, Kernels And Config Data [Tip]
It can be quite a nuisance to remove out dated packages, cache, purge PPAs and cleanse the kernel in Ubuntu. While there are a few individual applications like YPPA Manager which allow purging outdated PPAs, one seldom finds an application which gives an integrated interface for performing multiple important tasks in Ubuntu (such as the aforementioned). Recently while exploring the Ubuntu Tweak, I came across it's package cleaning utility and thought it might be a good idea to share this utility with our readers. The Package Cleaner in Ubuntu Tweak allows purging PPAs, and cleaning the cache, config, and kernels within and easy GUI interface.
To perform the aforementioned tasks, you will first of all require installing the Ubuntu Tweak application, which you can download from the link given at the end of this post. Once done, head over to the Package Cleaner and select a task to perform (e.g. clean packages, cache, config, kernels or Purge PPAs). Once a task is selected, click on Unlock and enter your password to proceed further.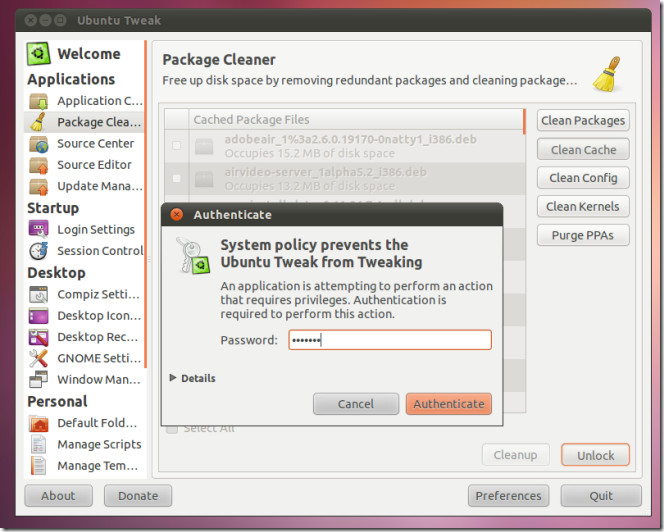 Once done, select the packages to cleanse and click on Cleanup. Make sure you do not remove any essential packages to avoid system issues.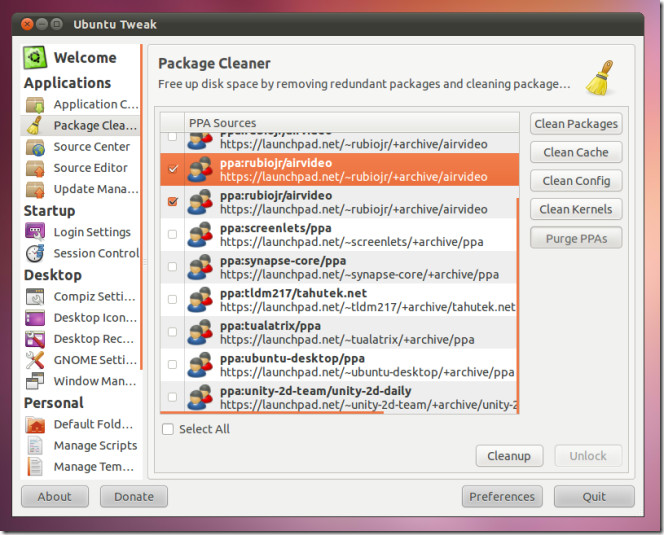 This will remove the unwanted packages from your Ubuntu computer. Using the Ubuntu Tweak package cleaner, you can easily locate, identify and remove outdated packages in bulk to keep your system free of cluttered packages.