Quickly Access Tomboy Notes From Unity Dash With Tomboy Lens [Ubuntu]
A while back, we covered Tomboy, a cross-platform, note taking application that allows creating and synchronizing notes across numerous operating systems and mobile devices. Recently, an Ubuntu 11.0 lens was released for Tomboy notes, which provides access to your notes from the Unity Dash. Since Tomboy is the default note taking application for Ubuntu, therefore, accessing tomboy notes from the Unity Dash can help speed up the process of creating and accessing Tomboy notes.
To install this Unity lens, enter the following commands in Terminal.
sudo add-apt-repository ppa:remi.rerolle/unity-lens-tomboy  sudo apt-get update
sudo apt-get install unity-lens-tomboy
Once done, log out and log back in for the changes to take effect. Since Ubuntu 11.10 has a different mechanism of displaying Unity lens than Natty, therefore, the lens will appear within the Unity Dash and not on the Unity Launcher. After installation, select the Tomboy icon from the Dash to access your notes and to create new ones.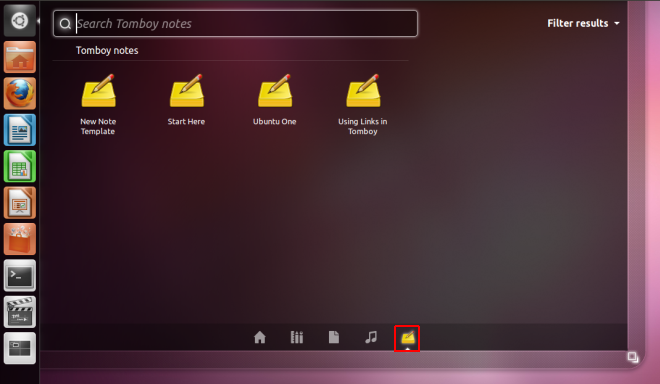 Once you click any of the notes, Tomboy is automatically launched and all options can be configured from the app-indicator menu, including synchronization of the created and modified notes. If you like using Unity lens for making your tasks easy, then you may also like Ask Ubuntu, Google Books, Gwibber and Unity Place File Search. To remove the Tomboy or any other Unity lens, check out our guide here.
You can also download the Tomboy Unity Lens package from Github.