Rescue Yourself In The Multi-platformer Beyond Gravity [Paid]
You may have noticed that in the past month, mobile gaming went through a bit of a slump with a handful of big name titles such as the much awaited Hitman Go for android and the multi-platform Angry Birds Epic, but not many others, coming out. The mobile gaming landscape has been humdrum, at best. This could have been because of Steam's summer sale, diverting all gamers to PCs, or it could just have been coincidence, we cannot be sure either way. What we can be sure of, is that the new releases are a sign that the mobile gaming market is picking up once more. Beyond Gravity has been out on Android since the last week of  June 2014 and has enjoyed multi-platform launches. Even though it was slated for a late 2013 release, but after a few unexpected delays, it is scheduled to be out for iOS on July 10th 2014. Here is our review.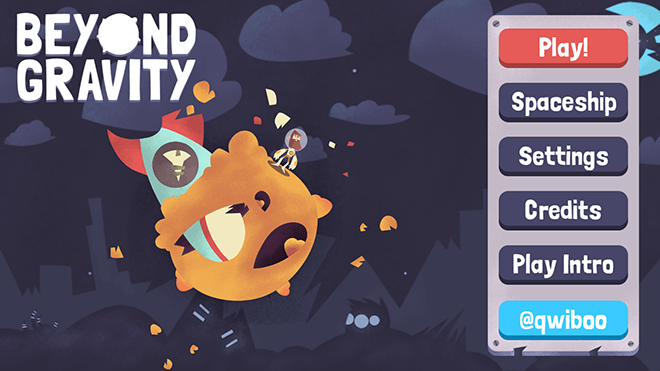 Beyond Gravity is a fun game. That pre-requisite seems to be disappearing slowly over time, but it is not lost to Qwiboo, the game developers (creators of the popular, Bike Baron) . Of course the concept is not entirely original, but what is original is the approach. The game starts with your character who has crashed into a planet and it is up to you, to make your way out of there, collecting pickups along the way.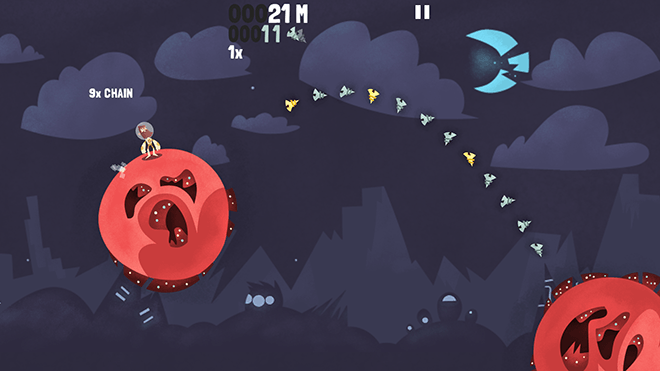 Gameplay
According to the developers, "Beyond Gravity is procedurally generated 'platformer' where you jump in-between planets and try to collect as many pickups as you can." That about sums it up nicely. The premise is simple, tapping the screen will launch you in the direction your character is standing. If you trajectory was right, you will have successfully collected all the screws and land on the next planet. If you fail, you can tap the screen again to double jump, mid-air. If even that fails, you will be lost to the vacuum of space (even though he looks like he is falling into space), such is physics. Speaking of physics, if you are a projectile motion aficionado, this game offers a hefty supply of experimentation. The game has an almost inexistent learning curve. One gets a hang of it within a few minutes (the idea is to tap and release at the right time) and then enjoy the endless challenge thanks to procedural generation. Also, it is fluid and smooth. Given the premium nature of the app, like the original Angry Birds, there are no in-app purchases, just a one-time acquisition and in this day and age, that's a breath of fresh air. Otherwise the norm is to get players to spend $20 just to get through a tutorial. With collected power ups, you can upgrade the physical appearance of your ship as well as jumping power of your character, you cannot purchase those upgrades directly, you'll need to to work for them.
Graphics
Unique, old-cartoon style graphics running at a smooth 60fps, the game offers no lag, no ghosting or even a glitch as far as we could tell. It looks good, especially by not going the ever popular "retro" graphics route, but instead going in a new direction. There are pick ups that look like multi coloured screws and bolts. It is humbly colorful without being too vivid or highly saturated. Though it may have been limited to me, but the game started off in portrait mode, but switched to landscape immediately, it was not cause for any alarm. The fun comes from interacting with objects, a dusty thud as you land on a planet, a large lettered scream as you miss a planet and plummet, the smoke trail you leave as you jump planets, tiny life forms on planets you land on are all indicators of hard work.
Sound
The platformer gaming experience is not affected by sound quality or originality. We can tell you that the sound is decent, with all the swishes and whooshes and pickup and screaming, but your gameplay is not affected even a little in the absence of sound. That applies to Beyond Gravity as well. In fact, if I am being completely honest, I could live without the music. One can detect a hint of space age effects, but the whole thing put together, though not annoying, is less than inviting. If music is important to you as a gamer, then the game's sound could easily be switched off while you listen to your own music library. You can turn off sound and music independently through settings without having to mute the entire device.
Conclusion
The game is available for universal download, except on Mac and iOS. It is scheduled for a release on the 10th of July for iOS, it is an exciting prospect. The game was tested on Android, it is also available on Windows Phone, Linux and – with your support – can be available on Steam through Greenlight (like kickstarter, for games). If the developers cut it right, it might just get ranked alongside the likes of Where's My Water or Cut the Rope, or it may just come and go like Tiny Wings. Only time will tell.
Download Beyond Gravity for Android [$1.99]
Download Beyond Gravity for Windows Phone [$0.99]
Download Beyond Gravity for Linux [name your own price]