Rotate Wallpaper, Take Screenshots And Capture Webcam With Wallch
We have previously covered a few Windows 7 style wallpaper changers for Ubuntu, which are, DesktopNova and Desktop Drapes. Just recently, I came across another wallpaper rotator for Ubuntu which has even better options. Wallch is a Wallpaper Changer for Linux based operating system of the Gnome desktop, which provides the additional option to take screenshots and to quickly grab a webcam image for keeping it as a desktop wallpaper.
The options are simple and can be configured in a snap. Just add image files and folders to the queue, select a rotation time frame or enable the option to randomly switch wallpapers. Once done, click Start to rotate your wallpapers. You can also preview images in the queue and take and grab an instant webcam image to keep it as your desktop background.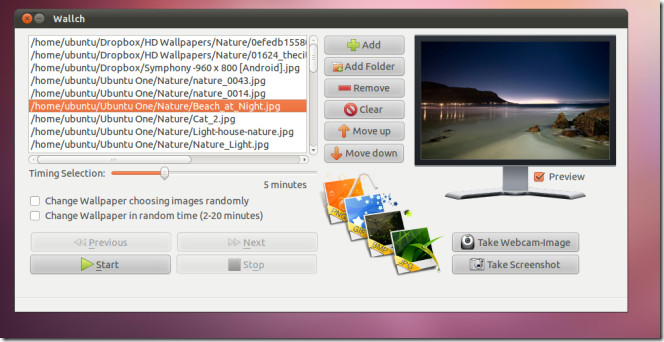 Once your wallpapers start rotating, you will also receive bubble messages when it changes your wallpapaer.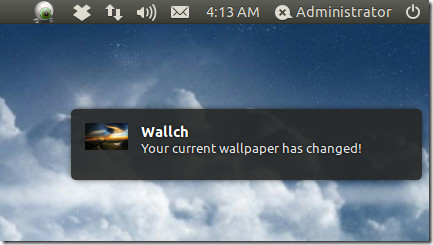 To manually switch wallpapers, right-click on the system tray icon of Wallch and select Next/Previous. Wallch stays minimized to the the system tray when active and therefore, you can bring up its interface anytime by double clicking on its system tray icon.
The Take Screenshot button also allows you to instantly take a desktop screenshot according to a defined time delay. Such extra features make Wallch quite a unique application as it not only provides wallpaper rotation but also enables taking screenshots and grabbing webcam images.