Schedule System Shutdown, Reboot & Hibernate In Ubuntu With qshutdown
qshutdown is an open source application for scheduling shutdown, reboot, suspension and hibernation of Linux computers. It not only provides the option to schedule system shutdown, reboot etc, according to a specified time frame within the current date, but also provides a calendar for selecting the exact date and time to schedule such a system task for a future date. This program is handy for users who might require running automatic system tasks, after which they might wish to shutdown their computer to conserve power. qshutdown is quite similar in functionality to Easy Shutdown; however, it provides more advanced options, such as custom date selection for executing system shutdown. The program is compatible with Ubuntu and Ubuntu-based operating systems like Kubuntu and Xubuntu. According to the developer, this application might also work on UNIX and FreeBSD, but it has not been tested by him.
You can install qshutdown using the following PPA:
sudo add-apt-repository ppa:hakaishi/qshutdown

sudo apt-get update

sudo apt-get install qshutdown
Once installed, simply launch qshutdown and set an action to perform (shutdown, reboot, suspend or hibernate), and select a time frame after which selected action is to be performed (e.g., after 3 minutes). Click OK to begin the countdown timer, or click Now to immediately execute the selected action.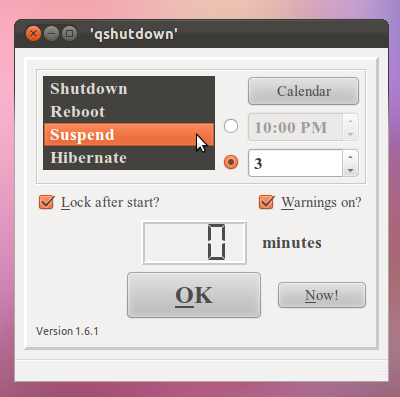 In case you require resetting the timer, you can do that anytime from the app-indicator menu. Furthermore, you can also select an action to execute, minimize qshutdown and access Preferences from the app-indicator menu.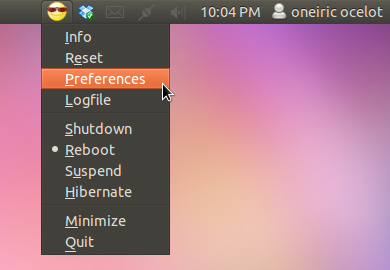 From Preferences, you can change the font size, maximum log file size, disable hiding the application, enable target time at startup, autostart qshutdown with system startup, enable warning and logging.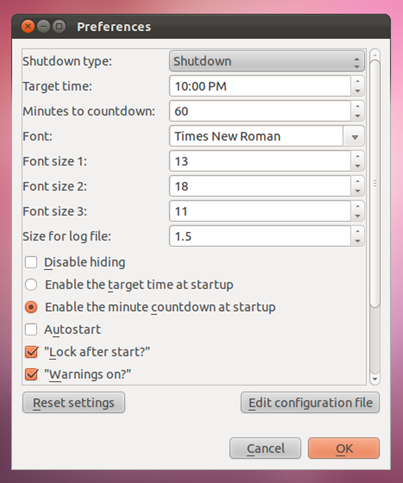 You can also download qshutdown for your Ubuntu version from Launchpad.