How To Share The Linux Terminal Online With Teleconsole
Helping other Linux users is rewarding, but it can sometimes be a pain, as remote access software has always been hit or miss on this platform. Thankfully, you can help your friends with their Linux problems directly from the terminal. All you have to do is share the Linux terminal online, and you'll be able to provide remote support to whoever needs it.
Teleconsole is a slick app that can route a terminal connection over the internet for easy access. No port forwarding is needed, and everything is done automatically. Best of all, it'll even generate a sharable URL, so you don't even have to be on Linux to use it!
Install Teleconsole
The Teleconsole app is command-line based, so installing it isn't much of a challenge. To get it working, you need to be running a modern Linux distribution with the latest version of Curl. Alternatively, you'll need to use a Linux distribution that has support for Snap packages.
Snap Package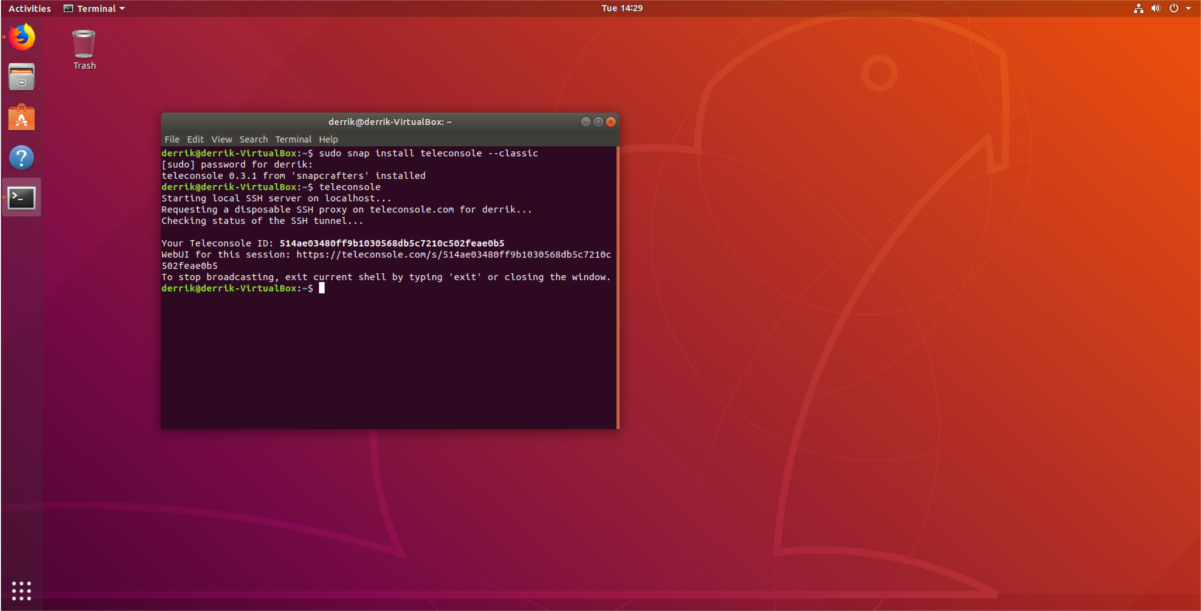 The Teleconsole app is readily available for installation via the Snap store. To get it, you must first enable Snap package support on your Linux distribution. Most Linux operating systems these days have support for Snaps. If you're not sure if you can use these types of packages on your Linux desktop, head over to Snapcraft and read the homepage, as it has a list of all supported operating systems.
When you're sure your operating system can use Snaps, head over to our guide here to learn how to set it up! Then, follow the instructions below to install Teleconsole to your Linux PC via Snap.
sudo snap install teleconsole --classic
Installing Teleconsole via the Snap store is usually effortless, though, you may run into issues because it was submitted to the Snap store in "classic" mode. If the app refuses to install in this method, consider skipping to the Script installation instructions instead.
Need to uninstall Teleconsole from your Snap library? Try the following command.
sudo snap remove teleconsole
Script
For those that can't use Snap packages, or don't want to, fear not. Teleconsole has an installation script that works on virtually every Linux distribution out there. To install it, you first need to make sure that you have the latest version of Curl on your Linux PC. To install Curl, open up a terminal and follow the instructions based on your operating system.
Ubuntu
sudo apt install curl
Debian
sudo apt-get install curl
Arch Linux
sudo pacman -S curl
Fedora
sudo dnf install curl
OpenSUSE
sudo zypper install curl
Generic Linux
Curl is the most popular command-line download tool on Linux. As a result, it's fairly easy to install, even on lesser-known Linux distributions. To install it, open up a terminal, search for "curl" in the package manager and install it. Alternatively, head over to the Curl official website and learn other ways to get it on your Linux PC.
Once Curl is installed, Teleconsole is ready to install.
Note: installing the Teleconsole app this way means downloading a script and automatically executing it. If this makes you feel uneasy, or unsafe, click this link to examine the code yourself.
curl https://www.teleconsole.com/get.sh | sh
Share The Linux Terminal Online
The primary use of Teleconsole is to share the Linux terminal online. To do this, you'll need to launch Teleconsole in a terminal session. Keep in mind that Teleconsole is installed to your Linux PC at a user level, so running it with "sudo" isn't necessary, or required.
Start a session with:
teleconsole
After executing the teleconsole command, the program should quickly start a shared session. It'll then print out an ID you can share with a friend. Additionally, Teleconsole also gives out a shareable URL. Give this URL to a friend who needs terminal access but isn't on a Linux PC at the moment.
Sharing the Teleconsole ID is the only thing the host needs to do to. Once your guest has the URL open or uses the unique connection ID, everything should be ready to go!
Connecting To A Shared Session
To connect to a shared Teleconsole terminal session via a terminal, you'll need to make use of the join command. Generally speaking, connecting to a Teleconsole session this way is only useful if you're not happy with the URL system that Teleconsole uses.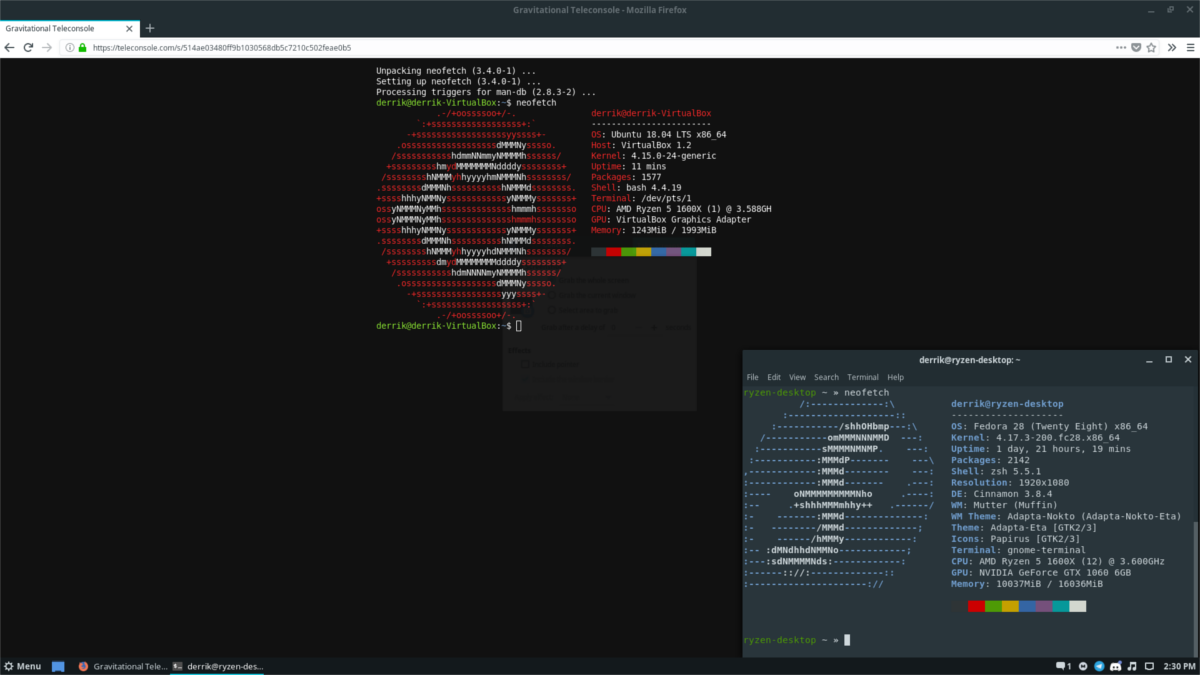 Get the session ID from the person hosting a remote Teleconsole session and copy it to your clipboard. Then, open up a terminal and use Teleconsole to connect.
teleconsole join insert-id-number-here
Using the join command should instantly connect to the remote connection. If the connection fails, look into your firewall settings for outbound connections, allow Teleconsole through and try again. For more information on how the Teleconsole app interacts with outbound/inbound connections, check:
teleconsole --help