Speed Up OpenOffice With Simple Memory Tweak
If you are a Linux user then the best available native tool for word or document processing is OpenOffice. It works great and has fulfilled the needs of industry professionals over the years, lets see some great tweaks which you can apply.
If your system has plentiful resources then you might not face any difficulty or delay in using OpenOffice. But on a computer with limited resources you will probably feel slight delays while running it, this can however be fixed by tweaking the memory usage.
First of all open OpenOffice and go to Tools > Options. Now click the Memory category located in the left sidebar.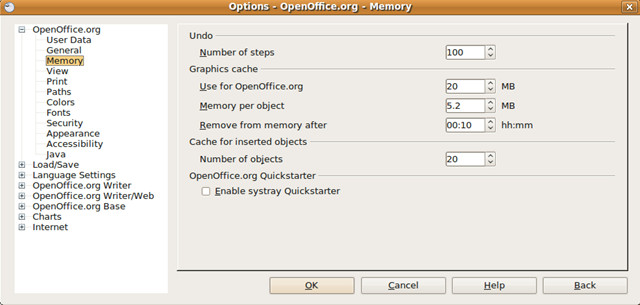 You can change the default values of the available parameters to tweak OpenOffice's memory consumption. Some of the recommended tweaks are to decrease the Number of steps, Increase the graphics cache for the Use for OpenOffice.org, Increase the Memory per object, and uncheck Use a Java runtime environment. There is no magic number so you will have to experiment here and keep the setting that suits best. Enjoy!