Tweak Ubuntu Desktop Settings To Get Rid Of Common Annoyances
Many users who move to Ubuntu from other operating system find it hard to get rid of with common annoyances present in the Gnome desktop. For example, they end up removing their Gnome Panel, have problem updating the operating system and managing software sources. In this post we will provide you an easy way to manage your Gnome Settings to avoid common annoyances.
To tweak Gnome Settings, install the Ubuntu Tweak (download link at the end of the post). Once done, head over to the Gnome Settings section, click Unlock and enter your password. From here, you can enable/disable options to suit your needs. For example, you can get warning messages before removing the Gnome Panel, lock down all panels to avoid accidentally deleting them, enable panel animation, view either your username, computer name or disable a name display in the Me Menu, view input and Unicode control character menus in the context menu. Similarly, you can enable icons on buttons for easy identification, enable fast user switching even when the screen is locked, and enable/disable a system wide recent document list.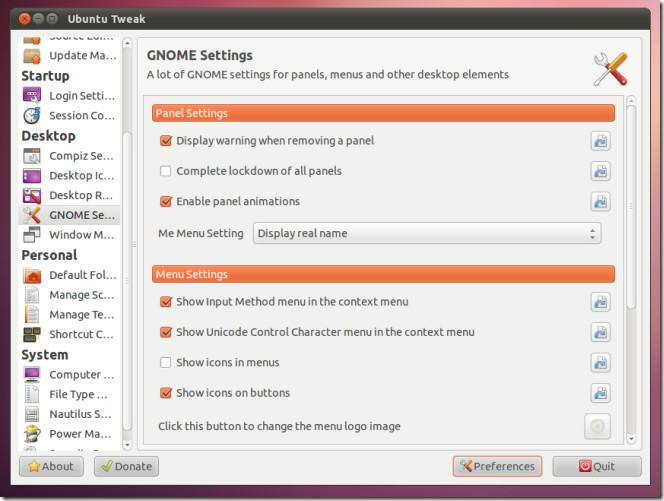 For changing your Window settings, click on Preferences button and set a default Window width and height (including the width of the left menu bar). This can be handy to avoid continually resizing application windows. You can also enable or disable updates, separate sources, synchronization notifications and highlight new items in Application and Source centers.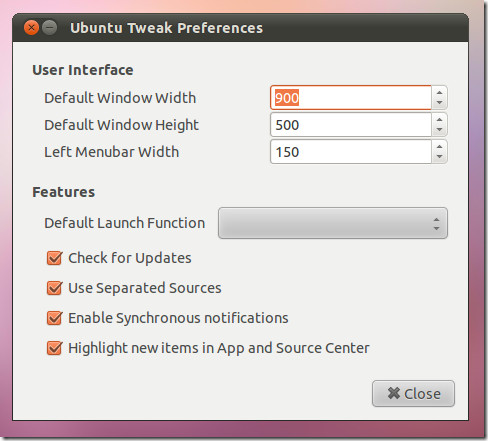 Since the Ubuntu Tweak works with almost all Ubuntu version, you can garb the Deb package and install it via the Ubuntu Software Center.