Tweak With Unity 2D Settings & Enable Compositing [Ubuntu Linux]
In the wake of Ubuntu version 11.04 release, we are already witnessing tweaks and new enhancements being offered by third party developers. One such example is the Unity 2D- Desktop Settings tweaker. It is a GUI based app which is designed to save time from browsing folders, adding values, or writing commands to get the Unity-2D GConf Settings customized. With this simple tweaker, you can auto-hide the launcher, enable composting (shadows and transparency), and view Dashboard via super key. It is a worthwhile enhancement for Ubuntu users who wish to configure unity 2D settings as per their liking. If you are not familiar with Unity 2D launcher, check out our guide here.
To start out, launch 2D-Desktop Settings and select the enhancement feature from Launcher Preferences, Unity Dash, and Desktop sections. You can choose to match the launcher with maximized window or auto hide it, set Unity Dash view to Windows key, and enable composting (Shadows and Transparency).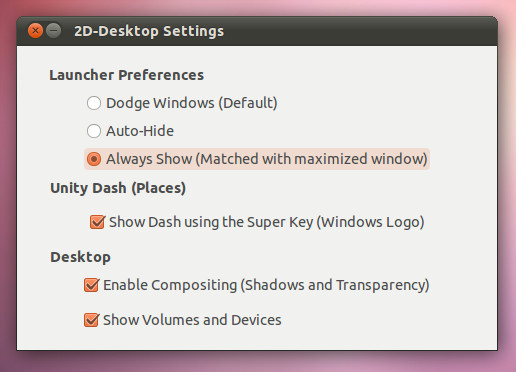 As of now, it is a simple application with a few options to help you tweak with Unity 2D launcher, however, as developers are working more vigorously to enhance the Ubuntu experience, we'll likely to see more advanced Ubuntu tweaks and applications in future.
Download 2D-Desktop Settings (Tweak)