How To Upload Music To Google Music On Linux
If you're looking for a half-way decent music streaming service to host your music on Linux, there aren't many to options to pick from. Out of all the major choices out there, by far the best option is Google Music. This is because Google Music has an official desktop application for Linux. The reason Google Music works so well with Linux is because of the way Google works as a company. See, Google focuses on making first-class web-based applications that can run on anything regardless of the platform. This means that as long as your operating system has a web browser and flash, you can use Google Music on Linux and get a great music streaming experience.
Using Google Music On Linux
If you'd like to purchase music to listen to: head to the music shop. The music you buy will show up in your library right away. Alternatively, sign up for Google Play Music All Access  and listen to every song on the service (kind of like Spotify). Otherwise, get ready to upload up to 50 thousand of your own music files (MP3, WAV, FLAC and etc).
Downloading Google Music Manager
The single best way to upload music files to the Google Music service is to download the Google Music Manager. It's a desktop tool that scans a directory for Music files, then uploads directly to Google. Unfortunately, Google doesn't have support for every single Linux distribution. If your operating system isn't on this list, you may want to try to upload via Chrome instead.
Ubuntu/Debian
As Ubuntu, Debian and Debian-based Linux distributions are the most popular, the Google Music Manager package available is available for them both. Head over to this download page to download either the 64bit or 32bit version.
Once downloaded, double-click on the package to install it to your system.
Fedora/OpenSUSE
Redhat based Linuxes aren't the most popular ever, but a lot of people use them. For this reason, Music manager has an RPM available in both 64bit and 32bit.
Install Google Music Manager by double-clicking on the package.
Arch Linux
As always, there is an AUR package for the Google Music Manager. Point your favorite AUR helper at it, build and install it. Alternatively, download the snapshot and build it from scratch. Find it here.
Uploading via the Linux Desktop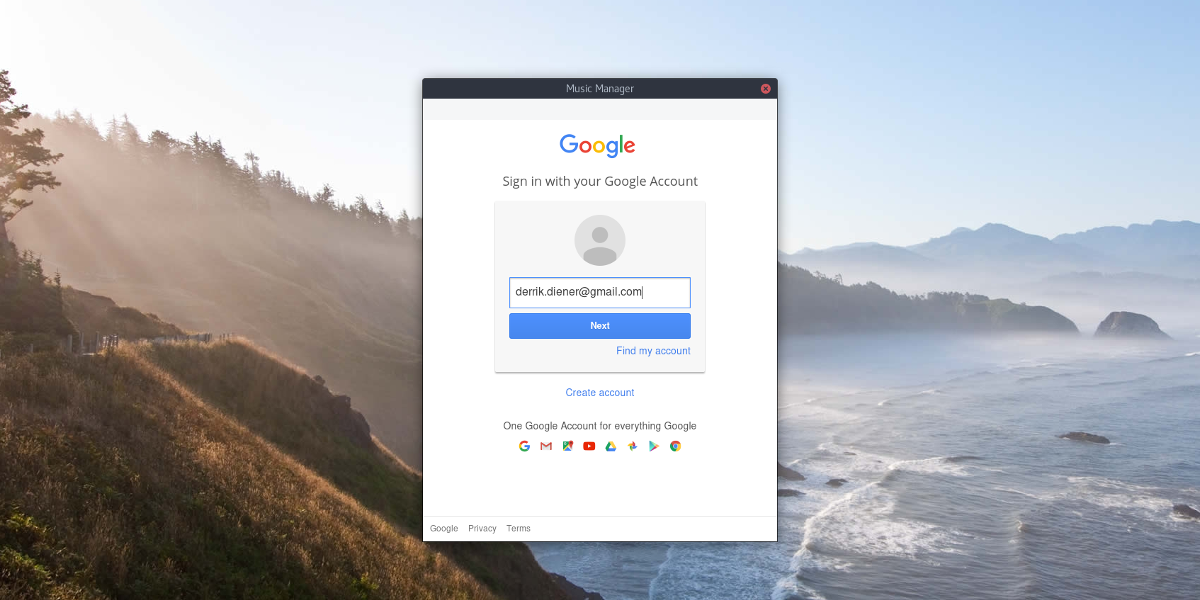 With Music manager installed, open it, and sign into your Google Account. After that, the Music Manager tool asks to specify the location of music files you'd like to upload are located. The default location is the My Music folder (/home/username/Music/). If this is accurate, click the button to continue.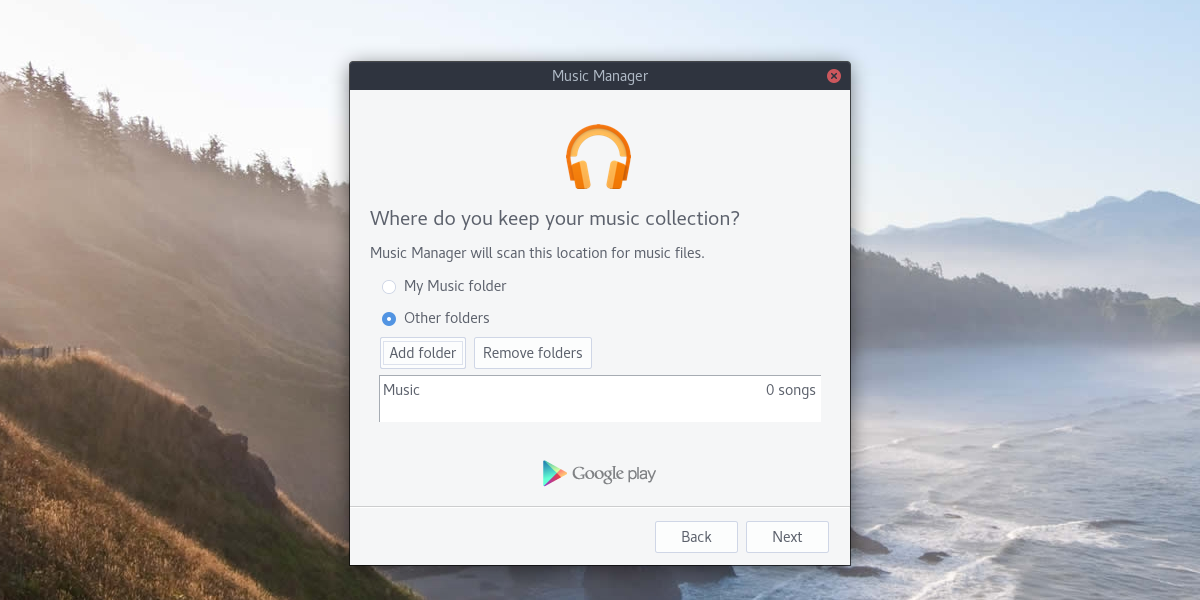 If your music files are located somewhere else, select "Other folders", then click the "add folders" button. Use the open-file dialog to browse to the folder where your music files are.
After Music Manager knows where the files are, uploading begins. Be patient, as it does it one song at a time.
Uploading With Chrome
Some Linux operating systems don't have the ability to use the Music Manager tool. In such a case you can still upload your music with Chromium. Install Chromium it by searching your software sources for "Chromium". It's just like Chrome, only the open-source version of it. Chromium is on virtually every Linux distribution out there, so there should be no problem getting it running.
With Chromium running, head over to the Google Music page, and sign into your account. After signing in, look to the top-left hand corner, for a menu, and click on it. In the menu, look for "upload music" and click on it.
Drag music files (or folders) with your file manager into the uploader page to add music files to your account.
Music Players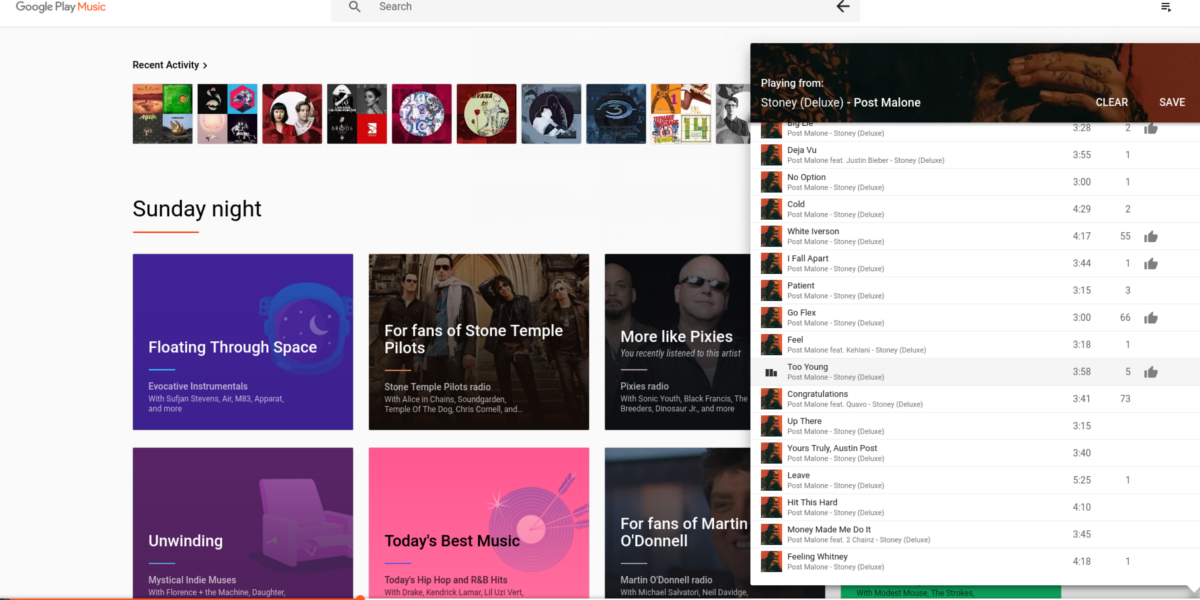 Accessing Google Music on Linux is quite easy, and songs can be played directly from any browser that has Flash. However, there is a better way. Consider installing the Google Desktop Music Player. It's a web-wrapper for Google Music, with a few added features: native desktop integration, native desktop notifications, system tray icons and more.
Installing Google Music Desktop Player
Debian/Ubuntu
To download for Ubuntu, Debian and Debian based Linux distributions, go here and click "Linux". Then, select "Debian 32 bit" for 32bit, or "Debian 64 bit" for 64 bit architectures. Though it's carrying the "Debian" label, you'll be able to install this software on Linux Mint, Elementary OS, Ubuntu and other Linux operating systems based on Ubuntu and Debian.
Install Google Music Desktop Player by double-clicking the downloaded package. This will bring up the software installer.
Fedora/OpenSUSE
Get Google Music Desktop Player for Fedora, OpenSUSE and other Redhat based Linuxes by clicking Linux on the download page, then "Fedora 32 bit" or "Fedora 64 bit".
Note: "Fedora" means RPM.
Conclusion
Google Music is a great platform for those looking to stream music across a plethora of devices and platforms, making music streaming easier than ever. Thanks to music manager, Linux is one of those platforms. Happy listening!