Use Avant Window Navigator To Customize Your Ubuntu Desktop Appearance
Avant Window Navigator (AWN) is a dock-like bar for Linux. It resides at the bottom of desktop and tracks open windows and represents them as an icons, so as a results it adds a pretty cool look to your Ubuntu desktop. It also supports various types of plugins and applets. Lets see how we can install and use it in Ubuntu.
First open terminal from Applications > Accessories > Terminal and run following command to install it.
sudo apt-get install avant-window-navigator awn-manager
It will take some time to install, once installation is complete you can launch it from Applications > Accessories > Avant Windows Navigator. Here is screenshot showing how it adds eye-candy look to your desktop by residing at bottom of the screen and showing all open application icons.

Now once you hover your mouse over any icon, it will let you know its details and upon clicking the icon the particular application will be loaded. You can easily customize the settings from System > Preferences > AWN Manager.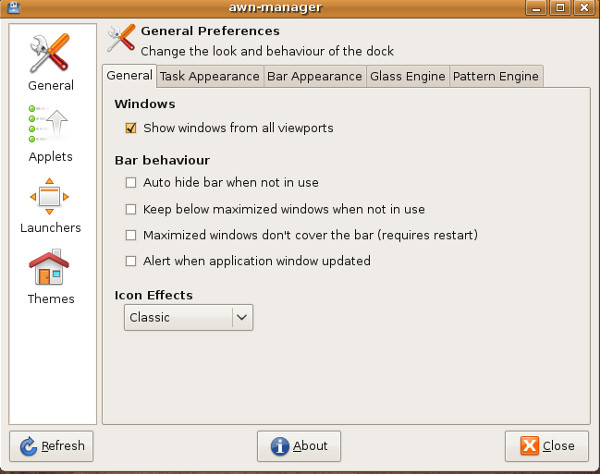 You can explore more about its settings from above displayed Preferences box. Enjoy!