How To Use Green Address On Linux
In need of a good Bitcoin wallet on Linux but not interested in dealing with the annoying setup process? Consider checking out Green Address, it's a browser-based wallet that doesn't rely on compiling, building or anything like that.
Install Chrome
Since this app is for the browser (Chrome, specifically), you'll need to install Google Chrome or Chromium. Follow the instructions below to get this app working on your favorite Linux distribution.
Note: Don't like Google Chrome and don't feel like using it? Try using Green Address with the Vivaldi browser instead, as it's possible to install Google Chrome extensions to it. Follow our guide to learn how to install Vivaldi, then follow the instructions below to get Green Address working!
Ubuntu/Debian
Google has a Debian package ready to download for Ubuntu and Debian users. To install the browser, first head over to the official download page, and select one of the "Deb" options. Then, open up a terminal window and do the following to install Chrome.
Note: users on older versions of Debian may need to substitute apt for apt-get.
cd ~/Downloads

sudo dpkg -i google-chrome-stable_current_amd64.deb

sudo apt install -f
Arch Linux
Google Chrome is available in the Arch AUR. Follow the instructions below to get it running.
Note: if any dependencies fail during the build process, check this page and install them manually.
sudo pacman -S git

git clone https://aur.archlinux.org/google-chrome.git

cd google-chrome

makepkg -si
Fedora/OpenSUSE
Google has excellent support for those on Redhat Linux distributions. To install, head over to the official download page and select the "RPM" option. When the file finishes downloading, open up a terminal and follow these instructions to get the browser running.
cd ~/Downloads
Fedora
sudo dnf install google-chrome-stable_current_x86_64.rpm
OpenSUSE
sudo zypper install google-chrome-stable_current_x86_64.rpm
Other Linuxes
Many different Linux operating systems take it upon themselves to de-compile the Google Chrome Debian/RPM packages in an effort to make the browser work on their own Linux distribution. If you can't get Chrome working on your Linux distribution, for whatever reason, the best alternative is to just install the Chromium browser.
Chromium is Chrome in all the ways that count. Essentially, this browser is the open-sourced version of Google's browser efforts and a lot of the same features are present. It even has support for Google Sync. Virtually all mainstream Linux distributions have excellent support for the Chromium browser, so finding a native, installable version of it is easy.
To install Chromium, open up a terminal window and search your package manager or "software store" for "Chromium", or "Chromium browser". Then, follow the instructions below to get Green Address working.
Install Green Address
Green Address can be added to Google Chrome, Vivaldi, Chromium, and other Chrome-based Linux browsers by visiting the Chrome App store. Follow this link here and click the "Add to Chrome button". Let the App download and add itself to your browser.
Once you click "Add App", Green Address should pop up in the Chrome/Vivaldi/Chromium "app" section. Launch the app by clicking on the Green Address icon.
Note: Can't access Chrome apps? Try entering chrome://apps/ in a new tab.
Launching Green Address doesn't open it within the browser. Instead, it makes use of the Chrome runtime and executes outside of the browser like any other application.
In the app, click the "create new wallet" button in the top right. Follow the steps required to create your new Green Address wallet.
Sending Payments
To send a payment with Green Address, log into your account and click "Send" on the left-hand side-bar of the app. Paste the recipient's BTC address in the "Recipient" box. Then, fill out "Amount" (in BTC or USD).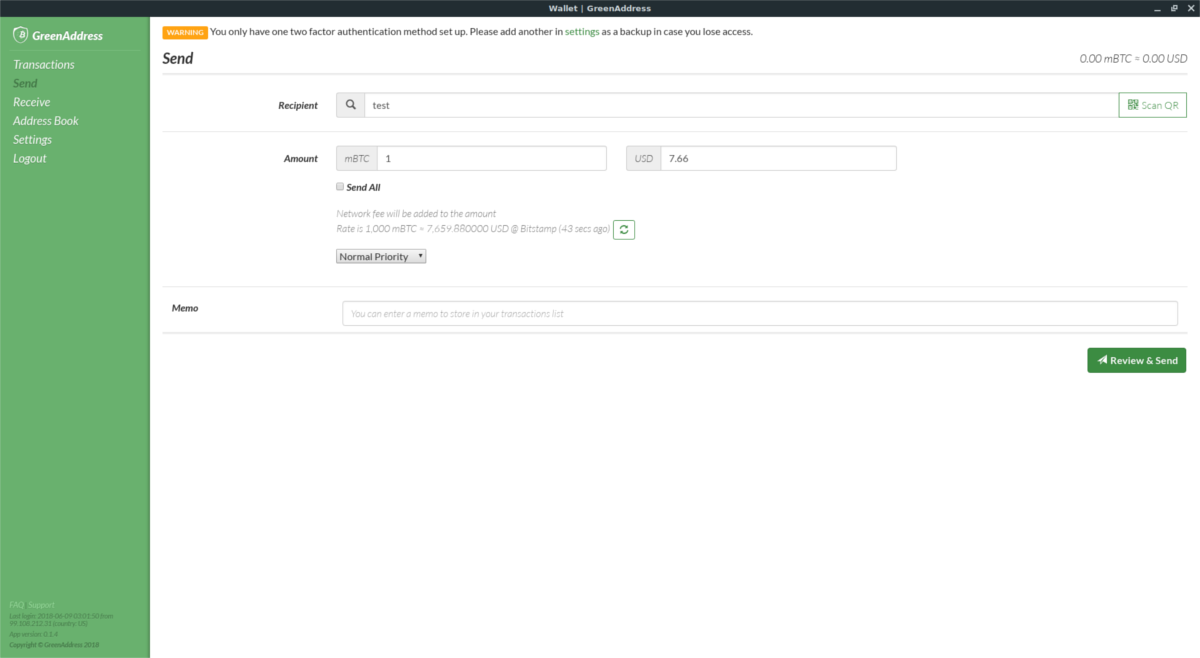 After adding the amount and BTC address, fill out the Memo section outlining what the payment is for. If everything looks good, click "Review and send".
Receiving Payments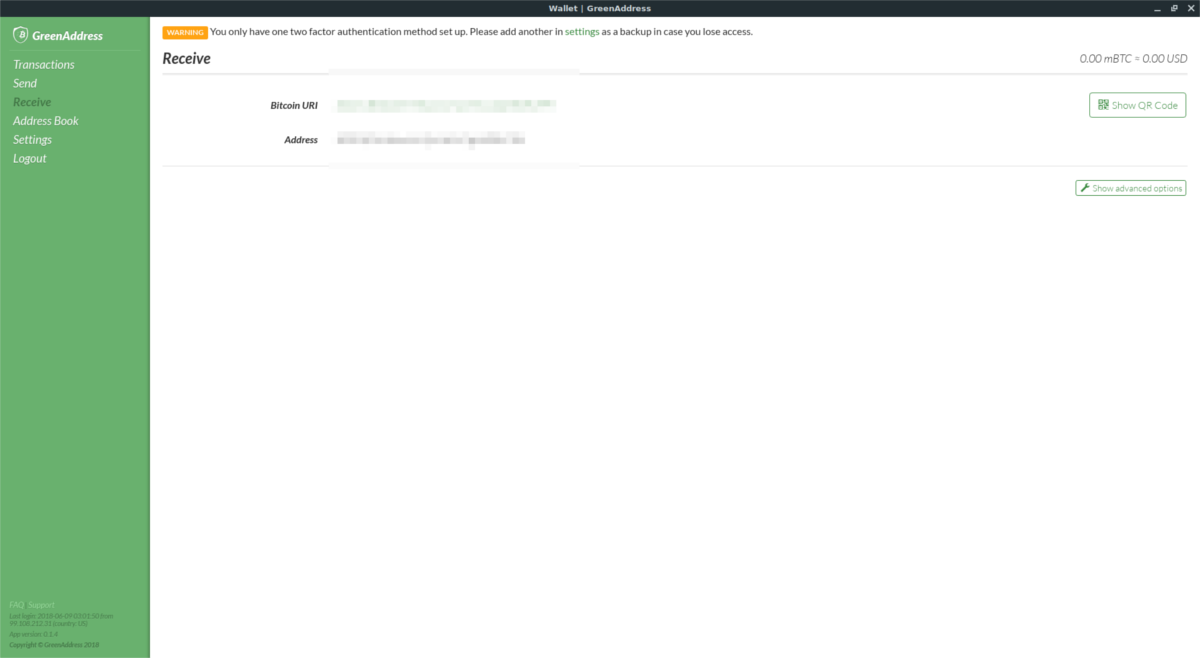 Need to receive a payment in Green Address? Click the "Receive" button in the sidebar. In the Receive section, copy your BTC address and send it to anyone who is going to pay you. All payments will appear in your BTC balance at the top of the screen.
Desktop Shortcut For Green Address
Head over to chrome://apps, and right-click on the Green Address icon. In the menu that appears, find the "create shortcuts" option and select it. Selecting the "create shortcuts" option will bring up a menu within Chrome that will allow you to create a custom Desktop shortcut and application menu entry.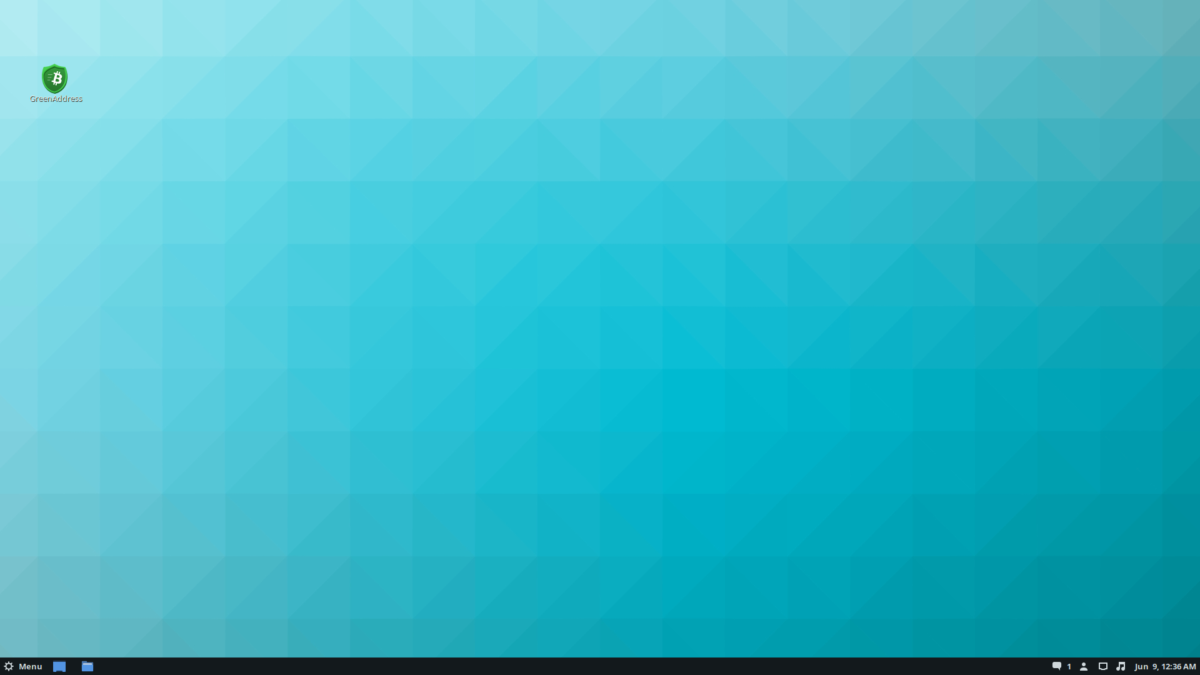 Just want to create a Desktop shortcut? De-select the "application" menu button.
To finalize the shortcuts, click the "create" button.
Other ways to use Green Address
The Green Address Bitcoin wallet is stellar on the desktop thanks to the Chrome app, but it's not the only way to use this program. It turns out that the Green Address wallet also has a mobile app or two (Android and iOS). If you love using your wallet on the desktop but wish you had a similar experience on your mobile device, this might be worth checking out.
Green Address is available on iTunes, as well as Google Play. Additionally, Android users can choose to install Green Address through the open source only F-Droid app store.