Watch Bandwidth Usage And Network Stats In Ubuntu Linux With KNemo
KNemo is a Linux application that provides information about your network traffic. If you want to get detailed network and system information, such as, the IP/ MAC address, default gateway, packet information, download/upload speed, etc, and wish to monitor bandwidth at all times, then you will find it quite useful. Even users who might not be barred by a broadband data cap, can utilize KNemo for accessing general information about the network traffic. For example, with KNemo you can find if your internet connection is down.
After launching the app in Ubuntu, KNemo resides in the system tray and can also be accessed from Applications –> Internet. System and network information can be accessed from the Show Status Dialog option in the system tray context menu, from where you can see traffic usage in graphical format (Show Traffic Plotter option) and configure what settings to keep, as well as bandwidth information from the Configure KNemo option.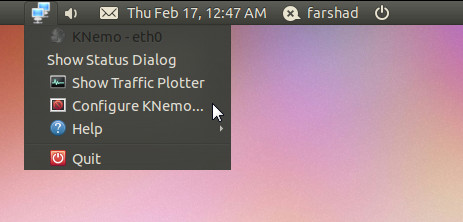 The traffic plotter displays incoming and outgoing bytes in a graphical format.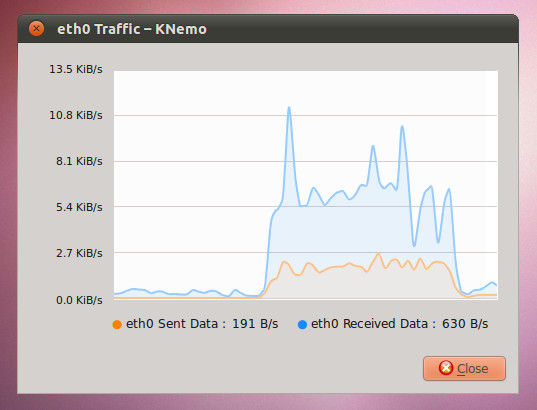 The same information can be viewed in numerical format along with other information from Show Status Dialog box, such as, the IP and MAC address of the system.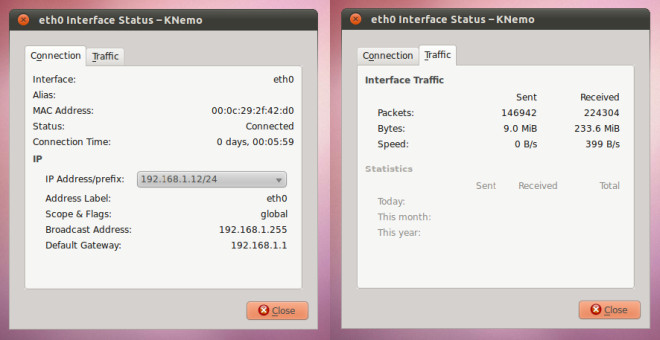 To get alerts for bandwidth usage, go to Configure KNemo from the system tray and choose appropriate parameters for getting bandwidth related alerts. For instance you can select how many alerts to get after a set period of time, when to get a notification (e.g. when bandwidth exceeds 15 GB), add a billing start date and choose what kind of traffic to monitor (e.g. incoming traffic or total traffic).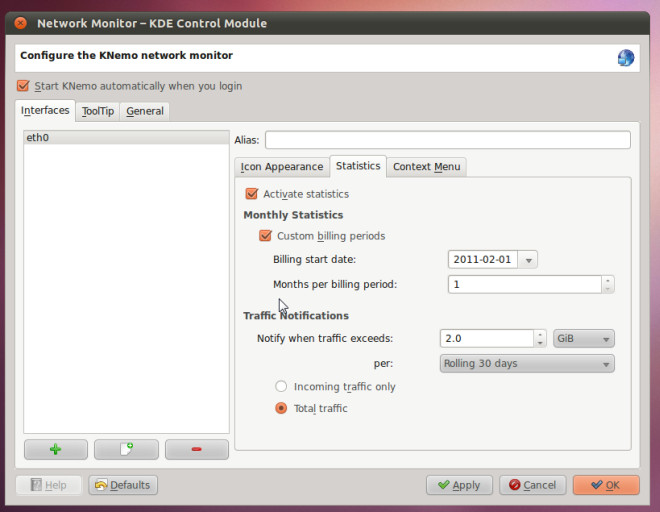 Similarly, you can set an alert mechanism from the General tab, such as, a system sound or pop up messages, for receiving traffic related notification.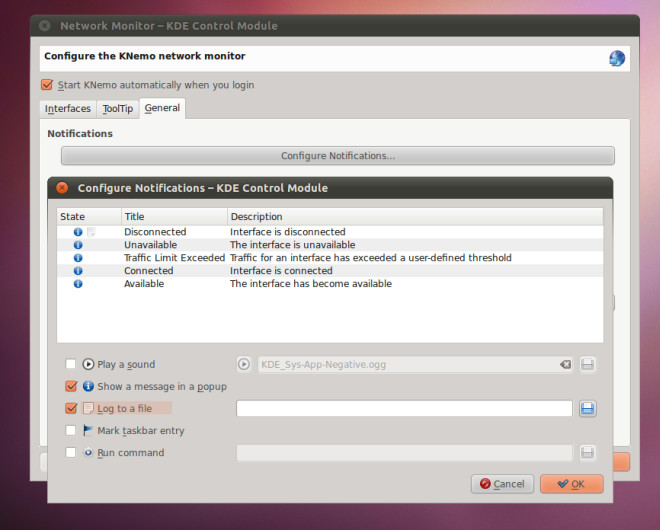 KNemo is an effective tool for checking network related information on a Linux system with convenience.