We are reader supported and may earn a commission when you buy through links on our site.
Learn more
Best VPN for Germany in 2021 and Why You Should Use One
Germans enjoy some of the least censored Internet in the world, but you still need to use a VPN in Germany. Today, we discuss the reasons why–namely, to dodge government surveillance and unblock websites–plus how to get started with one of our recommended VPN providers for Germany.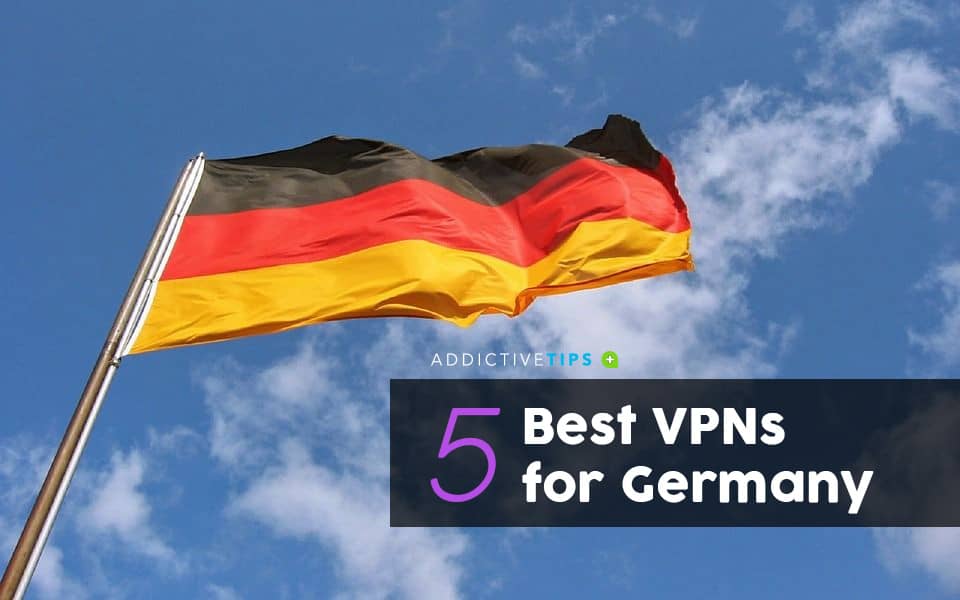 German data protection laws are amongst the best in the world and internet censorship is minimal. But that's where the good news ends.
Take direct control of your right to privacy online in Germany with these VPNs:
NordVPN – Best for Germany – NordVPN offers all the security features Germans need to hide their identity online. Military-grade encryption, tens of thousands of spoofable IPs, and a solid logging policy.
Surfshark – Low-cost VPN with top-shelf privacy provisions. Advanced tunneling, blanket obfuscation, unlimited simultaneous connections.
ExpressVPN – More of a premium pick, but easily justifiable due to its enormous and extremely fast server network.
IPVanish – The classic spoofer's VPN. Installs easily onto Firestick and unblocks foreign content streams free from buffering.
VyprVPN – Not the biggest or fastest, but one of the most secure. Owns their entire network for total oversight and anonymity.
StrongVPN – A solid balance of price, performance, and privacy.
If you are living or working in Germany, there are a number of compelling reasons why you should be signing up with a VPN at the earliest opportunity. We discuss those below, where you'll also find our updated list with the best VPNs for Germany.
30-days money back guarantee
Protect your privacy on the German Internet with a VPN
Firstly, there is the BND (Bundesnachrichtendienst), which is hugely powerful and cooperates closely with the likes of the NSA in America and GCHQ in the UK. Both of these countries hoover up user data from all around the world and share it with other national security agencies like the BND. Then there is the issue of online data retention. Whilst data protection laws in Germany are strong, in 2015 the German government passed data retention laws that pose a threat to internet users. Data is only retained by ISPs for 10 weeks, which is considerably better than the situation in other countries such as the UK, where the period is a huge 12 months. But it is nonetheless a significant privacy concern, as well as a security threat should that data fall into the wrong hands.
Additionally, online copyright laws are also strictly enforced in Germany; this is an issue for a significant proportion of internet users. It means that those who stream or download online content that might be in breach of copyright laws risk facing legal repercussions.
Another reason many people look for a VPN within Germany is the issue of geo-restrictions. English-language movies and TV shows are popular in Germany, but access to online streaming services from the USA or the UK is often blocked as a result of geo-restrictions, making access from within Germany tricky. Equally, as the German language is primarily spoken in Germany, most German-language media is produced there and much of that is also geo-restricted. This means accessing German language content from outside Germany is difficult. With many Germans holidaying, working, or living overseas, this is a big problem for them.
RELATED READING: How to get a German IP address anywhere
But a VPN helps German internet users address all of these problems, which is no doubt why their popularity within Germany is growing. The only problem is making the choice regarding which VPN to use.
How to choose a great provider
There are hundreds of VPN providers on the market and many have a page on their website explaining why they are the best VPN provider around. But choosing the right VPN for Germany requires a little more precision.
That is why we have compiled this list of the Best VPNs for Germany, based on the following criteria. Our experience and feedback suggests that these are the key benefits Germans are looking for in their VPN.
Most secure VPNs for online anonymity in Germany
Unfortunately, you can't just take it on faith that the authorities always mean well with your data. That's why it's crucial to block out all third-party snooping with the encrypting power of a VPN. (It's also nice to be able to spoof your IP address to access geo-blocked content.) We've compiled a few of the very best providers that are confirmed to boost your privacy online in Germany, or anywhere else in the world: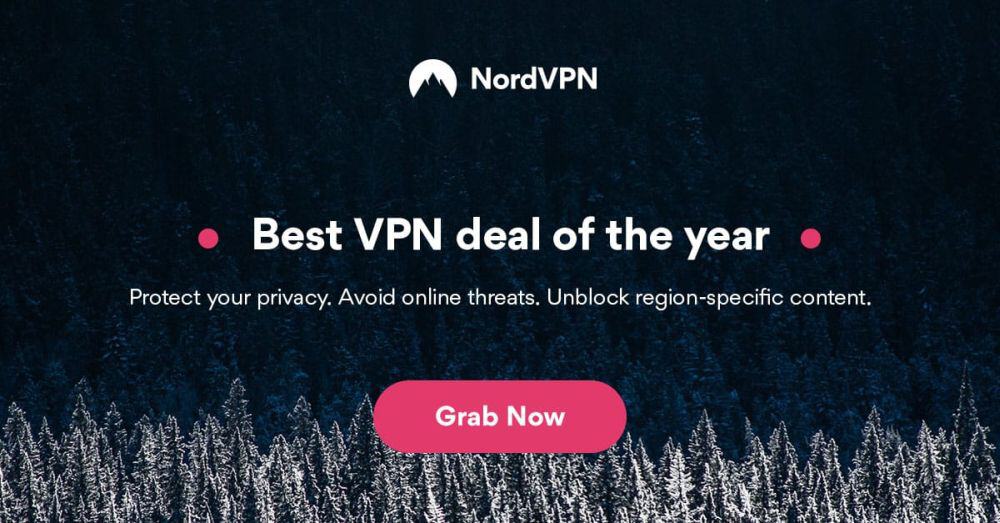 NordVPN is also an established VPN with a strong reputation and a loyal base of users. They offer excellent encryption levels, although not quite as secure as ExpressVPN's. They have 256-bit encryption on OpenVPN with 2,048-bit Diffie-Hellman keys – more than enough for most regular internet users.
NordVPN are based in Panama which means that they are not required to retain any customer data. Good news for internet users who are worried about privacy. NordVPN has received some criticism for its connection speeds in the past, but these appear to have all been addressed now across all servers.
They have a huge server offering too, with more than 5,500 servers in 58 countries around the world. Currently, 310 of these are located in Germany, which should be more than sufficient for most German internet users to choose from.
They also offer a range of extra features including double-VPN connections, VPN over Tor options, and specific Anti-DDOS VPNs. They also offer their SmartPlay technology as standard on all connections. This guarantees to connect to all online streaming services, even if they claim to block VPNs as the likes of Netflix does. That's a great bonus for those who want to stream online content and makes NordVPN a very attractive option.
Read our full NordVPN review.
Pros
Works with Netflix, BBC iPlayer without breaking a sweat
Over 5,400 servers in 61 countries
Zero leaks: IP/DNS/WebRTC
No logs and encrypted connections for total privacy
24/7 Customer Service.
Cons
Some servers can be unreliable
Sometimes slow in procesing refunds (but always do).

Surfshark hasn't been around as long as our other recommendations, but this fresh-faced provider has truly updated the standard VPN offering to something simple, effective, and consumer-friendly. Gone are the outdated protocols and policies in favor of provisions that just work–a very German design philosophy indeed.
That said, they're based in the British Virgin Islands, giving Surfshark tremendous freedom to enforce their no-logging policy. Moreover, they use RAM-only servers (3200+ servers in 65 countries total), reducing latency while preventing long-term storage of user metadata. Surfshark also uses only the most up-to-date protocols: OpenVPN, IKEv2/IPSec, WireGuard (plus Shadowsocks on Android and Windows), encrypted with the 256-AES-GCM cipher.
We also recommend Surfshark to German users looking to save money; with unlimited simultaneous connections, you can split monthly fees amongst friends and spread the VPN love.
Pros
Every server optimized for unblocking Netflix, BBC iPlayer, Hulu, and more
Multi-hop connections readily available
No questions asked money back guarantee
Based in the British Virgin Islands, where there are no data retention laws
Helpful 24/7 live chat with an actual human being.
Cons
Growing network doesn't have same coverage as more mature VPNs
Apps may be too simplistic for power users.
Read our full Surfshark review.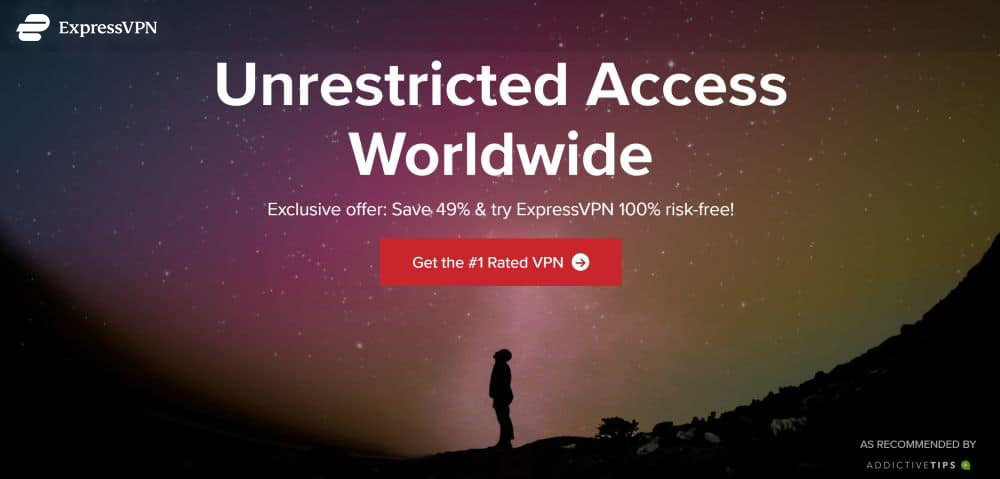 ExpressVPN appears on many VPN articles of this nature because for good reason. They have been around for a long time and built up a deserved reputation within the industry and with users.
Their encryption policies are amongst the best available too: their entire network is SSL secured with 256-bit encryption. Their privacy policies are also reliable and strong, as the company is based in the British Virgin Islands, where there are no requirements to retain any user data.
As the name suggests, ExpressVPN's connection speeds are consistently fast, regardless of which server you connect to. From the experience of all our reviewers, this cannot be said for some other providers.
ExpressVPN offers more than 3,000 servers across 160 locations in 94 countries. Their German servers are located in Frankfurt, Düsseldorf, and Darmstadt.
Read our full ExpressVPN review.
Pros
SPECIAL OFFER: 3 months free (49% off - link below)
Super fast servers (minimal speed loss)
Torrenting allowed
Strict no-logs policy
Customer Service (24/7 Chat).
Cons
Max 3 simultaneous connections
Slightly more expensive than some other options.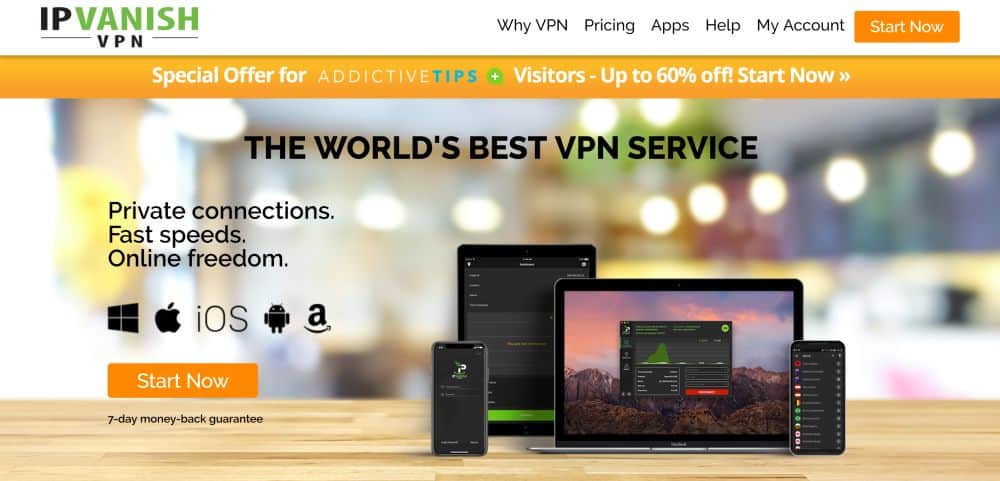 Third on our list is IPVanish. Once again, a big name in the VPN market with a loyal and established audience. They offer top-of-the-range encryption, with L2TP and OpenVPN protocols, with both using 256-bit encryption as standard which is as good as ExpressVPN.
On privacy, they are ok at the moment, but being based in the USA means there is a risk they might have to comply with any data retention laws that might be introduced there. With the Trump Administration not supportive of online privacy so far, this seems likely at some point.
Connection speeds through IPVanish are again top quality with no complaints regardless of which server you connect to. And as for servers, IPVanish offer plenty, with more than 1,300 available in over 60 countries. This includes 52 in Germany, located in either Dresden or Frankfurt.
Read our full IPVanish review.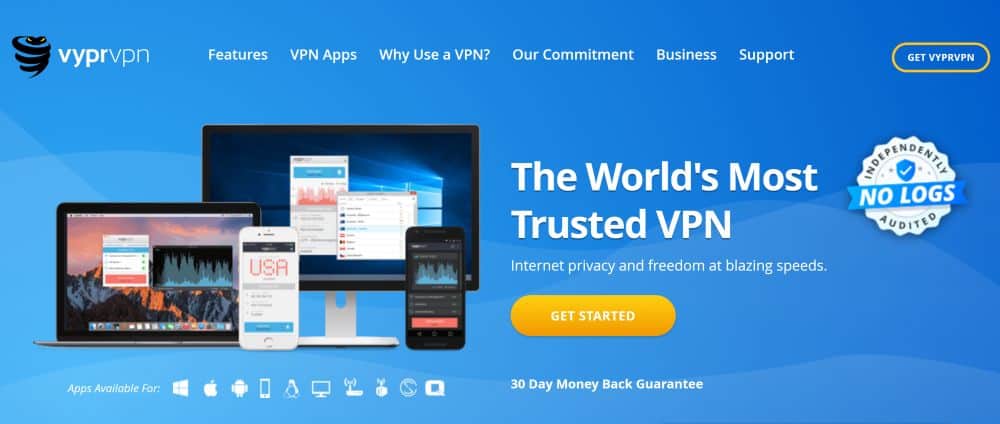 VyprVPN is another reputed name in the VPN world, and on service alone, they deserve to be on this list. But their offering is not without its issues.
Their security provisions are fine, with top-notch encryption provided. However, unlike the other providers on this list, VyprVPN keeps logs of user activity. The data they retain includes such things as the user's home IP Address, the VyprVPN IP Address you connected to, the connection start and stop time, and the amount of data transferred. This raises privacy concerns.
For some VPN users, this will be enough on its own for them not to touch VyprVPN with a barge pole. Others will be less concerned about privacy, but more focused on service delivery, and on that front VyprVPN has plenty to offer.
Their connections are fast and reliable, although in my view the speeds are not quite at the level of the other three VPNs on this list. They also offer more than 700 servers, with a number of those being located in Frankfurt.
Read our full VyprVPN review.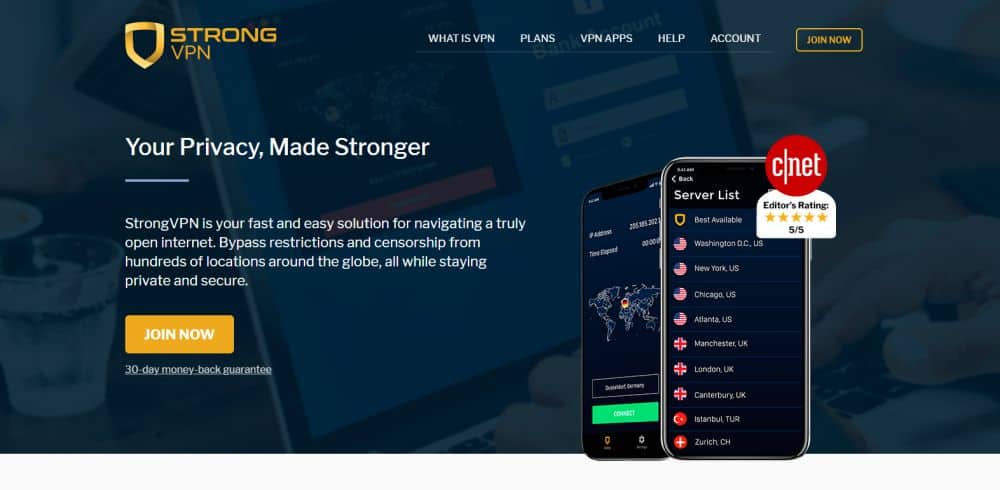 The last VPN we are recommending for Germany is StrongVPN. They are a slightly newer kid on the block than the other names on this list, but their service is up to the same standard.
On security, StrongVPN's encryption levels are right up there with the very best. OpenVPN, which is their default protocol, has 256-bit encryption and SHA512 – right up there with the best. StrongVPN also own all of their own servers, which is an extra security feature that not all VPNs provide.
As far as privacy is concerned, StrongVPN is another provider which operates a no logs policy, and whilst their US location raises the same concerns that were referred to above with IPVanish, at the time of writing there is no immediate cause for concern.
In my experience, StrongVPN's speeds are quick and consistent again. They provide fewer servers than the others mentioned here, with just 650+ servers available across 26 countries and 46 different cities. Germany is one of those countries, with servers available in Frankfurt and Munich.
Why should Germans use a VPN?
Ever since the Snowden revelations about bulk data collection emerged back in 2013, online privacy has been a hot topic. Snowden's revelation that governments are bulk collecting data from everyone shocked the world and led many to turn to a VPN to protect their data.
LEARN MORE: Are VPNs fully legal in Germany?
Whilst online privacy remains topical, much of the hysteria has died down and, for many regular internet users, it's back to business as usual. Except it isn't, because the practice is still taking place and those of you sat reading this in Munich, Berlin, Aachen, or Bonn are no more secure than anyone else.
It is certainly true that Germany has some of the best data protection legislation in the world and the German Federal Data Protection Act (Bundesdatenschutzgesetz) is, of course, to be welcomed. But in other regards, internet users in Germany can find their security and privacy threatened just as much as those in the US, the UK, and elsewhere.
The Snowden files themselves made reference to Germany and stressed that whilst German Intelligence (the BND) might not be watching innocent German citizens themselves, they were doing so indirectly through their close relationship with the NSA.
Indeed, a Parliamentary inquiry even found that the BND has been snooping on the emails and phone calls of the French President and several top EU officials, apparently on behalf of the US Government.
The outcome of these revelations? A budget increase of $133 million to tighten up the surveillance process. This fact obviously counters any suggestion that the process has been wound down or stopped since the Snowden revelations. Indeed, it is more likely to have intensified.
Data Retention
The German Federal Data Protection Act made it illegal for ISPs to collect user data without the permission of users themselves, which was, of course, a positive move. Then, in 2010, the German High Court passed a ruling which declared mandatory bulk data retention unconstitutional.
But needless to say, both of these have now been overruled and the internet data of German people is now routinely collected and stored by ISPs. The BND has access to it if it so wishes.
It is true that this data is only retained for 10 weeks, which is a much shorter period of time than many of Germany's allies. The UK and France both now require data to be held for 12 months, while even 'neutral' Switzerland requires the data to be held for 6 months.
But just because the retention period is shorter, that doesn't make the mandatory retention of personal data any more palatable. It should also be noted that whilst Germany retains metadata like those other countries mentioned above, they also record the content of all SMS messages for the same time period.
Censorship
Censorship is a limited problem in Germany with access to the internet mostly open and free for all citizens.
A court case from the German performing rights organization GEMA has resulted in the blocking of a number of music videos on sites like YouTube. This is because Google and GEMA cannot agree a charge for accessing these videos, with GEMA reported to want an astonishing 12 cents per stream.
Another issue is the ban on a number of things related to Germany's Nazi past. Whilst it is perhaps understandable that content which is deemed pro-Nazi or anything that denies the existence of the Holocaust is banned, the law can sometimes be applied a little overzealously.
For example, the computer game Wolfenstein 3D was blocked in Germany because of its portrayal of Nazi soldiers in the game. And some movies and TV shows have faced a similar fate.
RELATED READING: How to Unblock US Netflix from Germany
What is a VPN?
A VPN, or Virtual Private Network, is an online security and privacy tool which offers various protections for a small monthly subscription fee.
A VPN works by rerouting a user's online traffic down an encrypted tunnel and through an external server. By encrypting all of your internet traffic, without exception, a VPN helps to protect you from unwanted snooping by making your data inaccessible to either hackers or BND surveillance officers.
Passing the data through a server means it acquires the IP Address of that server rather than your own internet connection. This means that it becomes almost impossible to trace your internet activity back to you directly.
What that means is that if you are undertaking an activity in a legal grey zone, a VPN can protect you.
Likewise, changing the IP Address is a way to get around geo-restriction and online censorship. By rerouting your traffic through a server in, say, the USA, a German user is no longer bound by Germany's censorship laws and will be able to access content which is blocked in his country. It also means he can access US-based websites and services which are usually geo-restricted and therefore unavailable.
It is therefore not only necessary for German internet users to access the internet via a VPN for privacy purposes, but there are also a great many positive benefits of being able to do so as well. It really is a no-brainer!
Conclusion
While you may be lulled into a false sense of security about your digital rights being guaranteed in Germany, there are many potential threats you need to be aware of. Luckily, a VPN is a fully legal and more importantly, easy way to boost your privacy online. What's more, you can use your VPN software to unblock foreign content in Germany, or access German content when you're abroad. We've reviewed the top VPN providers for your convenience in this article, each rated for its encryption, speed, and other cybersecurity extras.
How will you use your VPN? Do you have concerns about the direction Internet freedom in Germany is going? Leave us a comment below.