We are reader supported and may earn a commission when you buy through links on our site.
Learn more
Best VPN for Singapore in 2021 (Avoid FREE Ones)
When searching for the best VPN for Singapore, it helps to have an understanding of the state of Internet freedom and privacy within that country. Today, we'll teach you everything you need to know about Singaporean Internet, plus how to stay safe with one of our recommended VPN providers.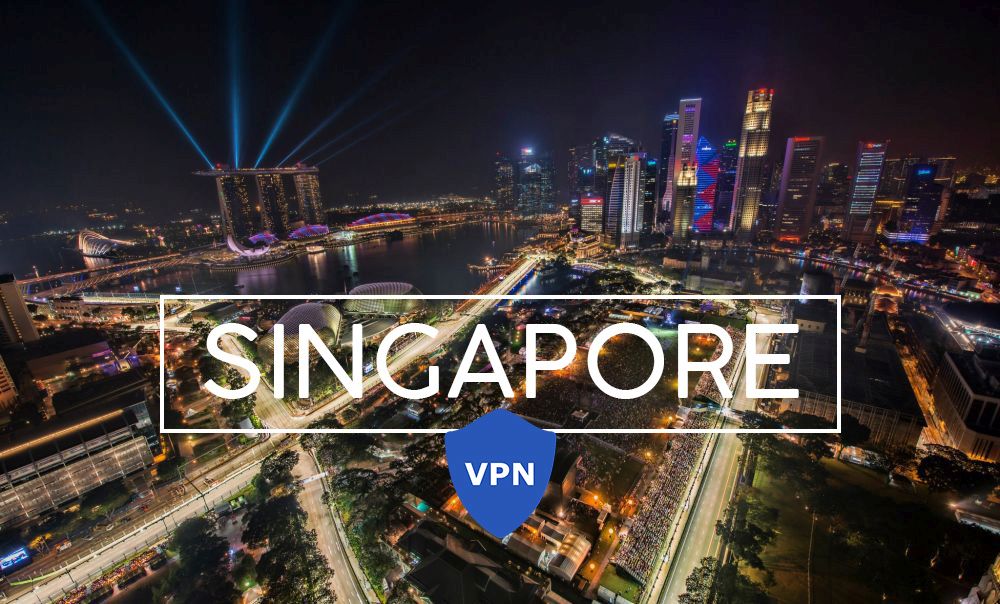 Singapore is home to a massive confluence of people from around the world. Transients and locals intermingle in the warm climate, enjoying the amazing architecture and plethora of parks and outdoor activities. With so many tourists passing through its borders and accessing public internet connections, however, there can be some concern when it comes to online privacy. Staying safe in an active digital world requires a little bit of caution, especially when you're surrounded by travelers.
Singapore is a bastion of Internet activity, so you owe it to yourself to stay safe online with these secure VPNs:
NordVPN – Best VPN Singapore – NordVPN has cultivated an excellent reputation in the privacy community, thanks to its constantly expanding network and array of specialty servers, cutting-edge NordLynx encryption, outstanding customer service, and strict no-logging policy.
Surfshark – An inexpensive VPN with premium features. Unlimited simultaneous connections, split tunneling, WireGuard encryption, and other modern features round out the package.
ExpressVPN – Blazing fast speeds, great server uptime, and total transparency in how your data is handled. Now even faster with Lightway encryption.
IPVanish – A processor-light VPN that works perfectly on tablets, streaming boxes, routers, and more.
VyprVPN – Powerful censorship-busting Chameleon protocol gets through even China's Great Firewall.
Installing a VPN is by far the best thing you can do for your online privacy. Virtual private networks help protect your identity, encrypt your information, and prevent both hackers and surveillance agencies from tracking your location. VPNs are extraordinarily easy to use and provide a wide range of benefits. Keep reading for a guide on how to find the best VPN to use in Singapore.
30-days money back guarantee
Evaluating the Best VPNs for Singapore
The VPN marketplace is packed with hundreds of service providers. Deciding which one best suits your needs can be an incredibly complex task. Which encryption strength is optimal? How large should the server network be? What's the difference between jurisdictions? We've streamlined the process and focused on the most relevant criteria for choosing a VPN to use in Singapore.
Logging policy – VPN security is only as good as its logging policy. Data that passes through a VPN's network can be stored just like any other service provider. If a government or third party agency requests access to these logs, your privacy may be compromised. If the VPN doesn't keep any logs, however, your data can never be shared. It's a simple but extraordinarily effective method of security, and it should always be at the top of your list when choosing a VPN.
File and traffic restrictions – A hidden drawback of some VPNs is they often restrict which types of files and protocols you can use. The most commonly blocked traffic types are P2P networks and torrents, both of which are excellent ways to watch videos and movies online. Top quality VPNs never monitor their user's traffic, allowing them to download anything they like without limitation.
Jurisdiction – Another overlooked feature that's extremely important in a VPN in where the company is registered. Regardless of the VPN's policy on keeping data logs, some countries require the provider to store certain information. This information can be seized and shared with other governments, which defeats the purpose of a VPN in the first place.
Speed – A sad but true fact about VPNs is that they tend to be slower than your average internet connection. VPNs use encryption, which adds size to each data packet, and they also send information through server networks around the world. These factors combined can result in a 10-25% drop in overall speed. Good VPN providers know how to work around these limitations, however, and can deliver great speeds without sacrificing privacy or security.
Server distribution – The more servers a VPN has, the more likely you'll find a reliable connection. Large server networks also give you more choices for virtual locations, which makes it easier to find videos from streaming services such as Netflix and YouTube.
Top 5 VPNs for Security in Singapore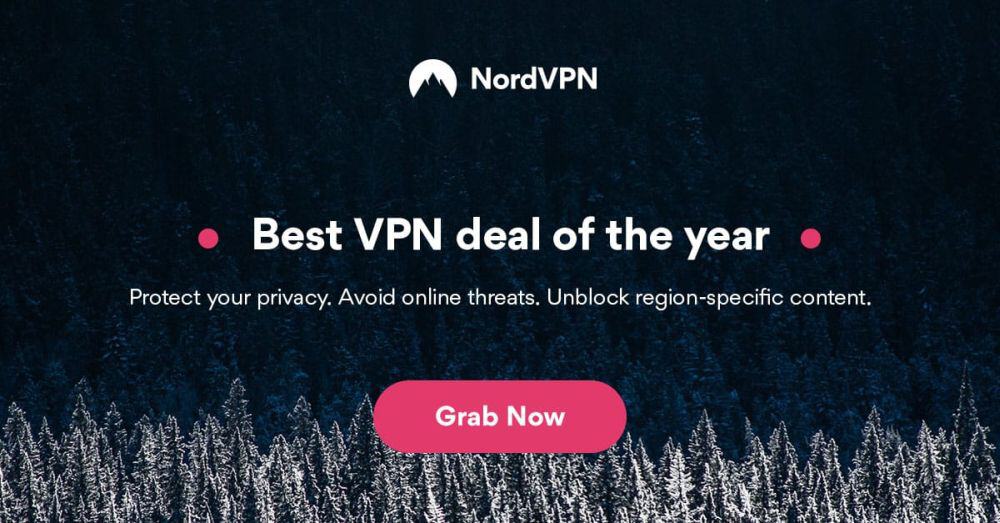 NordVPN combines fast speeds, unbelievably strong security, and wonderful privacy policies that guarantee an amazing VPN experience. It starts with double encryption, a process that scrambles important data with 256-bit AES encryption to lock information so tightly that not even a supercomputer can break it. This is backed by NordVPN's thorough zero-logging policy that covers traffic, bandwidth, IP addresses, and even time stamps. In other words, nothing you do is stored on NordVPN's servers, ever.
The rest of NordVPN's features cement it as a reliable and resourceful VPN service. Unlimited bandwidth is part of every plan, as is unmonitored traffic that allows both P2P and torrent downloads. NordVPN's network is also constantly expanding to include more locations and more connections. At the time of writing it encompasses 5,700+ servers in 60 different countries, which is the largest of any VPN provider.
Read our full NordVPN review.
Pros
Very fast speeds make this a strong choice for 4K streaming
Different IP addresses aervers
2,048-bit SSL keys and DNS leak protection
Strict zero logs policy on both traffic and metadata
Money back guarantee policy.
Cons
They can take 30 days to process refunds.

Surfshark is for anyone who likes to min/max their purchases. For a fraction of what other top-shelf providers ask in monthly fees, you get all the most advanced privacy features–and a few unique features not often found elsewhere.
The most important VPN features are here: 256-AES-GCM encryption, multiple tunneling protocols (OpenVPN, IKEv2/IPSec, WireGuard), a kill switch, and a massive network numbering more than 3200 servers in 65 countries. However, Surfshark also offers obfuscation, smart DNS, and anti-censorship modes on each connection, which auto-enable as needed to counteract internet restrictions you may encounter in Singapore or abroad.
Additionally, there are no limits on simultaneous connections–so you can protect your friends and family with a single subscription. RAM-only servers wipe their memory banks on a regular basis, lending credibility to Surfshark's no-logging policy. You can even assign specific VPN settings to individual Wi-Fi networks, enabling custom protections on the go.
Pros
Reliably unblocks Netflix US, UK, Japan, and more
Over 800 servers in 50 countries worldwide, and constantly growing
DNS leak and kill switch protection keep your defenses up even when your connection drops
Based in the British Virgin Islands, where there are no data retention laws
Helpful 24/7 live chat with an actual human being.
Cons
Connection speeds won't impress users of other high-end VPNs
Apps don't allow for much manual fiddling for power users.
Read our full Surfshark review.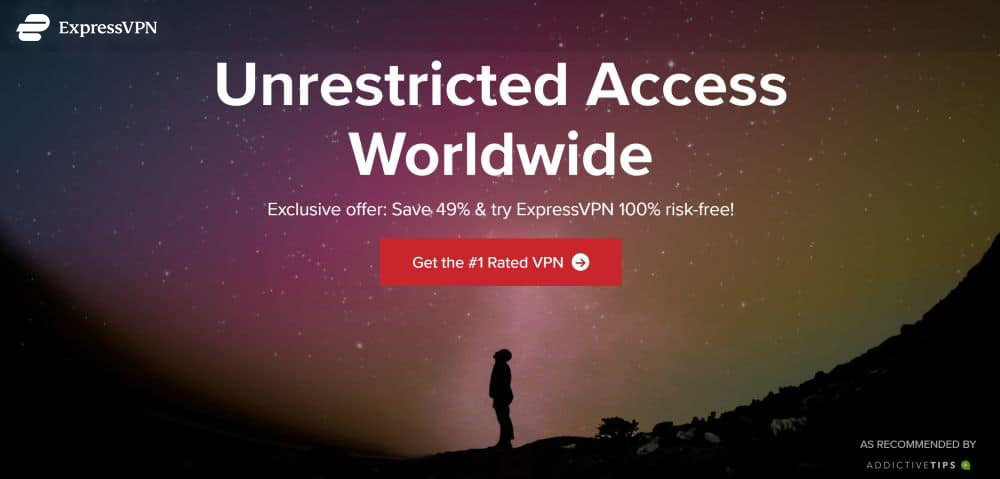 ExpressVPN places a high priority on speed, all without sacrificing privacy. The company has a network of over 3,000 servers in 94 different countries, each built for fast connections in major cities across the globe, including Singapore. Several versions of the ExpressVPN software even have a built-in speed test to let you check the connection and choose a faster one if it's not performing as well as you'd like.
ExpressVPN holds a strong privacy policy along with its top speed servers. DNS leak protection and a kill switch feature are available in most versions of its apps, and a strict zero-logging policy on traffic helps keep you safe. You'll also be able to access every blocked website and restricted video from around the world, all from the comfort of your own PC.
Read our full ExpressVPN review.
Pros
Unblocking Netflix USA, iPlayer, Amazon Prime
Superfast servers (minimal speed loss)
AES-256 encryption
No logging policy well enforced
24/7 Chat Support.
Cons
Power-users configuration options.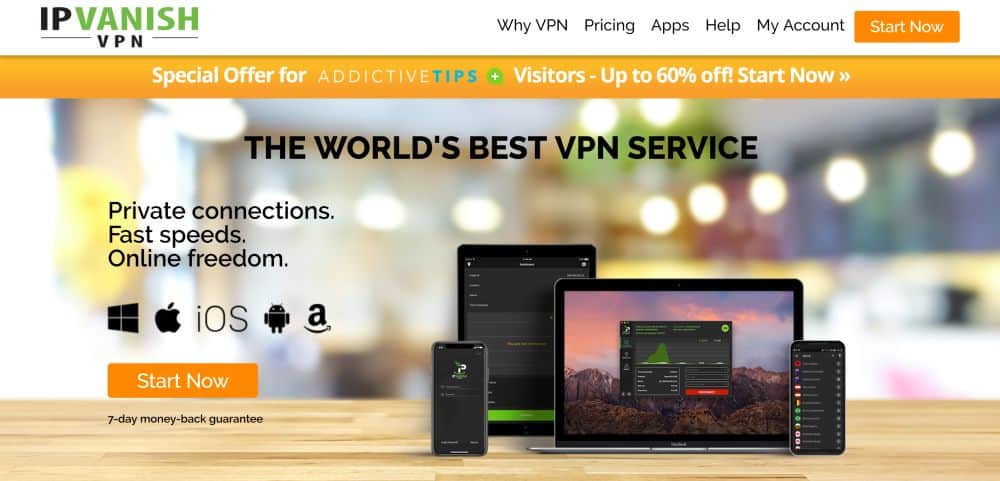 An open, secure internet is why IPVanish exists. The company works to help users around the globe access blocked and censored content no matter where they live, all by leveraging a huge network of over 1,300 servers in 75 different locations. This also gives you a wide variety of choices for using streaming services like Netflix, Hulu, BBC iPlayer, and YouTube.
On the security side of things, IPVanish pulls out all the stops to guarantee you can surf without leaving a trace. DNS leak protection and an automatic kill switch helps ensure nothing slips through the VPN unencrypted, and unlimited bandwidth gives you the freedom to download or stream whatever you like.
Read our full IPVanish review.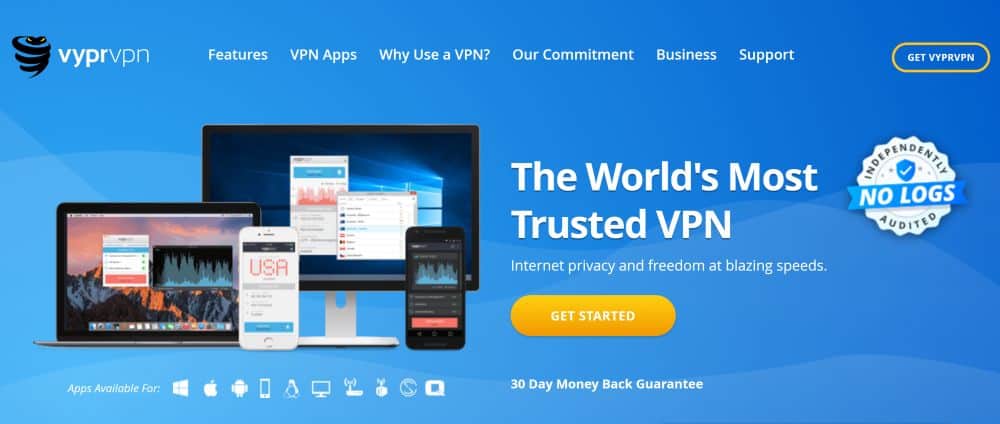 VyprVPN is one of the few VPN providers that owns its entire network of servers, all 700 in 70 different locations. This gives them an incredible amount of control over hardware and software configurations, which translates to better data security and all-around faster speeds for every user. When combined with the company's zero traffic, zero DNS request logging policy, kill switch protection, and unlimited bandwidth, you've got a recipe for a secure VPN you can use day in and day out.
Another great feature of the VyprVPN experience is Chameleon technology. This proprietary protocol helps defeat deep packet inspection, a method commonly used by ISPs and government agencies to discover the contents of encrypted packets of information. With Chameleon in place, VyprVPN users will find it easier to defeat firewalls in countries like China or Turkey, avoid being blocked by websites such as Netflix, and defeat ISP throttling no matter where they live.
Read our full VyprVPN review.
Best Uses for a VPN in Singapore – Increase Privacy and Bypass MDA Blocks
The three main service providers in Singapore do not employ heavily regulated censorship practices. The Media Development Authority (MDA) does, however, maintain a list of around 100 websites censored for "undesirable, harmful, or obscene" content, as well as block all websites that allow remote online gambling. The Singaporean government has also been known to threaten litigation against bloggers who post controversial opinions, which creates some safety and privacy concerns for anyone living in or visiting the city-state.
A VPN can help with a number of online privacy, censorship, and related issues. VPNs work like a tunnel that connects you directly to the internet. Instead of sending raw, easily readable data through a service provider and out to the world wide web, VPNs make it so you send encrypted data through their private network of servers. This makes it extremely difficult for ISPs, hackers, even government agencies to monitor users and track their locations.
There are plenty of benefits of using a VPN in Singapore. Below are just a few of the highlights:
Watch videos from other regions – Netflix, Hulu, BBC iPlayer, YouTube, and other video streaming services are bound by law to restrict content based on user location. If you're in Singapore, for example, you might not be able to access TV shows available in the U.S. or UK. This is frustrating for people who live in certain regions, but it's even more of a hassle when you travel and suddenly lose access to your favorite content. By using a VPN you can instantly change your virtual location, fooling Netflix into thinking you're in a new country and providing access to a different set of videos right away.
Stop surveillance and tracking – IP addresses given out by local service providers can be used to locate individual users no matter where they are. This can be used to track activity across the globe and is often deployed by governments as a mass surveillance measure. With a VPN in place, your activity won't have any ties to your identity or your location.
Access censored websites – Censorship through government agencies, schools, and even corporations has become a widespread problem. Outside entities determining which websites you can or cannot access is seen by many as an unlawful or immoral activity. Bypassing these types of blocks is easy with a VPN, as the software that censors the content can't tell where you're located or what you're trying to access, giving you the freedom to visit any site you like.
READ ALSO: How to Speed Up Your VPN Connection
Tips on Increasing Online Privacy
Even if you're using a VPN with strong encryption, there's always a chance your online activity can be traced, logged, or monitored. If you're engaging in unusual activities that sit in the gray areas of the law, you're even more likely to be the target of a surveillance scheme. To help keep your information safe, follow the tips below every time you go online.
Be cautious while on public hotspots – Using open Wi-Fi networks can be more dangerous than you know. Hackers often target public hotspots for data snooping operations, and the ISP providing the Wi-Fi can log and sell your information without your knowledge. When looking for an open public network to use, always have your VPN active, and try to avoid sensitive tasks whenever possible.
READ: How to Stay Safe on Public Wi-Fi
Use the Tor Browser – The Tor Browser is a free piece of software that helps anonymize your online activity. It uses the Tor network to encrypt data and send it through a handful of nodes before delivering it to the final destination. This strips every request of its origin to make you as anonymous as possible. It even lets you access the deep web safely and securely. Check out our guide on how to get started using Tor.
Install security focused browser extensions – Most browsers don't encrypt or obscure personal information while you're online. If you're using a public network, this can be a problem. Installing trusted extensions like HTTPS Everywhere and Privacy Badger can help secure your connection and remove malicious trackers and advertisements.
Encrypt your iPhone or Android device – Smartphones carry an unprecedented amount of personal information, making them a prized target for data hackers and run of the mill thieves. To help ensure personal information isn't leaked, you should always use a VPN on Android and iPhone devices. You can also encrypt your Android or iPhone for extra protection.
Avoid Free VPNs Whenever Possible
Free VPN services seem like a really good deal. For starters, they're available everywhere, from browser extension sites to mobile app marketplaces. All of them promises great speeds and a wide variety of servers to choose from, all for the low cost of absolutely nothing. Unfortunately, many free VPNs exist to exploit user privacy, not protect it.
Just like any business, no-cost VPNs need income to maintain their servers, pay their workers, and so on. Since that money isn't coming from their users, they look elsewhere for revenue. This usually comes in the form of logging and selling the very data they promised to protect. Free VPNs seem like a convenient solution to bypass censorship blocks, but in reality they can lead to more problems than they solve. Always invest in a good, paid VPN service if you want your privacy to stay safe.