We are reader supported and may earn a commission when you buy through links on our site.
Learn more
Best USA VPN for 2021 + Warning on FREE VPNs
Americans' digital rights are steadily waning, but you can take back control of your privacy online with the best USA VPNs. Today, we'll show you what's at stake, how to use your VPN for enhanced cybersecurity, and present the top VPNs for America currently on the market.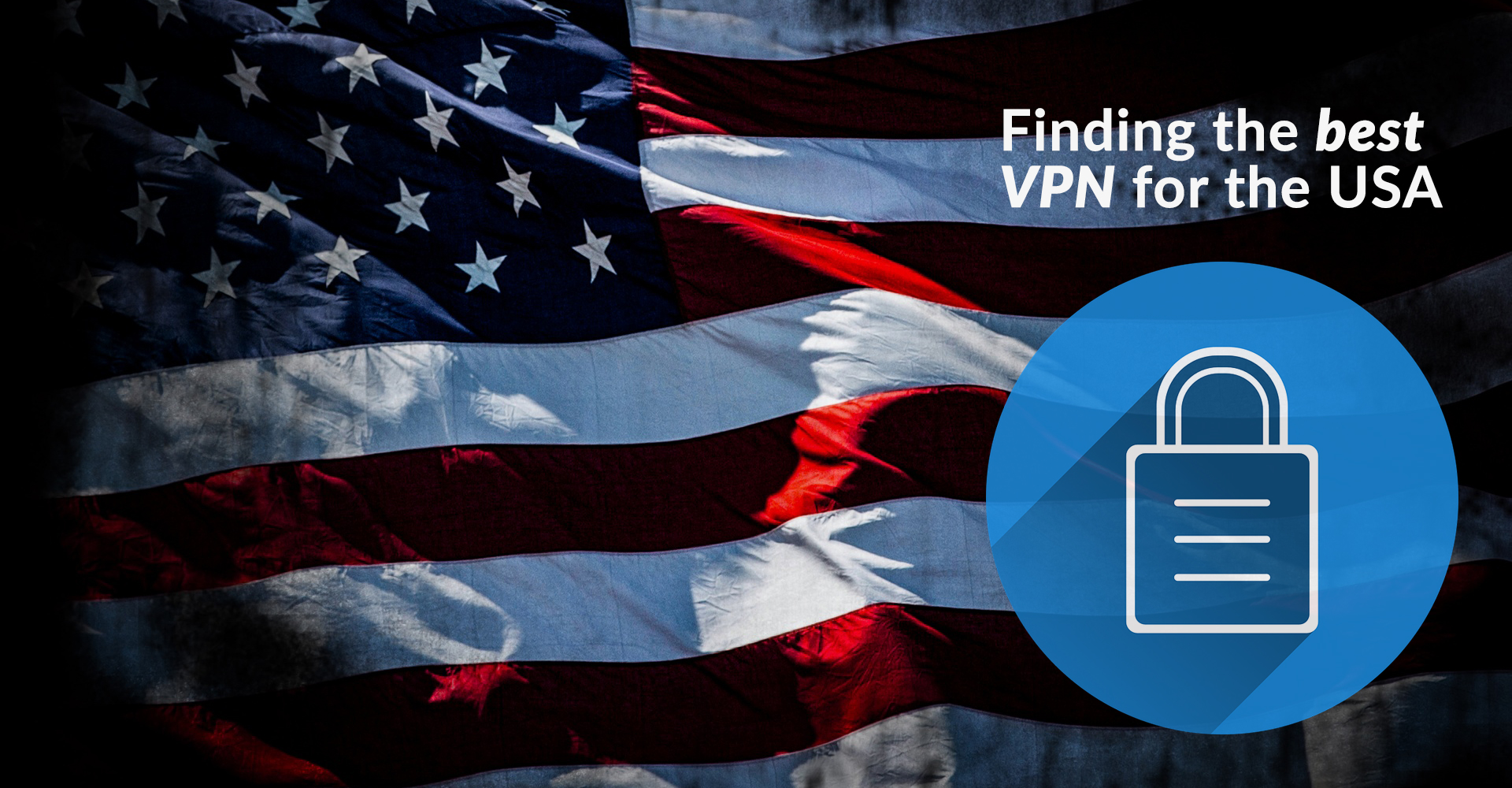 Online privacy in the United States has grown into a serious issue in the last few years. Government agencies have started to engage in mass surveillance by forcing large companies to share their data, putting everyday users located in the USA at risk. To top it off, internet service providers now have the ability to collect and sell user information without your permission, making your online activity available to the highest bidder to do with as they please.
Take back your right to privacy from overreaching American ISPs and government with these VPNs:
NordVPN – Best USA VPN – NordVPN is well-known throughout the USA, and for good reason. They not only have the most experience combatting government censorship, but the best tech to make it possible.
Surfshark – A budget VPN, but you'd never know it; top-shelf encryption, cutting-edge server infrastructure, good jurisdiction.
ExpressVPN – Easily one of the fastest VPNs on the market, and used across the US for unblocking Netflix.
PureVPN – No stranger to breaking harsh censorship like China's Great Firewall, an excellent choice for pretending to be in another country.
VyprVPN – Practically tailor-made for hiding online, with a provider-owned network and proprietary encryption.
To stay safe in a hostile digital world, many users in the US are turning to virtual private networks. VPNs work like a tunnel that encrypts and safely transports data to and from its destination without divulging your personal details. ISPs can't share or sell scrambled information, and when a good VPN is involved, government agencies can't collect data, either. You enjoy privacy while you surf, all with minimal effort on your part.
30-days money back guarantee
How we evaluate providers
Getting the right VPN for use in the USA takes some careful research. Most users are looking for better privacy than their local ISP delivers, making things like logging practices and jurisdiction of prime importance. Circumventing geo-restricted content is also high on the list, as is overall speed of an overseas VPN. To keep your costs and compromises at a minimum, we used the following criteria to evaluate the best VPNs for your buck.
What are the best USA VPNs?
After carefully considering the above criteria, we searched the market for the best providers. Our research resulted in the follow 4 best VPNs for use in USA: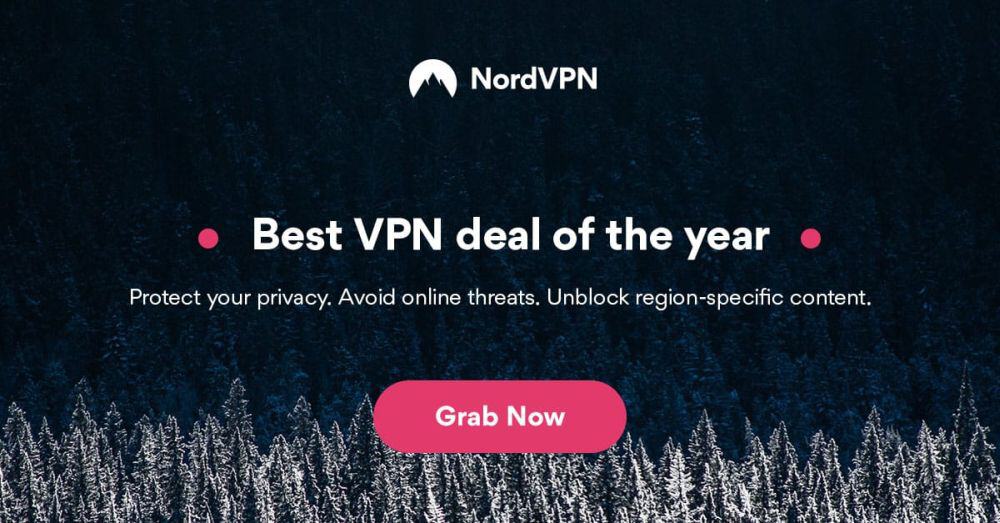 NordVPN was launched in 2012 at a time when the growing need for online privacy was starting to mount. The company is based in Panama, a country so far removed from the Five Eyes list they don't even appear on the Fourteen Eyes extended list. Jurisdiction alone gives NordVPN a huge advantage when it comes to anonymity. Combine that with zero logging, an automatic kill switch, and hefty double encryption and you've got a superb VPN tailor made for USA residents looking to protect their privacy.
Outside of its security measures, NordVPN employs over 5,500 servers in 60 different countries, a list that's constantly on the rise. Each of these are available for unlimited switching, unlocking just about any kind of region blocked content you can imagine. NordVPN also offers no bandwidth restrictions, no blocked files types such as BitTorrent, and fast servers tasked specifically for different types of traffic.
Read our full NordVPN review.
Pros
SPECIAL OFFER: 2-yr plan (68% off - link below)
Fast and stable connections
Torrenting is explicitly permitted
Retains no metadata of your browsing
Money back guarantee policy (30-days).
Cons
Apps can be a bit cumbersome to use.

Whereas the majority of our recommended VPNs have been combatting ISP and government surveillance for years, Surfshark is a relative newcomer to the game. But that's not a disadvantage–far from it. They've had time to study what works–and what doesn't–so that you're only paying for the very best privacy provisions.
For one, they use the same encryption as the NSA: the 256-AES-GCM cipher. Second, they've ditched outdated tunneling protocols in favor of the cutting-edge OpenVPN, IKEv2/IPSec, WireGuard. Moreover, they use these methods to connect you to their RAM-only server network (spanning 800+ servers in 50 countries), which is not only extremely responsive but physically incapable of retaining your sensitive user metadata.
Alone, that'd be enough to make Surfshark one of the best VPNs for staying safe in the USA, but they also throw in blanket obfuscation, unlimited simultaneous connections, anti-ad/malware, and even Bitcoin payments for total anonymity.
Pros
Reliably unblocks Netflix US, UK, Japan, and more
One of the first VPNs to implement RAM-only servers
Clean, dead-simple app interface makes constant security a no-brainer
Logging policy independently audited and verified
Support staff manned by actual human beings 24/7.
Cons
Server network is not nearly as expansive as major competitors
Apps may be too simplistic for power users.
Read our full Surfshark review.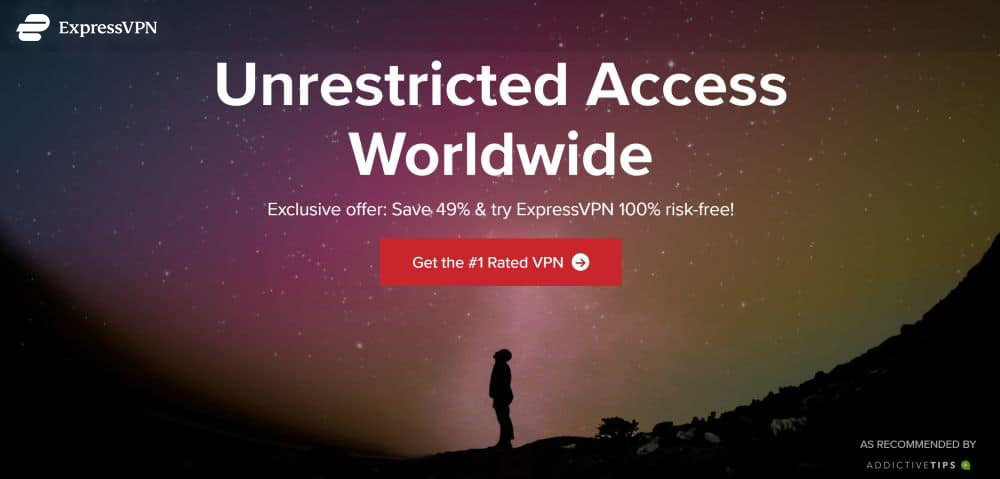 ExpressVPN provides a secure private network that's built for blazing fast speeds. The service offers 3,000+ servers located in 94 different countries along with unlimited bandwidth, no restrictions on torrent or P2P downloads, and absolutely no traffic logs. The most interesting feature of the service is a built-in speed test option in the Windows, Mac, and Android versions of the client. Not sure how fast the server you're connected to is? With a few taps you can find out, then switch to one that's faster.
ExpressVPN's jurisdiction is the British Virgin Islands, which isn't directly part of the Fourteen Eyes surveillance group. The jurisdiction does have loose ties to countries on the list, however, so it's not completely free and clear.
Read our full ExpressVPN review.
Pros
SPECIAL OFFER: 3 months free (49% off - link below)
Superfast servers (minimal speed loss)
AES-256 encryption
Keeps no logs of personal data
Live Chat Support.
Privacy has been PureVPN's concern since day one. The service features the standard unlimited data, unlimited server switching, and zero traffic logs, along with over 2,000+ servers in 141 different countries, one of the largest networks in the VPN marketplace. All of this is backed by solid 256-bit AES encryption with a kill switch and IP leakage protection. Perfect for the privacy minded individual.
PureVPN is based in Hong Kong, which is about as far away from the Fourteen Eyes list as a service can get. Hong Kong has relaxed data retention laws that allows the service to skip logging of any type. If an agency outside of the jurisdiction requests access to data, they won't find anything to seize.
Read our full PureVPN review.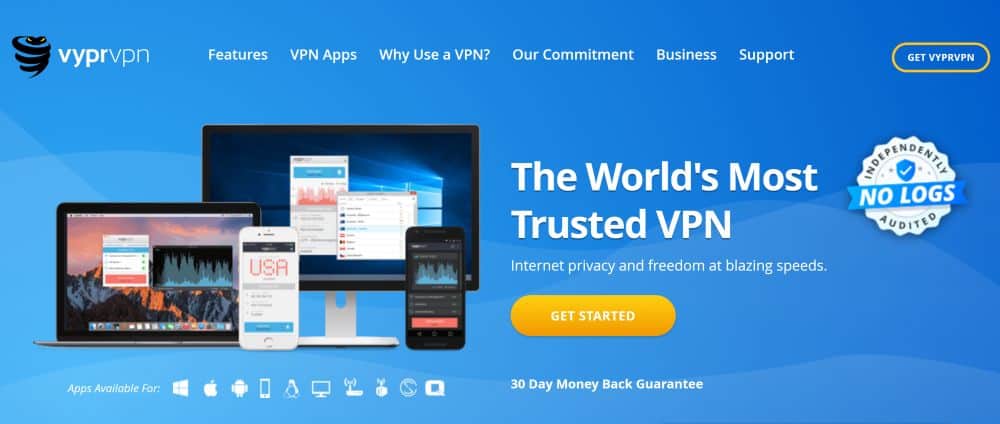 One of the more unique VPN services on this list, VyprVPN stands out of the crowd due to the fact that the company owns and operates its entire network of servers, over 700 spread across 70 locations in all. Encrypted data is never seen by an outside company, and both the hardware and software is created and maintained by the VPN provider. Keeping everything in-house is a huge advantage where privacy is concerned. To top it off, VyprVPN's jurisdiction is Switzerland, a country that isn't on the Fourteen Eyes list.
Along with its unique privacy offerings, VyprVPN also delivers fast speeds, unlimited bandwidth, no file type restrictions, and a good zero logging policy. The company's Chameleon technology also helps users bypass local ISP throttling and network congestion issues, and there's even a built-in NAT Firewall for added protection!
Read our full VyprVPN review.
Why Use a VPN Located Outside of the USA?
Agencies in the United States have come under scrutiny by privacy advocates for engaging in surveillance by leveraging anonymous services such as VPNs. These agencies have the ability to force companies located in the US to grant access to customer data, use their service to conduct mass surveillance, and even force the company to remain silent about the seizure, presenting deep problems for users who want their information kept private.
If you're located outside of the USA, there's very little reason for you to use a VPN within the country's borders. Other providers offer US-based servers and IP addresses without falling under the same set of laws, making them far better choices. If you live in the USA, using a VPN located in another country is practically mandatory. Not only does it allow you to access geo-restricted content, but you can also leverage more citizen friendly jurisdictions so your personal information remains secure.
What Is a Five Eyes Country?
Privacy advocates and VPN users often refer to countries as being part of the Five, Nine, or Fourteen Eyes lists. The designation has roots that stretch back to the post-World War II period when the United Kingdom, United States, Australia, Canada, and New Zealand agreed to collect, analyze, and share intelligence among themselves. Information leaks in recent years have proven that Five Eyes countries monitor each other's citizens and share the intelligence in order to circumvent domestic anti-spying laws. In other words, we made a promise not to spy on our people, so could you do it for us?
After the Five Eyes pact was established, two new groups of third party countries were added, forming the Nine and Fourteen Eyes groups. While some cooperation does take place between these lists, the extended members are seen as slightly safer alternatives to the big five. If your VPN is located in a Five Eyes country, your data simply isn't safe. If it's in a Nine or Fourteen Eyes group, your privacy options are a lot brighter.
What Countries Are in the Five, Nine, and Fourteen Eyes?
As detailed above, the countries that take part in the cross-surveillance and intelligence sharing plans raise a number of concerns with privacy advocates. Five Eyes countries represent the biggest risk to your online security, so if your VPN is located in any of these countries, it's time to find a new service. The Nine and Fourteen Eyes groups are seen as safer alternatives, but for the ultimate in privacy, find a VPN whose jurisdiction isn't even on the list.
Five Eyes
United Kingdom
United States of America
Australia
Canada
New Zealand
Nine Eyes
Denmark
France
Netherlands
Norway
Fourteen Eyes
Belgium
Germany
Italy
Spain
Sweden
A Warning about Free VPNs
Many internet users in the USA have heard about the privacy dangers associated with even the most basic online activities. VPNs have become commonplace, and it's tempting to sign up with one of the many free providers splashing banners and advertisements around the internet. The unfortunate truth about no-cost VPN services is that they simply aren't safe. If you're looking to protect your privacy, a free VPN can end up doing just the opposite.
Running a virtual private network costs money. If a VPN provider doesn't charge customers for the service, they have to make up the revenue through some other method. The most common way to do this is selling collected user data to third parties, which is exactly what everyone was trying to avoid in the first place. Even if a free VPN promises to encrypt all data and keep no logs, you simply can't trust the service. Paid VPNs are inexpensive and infinitely more reliable. It's a small price to pay if you value your privacy.
How to Avoid VPN Slowdown
One of the persistent drawbacks of using a VPN based outside of the USA is that data has to travel a longer distance, even if the VPNs have servers in the US. This can add some serious lag to your connection, making videos choppy and online gaming an exercise in extreme patience. The VPN providers above have some of the fastest speeds on the market, but there are a few other tricks you can employ to squeeze some extra speed out of your overseas connection.
Change servers – Which VPN server you connect to has a major impact on download speeds. Unless you need access to a specific country as a virtual location, choose a server closer to your own home. Even one country over can make a massive difference in reducing latency.
Decrease encryption levels – Encrypting data adds between 20 and 50% to the overall packet size, turning ordinary web browsing data into heavier downloads that take longer to send and receive. Some VPN software allows you to toggle the strength of the encryption, however, which can prove useful when you absolutely have to have that extra boost in speed.
Check your connection – Sometimes it's not the VPN that's slow, it's your own ISP. Local service providers often throttle ports associated with VPNs, resulting in reduced bandwidth whenever you connect. Most VPN software lets you change the port and port protocol, which can instantly boost speed by a significant amount.
Conclusion
Americans still enjoy relatively unfettered access to the free and open Internet, but that basic right is steadily eroding away as politicians and corporations seek to exercise more and more control over the flow of information citizens have access to. If you're not content to wait around for a miracle to reverse this trend, then get yourself the best VPN for the USA. In this article, we've done the hard work for you, describing the risks to your privacy, how to shore them up, and even presenting the top 4 VPNs Americans can trust.
Are you concerned about the way Internet freedom is going in your country? Which VPN appeals most to you for your use-case? Let us know in the comments below.