We are reader supported and may earn a commission when you buy through links on our site.
Learn more
Best VPNs for Xbox One and PS4 in 2021
Gamers, did you know you can boost your privacy without creating problems with latency and lag? You just need the best VPN for Xbox and PS4, and today we've got 5 top-tier providers for you. We'll show you why you need a VPN on your gaming rig, plus how to install, configure, and use it for best results.
Want to get the most out of your gaming console? Pairing a good VPN service with your Xbox One or PlayStation 4 can help unlock features you never knew you were missing. How does region-free gaming sound? Access to games banned in your country, or Netflix videos from around the world? How about DDoS protection? Still not convinced, then please read this.
Unleash the potential of your gaming console with these gamer-friendly VPNs:
NordVPN – Best Gaming VPN – NordVPN is the best choice for creating a VPN router to enhance the security and utility of your PlayStation and Xbox consoles. Massive server network, unbreakable encryption, zero logging.
Surfshark – An affordable router VPN that also offers Smart DNS functionality for unblocking content on consoles.
ExpressVPN – One of the rare few VPNs with dedicated apps for PS5/Xbox SX, offering unparalleled network speed and stability.
PureVPN – A highly capable VPN with advanced tunneling protocols, great for gamers living in heavily censored countries.
IPVanish – One of the most popular choices for gamers, streamers, and torrenters due to a good balance of privacy and performance.
VyprVPN – Possibly the world's most secure VPN, though not the fastest for gaming.
All it takes is a little time and the right VPN service and you'll be set up and ready to go. Read on to see some of the best VPNs to use with Xbox One or PS4.
30-days money back guarantee
How to Choose the Best VPN for Xbox One and PS4
Knowing why you need a VPN is important, but finding the right one for your console is another matter entirely. There's a lot of new information to digest, everything from encryption strengths to server networks and privacy policies. You also have to consider installation, as not all VPNs are made to work with each console in the same way.
Installation Methods
It's worth noting that VPNs generally don't offer one-click installation support for either Xbox One or PlayStation 4. In other words, you can't just hop on the console marketplaces and download your favorite VPN software. That's where tricks like router-based VPNs, connection sharing via Windows/Mac, and DNS streaming come into play. Note that all methods aren't supported or discussed by every VPN, and you might need a Tomato or DD-WRT router to get things done. We discuss each service's installation methods in our recommendations below.
Our VPN Selection Criteria
Choosing the best VPN for PS4 or Xbox means weighing a lot of variables, the most important of which is straight-up compatibility. In selecting our recommendations below, we used the following criteria to narrow down the list.
Download speeds – Speed is everything when it comes to online games. Since VPNs can slow things down due to encryption overhead, we chose only the fastest providers available.
Software – How a VPN functions with your console makes a huge difference. Does it require a lengthy install process? Is it easy to use? Will it slow down your connection? All of these factors are vital to your online gaming experience.
Unlimited bandwidth – Bandwidth limitations will end your streaming and gaming in an instant. We chose only VPNs with unlimited bandwidth for all devices.
Zero-logging – If a VPN keeps detailed activity logs, you're never guaranteed true privacy.
Recommended VPNs for PS4 and Xbox
After researching and comparing all of the features above, we settled on a few of the best VPNs to use with your gaming console.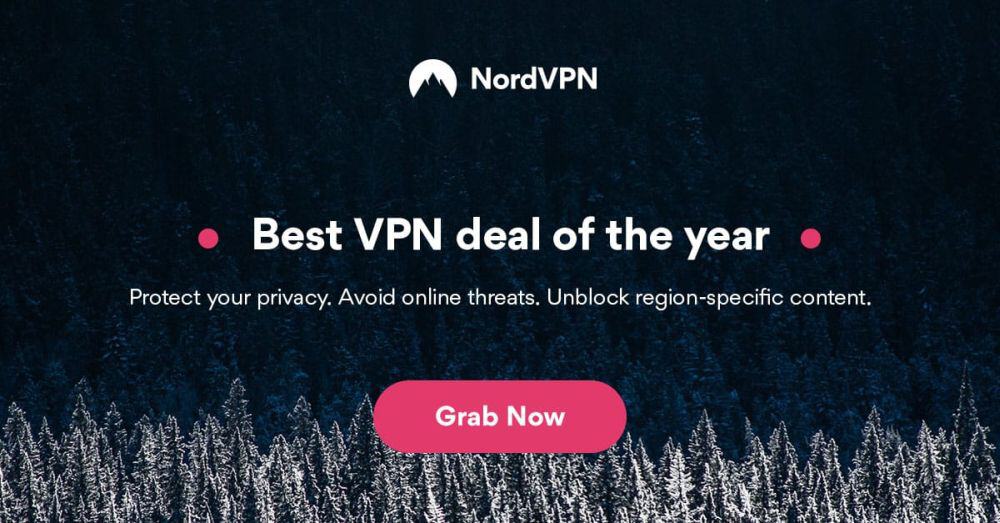 NordVPN has a massive server network, quite possibly the largest in the industry. The list changes on a daily basis, but at the time of writing it sits at over 5,700 servers in 60 countries. That translates to plenty of connection options for your home console or portable device, no matter where you live, work, or travel. NordVPN uses this network to provide added features, as well, including DDoS protection and double encryption, making it a great choice for PS4 or Xbox One users. On top of that, you still get strong 256-bit AES encryption, kill switch and DNS leak protection, and a zero-logging policy that covers traffic, DNS requests, IP addresses, and time stamps.
As is the case with most VPNs, NordVPN doesn't offer a dedicated piece of software for gaming console connections. Instead, the company recommends setting up your router to handle encrypted data, thereby protecting all devices in your home, both wired and wireless.
Read our full NordVPN review.
Pros
SPECIAL OFFER: 2-yr plan (68% off - link below)
5,400+ servers globally
Strong encryption is used on all connections
No logs and encrypted connections for total privacy
Live Chat Support.
Cons
Refund processing can take up to 30 days.

While Surfshark doesn't offer apps compatible with PlayStation or Xbox consoles, it still has plenty of utility for gamers.
For one, it's easy to install on your router, thereby enhancing the security and content-unblocking ability of your favorite game system (while protected all your home's other internet-connection devices, as well.) But if it's just unblocking that you want, Surfshark also offers a dedicated Smart DNS module which can be configured on PS4/PS5/XBOne/Xbox Series X. If you have trouble, they offer outstanding support 24/7 via their live chat line.
Beyond compatibility, Surfshark is a supremely capable VPN, with unbreakable 256-AES-GCM encryption, 3200+ servers in 65 countries, a kill switch, blanket obfuscation, IP/DNS/WebRTC leak protection, adbocking, and more. Their RAM-only network infrastructure is also plenty fast, enabling lag-free gaming anywhere in the world. Finally, Surfshark never keeps logs of your activity, so game, stream, and chat in peace.
Pros
Robust servers blast through geoblocks to access your favorite streaming sites
Get a static IP from US, UK, Germany, Japan, or Singapore
Expansive anti-ad and anti-malware database constantly updated
Absolutely no logging of connection data, IP addresses, bandwidth used, or traffic
24/7 live chat ensures maximum uptime.
Cons
Overall, not much to complain about
New-kid-on-the-block status may not instill same trust as larger providers.
Read our full Surfshark review.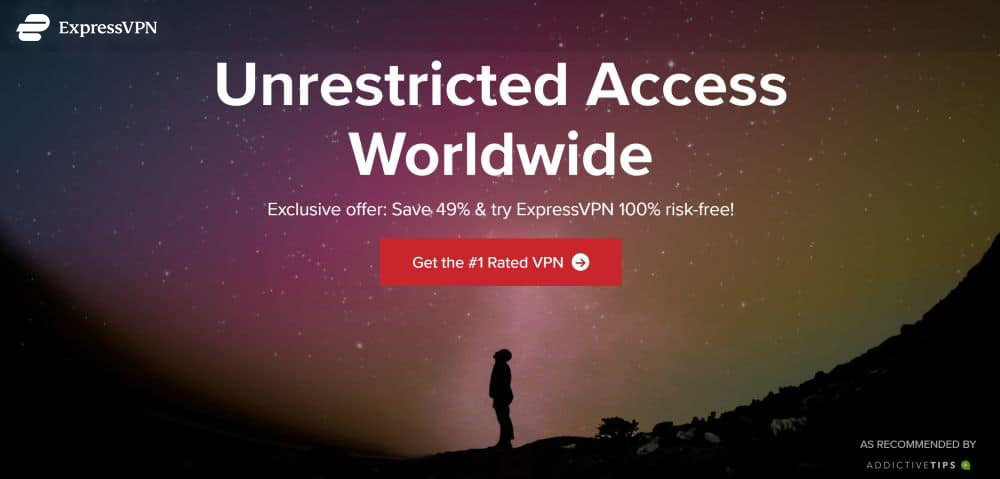 ExpressVPN is fast, friendly, easy to use, and has one of the best installation processes for protecting your Xbox One and PS4 traffic. ExpressVPN sets the foundation for sturdy online privacy with 256-bit AES encryption on all data, a zero-logging policy that covers traffic and DNS requests, and both kill switch and DNS leak protection on most platforms. ExpressVPN's server network 3,000+ nodes in 94 different countries, too, which gives you tons of options for selecting non-local IP addresses to break through geo-restriction barriers.
ExpressVPN is one of the few mainstream VPN providers that offers both router-based installs and a direct DNS-based connection method for consoles. To use it with your PS4 or Xbox One, all you have to do is sign up for a free Dynu account, set up ExpressVPN to use this hostname, then configure your gaming console to use this connection as a proxy. ExpressVPN guides you through the entire process, step by step. It's actually much easier than it sounds, too.
Read our full ExpressVPN review.
Pros
Unblocks US Netflix
3,000+ super fast servers
No DNS/IP leaks found
No logging policy well enforced
24/7 Chat Support.
Cons
Power-users configuration options.
PureVPN is easy to use and offers a full-featured security experience on a wide variety of devices. Ever wanted virus protection, malware shields, app blocking features, or DNS level website filtering? PureVPN has them all, and each one is neatly integrated into the main service for a truly seamless online security experience. Backing these features up is 256-bit AES encryption, a zero-logging policy on all traffic, DNS leak protection, and an automatic kill switch, along with a network of over 2,000+ servers in a whopping 140 different countries.
One drawback of the PureVPN experience is you can't take advantage of some of these added security features on your gaming consoles. Router configuration is the best way to use PureVPN with your Xbox/PS4. Doing this means no anti-virus protection and no malware blocking, among others. You still get all the same encryption and anonymity features, however.
Read our full PureVPN review.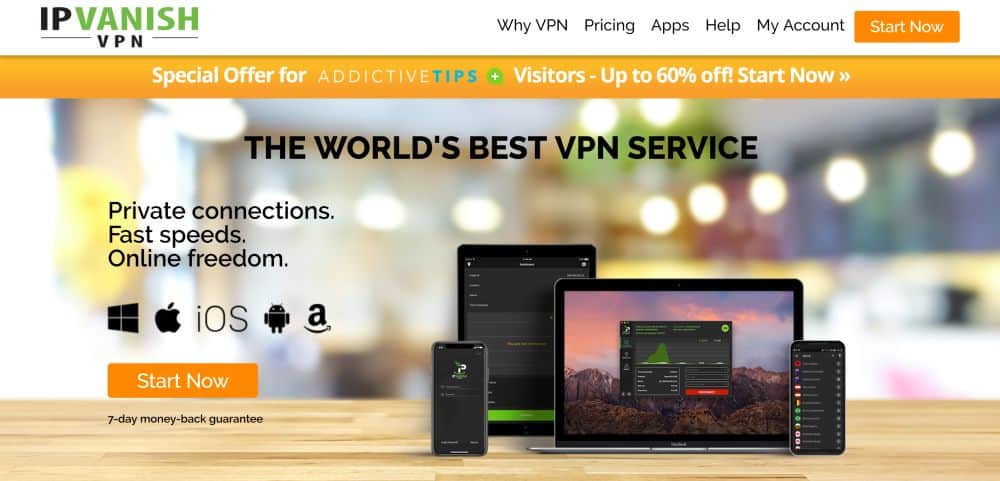 IPVanish is one of the best VPNs to use when you simply can't sacrifice privacy in the name of speed. Most services have to downgrade encryption to make their networks faster, but with IPVanish, you get lightning fast speeds without losing anonymity. It starts with 256-bit AES encryption on all data, DNS leak protection, and an automatic kill switch to keep your connection safe no matter what. A zero-logging policy on all traffic ensures your activity doesn't stick around, and with 1,300+ servers in over 75 different countries, you're practically guaranteed to find a fast connection no matter where you live.
IPVanish doesn't offer any special software or installation methods for Xbox One or PS4. Instead, your best option is to install the VPN through your router. This ensures all devices that connect to your home network receive the benefits provided by the VPN, including gaming consoles, smartphones, and other streaming hardware.
Read our full IPVanish review.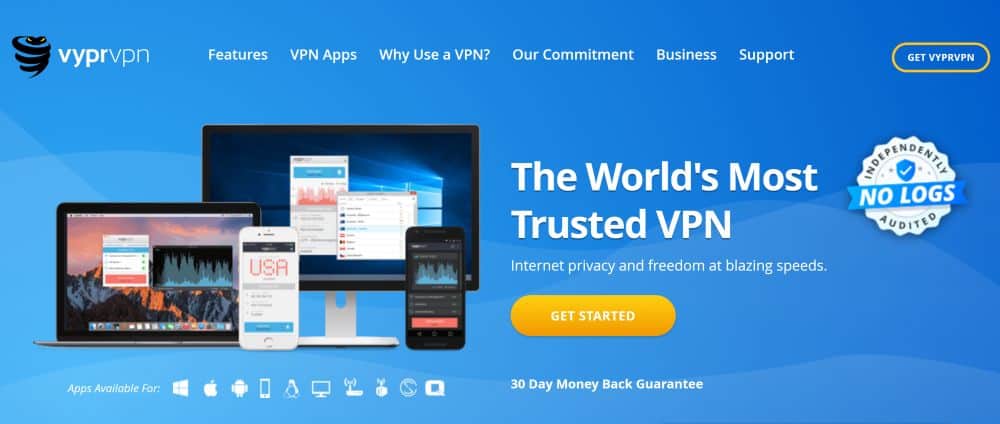 VyprVPN has some amazing privacy features other services simply can't beat. It starts with a network of over 700 servers in 70 different countries, a great distribution of hardware that's owned and operated by VyprVPN themselves. This helps keep third parties out of the picture and ensures your data stays safe no matter what. Along with this you get 256-bit AES encryption, DNS leak protection, an automatic kill switch, and a zero-logging policy on traffic and DNS requests. Then there's VyprVPN's excellent Chameleon protocol, an exclusive feature that wraps metadata in an extra layer of encryption to defeat deep packet inspection and strict censorship blocks. If safety is your number one concern, VyprVPN is the way to go.
Router installs is the best way to use VyprVPN with your Xbox One or PlayStation 4. The company does mention connection sharing via Windows or Mac computers, though it also notes that the method isn't officially supported by the VPN.
Read our full VyprVPN review.
Why Use a VPN on Xbox One or PlayStation 4?
Most people think of their consoles as nothing more than pieces of hardware that play games. You use them for a lot more than Destiny and Horizon Zero Dawn, however, especially if you have apps like Netflix installed. Pairing a VPN with your console can eliminate common gaming issues while opening up a new world of content, ready to stream.
Unblock Restricted Games
Despite the persistent march of globalization, some content providers still can't serve games to every region without restriction. The Xbox One and PlayStation 4 marketplaces follow this practice, blocking certain game downloads based on your country of origin or preventing you from connecting to online servers unless you have a certain IP range. VPNs can help fix both of these issues. By connecting to a VPN's worldwide server network, you can spoof your console's IP address to any country you like.
FACT: How to Change Your PSN Region with a VPN
Get Games Early
Big games scheduled for worldwide release often roll out in a staggered pattern. Each region gets to download the title at a specific time, such as midnight, and not a moment sooner. Because midnight comes earlier in some time zones, you can use that to your advantage. Switching on a VPN and connecting to a time zone further east can let you skip ahead a few hours to grab games before your local neighbors.
READ ALSO: How to Pretend to Be in a Different Country Using a VPN
Private Video Streaming
Concerned about your ISP monitoring your online activities? How about mass surveillance recording everything you do? Internet traffic includes videos you watch and games you play on your consoles. VPNs help keep them safe from prying eyes, all thanks to packet encryption.
DDoS Protection
DDoS (direct denial of service) attacks are increasingly common these days. They work by bombarding the servers a user is connected to with an overwhelming amount of data, causing a ton of lag or shutting them down altogether. If you snipe the wrong person from across the map, there's always the chance they try rolling out a DDoS attack to get their revenge. DDoS uses IP addresses to target the attack. If you're using a VPN, it's likely they have robust anti-DDoS measures in place, keeping your connection safe from malicious opponents.
Break through Region Blocks
Tired of being confined to Netflix, YouTube, and Hulu videos that are only available in your country? With a VPN you can break through geo-restricted content barriers and watch movies from around the world. All you have to do is connect to a VPN server located in the area of your choice, then fire up the streaming app on your console.
DID YOU KNOW: ExpressVPN is one of the few VPNs to work in China
Easy On, Easy Off
Even if you don't engage in a lot of video streaming or heavy online gaming, you might want to switch the VPN off from time to time. You can always switch off your PS4/Xbox One service with just a few clicks.
How to Use a VPN with Xbox One and PS4
Since VPNs can't really be installed directly to a gaming console, we have to use clever workaround to ensure the connection remains secure. Most of the methods below simply push most of the actual encryption and routing work onto another device, allowing the console to work normally but still protecting your data before it leaves the network.
Router Installation Method
The most common method of protecting gaming consoles with VPN encryption is to set up your router to handle all the heavy lifting. The procedure for doing this varies depending on the VPN service and the router you own, but the basic process is simple enough and involves copying DNS and server information from your VPN over to the router's configuration page. This transforms all traffic, both wired and wireless, into VPN-encrypted, anonymous traffic.
READ MORE: VPN Routers, What Are They, and Are They Right for You?
Windows and Mac Connection Sharing
Connection sharing is a little-used feature both Windows and Mac operating systems offer out of the box. The basic idea is to install your VPN's software on your main computer, connect your Xbox or PlayStation directly to the same PC, change the configuration to allow network sharing, then switch console settings to use this connection instead of a wireless one. Performance can vary depending on your hardware and operating system, but it's still a valid method of protecting your devices with VPN encryption.
Conclusion
Both the Xbox One and PlayStation 4 consoles are powerhouses of online entertainment. They let us watch videos, stream movies, and play games with anyone in the world, all from our comfy couch and big screen TV. The limitation of not being able to directly install a VPN hasn't prevented anyone from keeping their data safe through alternative methods. One quick router configuration is all it takes to encrypt your data. Got any other tips for using a VPN with a gaming console? Let us know in the comments below.