We are reader supported and may earn a commission when you buy through links on our site.
Learn more
Best VPN for Australia in 2021 (Full Review)
Aussies concerned with the decline in Internet freedom, we present to you the best VPN for Australia. Today's topic covers 5 top-tier VPN providers, each with a proven track record of enhancing privacy online and bypassing regional website blocks within Australia. Scroll down to install and configure your VPN in just a few minutes.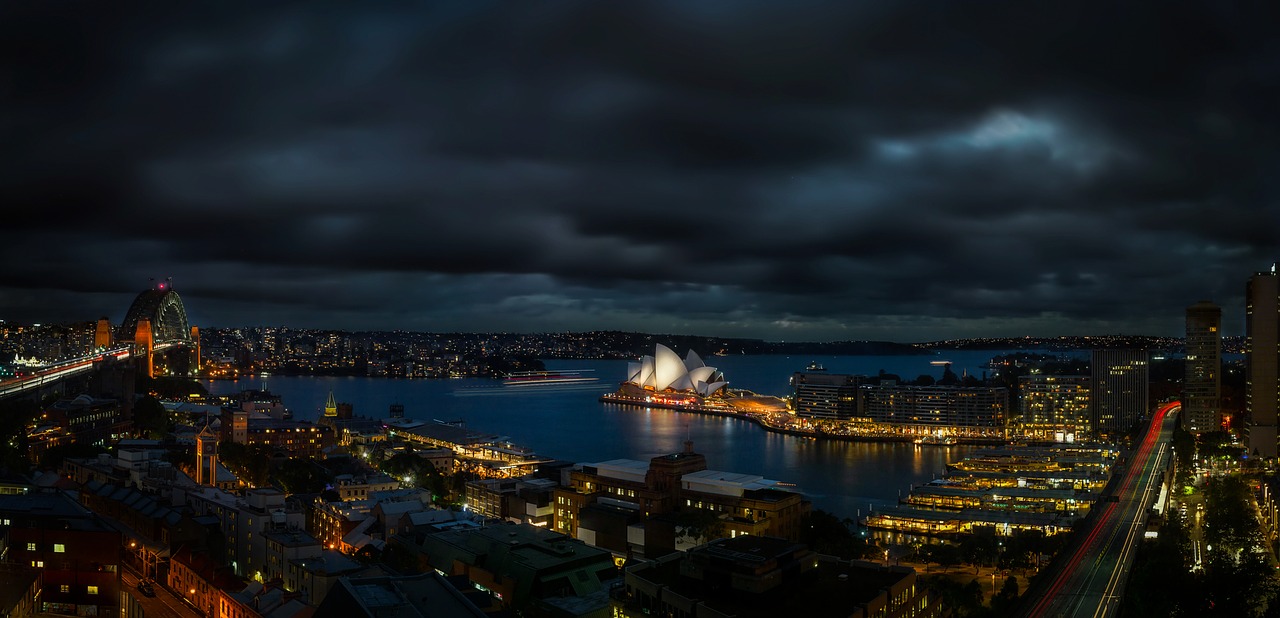 Australia might be a country with a reputation for a laid back, relaxed national attitude – but its internet censorship policies are anything but relaxed. In fact, Australia has recently introduced some extremely strict restrictions on internet use, and it's only getting worse. A recent Freedom House report shows that internet freedom has seen a global decline every year for the past six years, with bills like Australia's infamous Copyright Amendment (Online Infringement) Bill of 2015–which lead to the blocking of a huge number of sites judged (often wrongly) to facilitate copyright infringement–marking a new normal.
Don't leave your right to privacy online in the hands of Australian ISPs. Anonymize your Internet connection with these secure VPNs:
NordVPN – Best VPN Australia – NordVPN sets the industry standard for security and performance, allowing Australians to take control over their Internet security. Unblock any site, download in safety, and browse the net on your own terms with NordLynx encryption.
Surfshark – Who says VPNs have to be expensive? Surfshark offers a ton of functionality at a fraction of the price.
ExpressVPN – If you don't mind investing a bit more in your privacy, ExpressVPN grants access to one of the world's fastest VPN networks.
IPVanish – A well-balanced VPN that works especially well on processor-light devices such as Firestick.
VyprVPN – 100% provider-owned network offers total transparency on how your data is handled. Tunnel through censorship with Chameleon encryption.
Many websites are filtered or blocked in Australia, and the government has an extensive internet surveillance program. Despite the fact that internet access in Australia is generally both fast and affordable, these draconian restrictions make using the internet less than free.
The best way for users to get around internet restrictions so they can use the internet as it was meant to be is to get a VPN. Below we'll talk about how a VPN can help circumvent restrictions, and then we'll list our picks for the best VPNs for Australia.
30-days money back guarantee
How To Get Around Internet Restrictions in Australia
So how does internet restriction work? In Australia, there are a number of laws which effect what is allowed to be accessed from the internet. The Broadcasting Services Act of 1992, for example, effectively bans the hosting of certain content which has been deemed 'prohibited'. This can include horror movies which are deemed too gory, sexual content including pornography, and computer games which are judged to be too violent for the public.
While most nations have some prohibitions on extremely violent or graphic content, the restrictions in Australia are far harsher than in other similar countries. Many popular games and movies are available only in a highly edited censored format – for example, a game might have to have all of the blood spatter effects removed before it can be distributed in Australia. Many Australians find these restrictions to be patronising and unnecessary, as they feel that it is up to adults to choose whether or not they want to view this kind of content.
Regain Your Freedom With A VPN
So what do you do if you're an Australian internet user who wants to visit a website, play a game, or watch a film which has been blocked?
The answer is to use a VPN. Here's how it works: first you install a small piece of software onto whatever device you're using to access the internet – it could be your phone, your tablet, or your computer. This VPN software then encrypts all of the data that your device sends over the internet. This encrypted data is sent to a server owned by your VPN provider in the location of your choice. When the encrypted data reaches the server, it is decrypted and then sent on to its original destination.
The useful part of this is that the data only re-enters the visible internet at point of the server which you're connected to. So if you connect to a server in the US and then go to a website, that website will see your traffic as coming from the US and serve you the US version of the site.
What all this means is that you can be sat in Australia but connected to a server in the US (or in any other country). When you access the internet, you'll see websites as if you were browsing the internet from the US, including accessing sites which are unavailable in Australia. So you can get around restrictions and access blocked websites or watch restricted content.
Other Advantages Of Using A VPN
A VPN is useful for more than just accessing blocked content, however. There are a number of other advantages which users in Australia should consider:
The Best VPNs for Australia (and How We Chose Them)
Now you've seen all the advantages that a VPN can bring you as an internet user, the next task is to find the right VPN provider for your needs. But with so many options available, it can be tough to know which will be right for you. To help with this decision, we've put together a list of the best VPNs for users in Australia. We assessed these providers on the following criteria:
Servers in many different countries, so that you can easily get around blocks and restrictions, and so that you can access content from different countries. Huge server networks = more IP addresses to spoof.
Strong security to keep you safe, including strong encryption and a no logging policy to ensure that your data will never be passed on to another company or to the government.
Fast connections, so that using your VPN doesn't slow down your internet browsing experience.
Easy to use software, with support for plenty of different platforms so that you can protect all of your devices using just one VPN account.
Here are our top recommended VPNs based on these factors: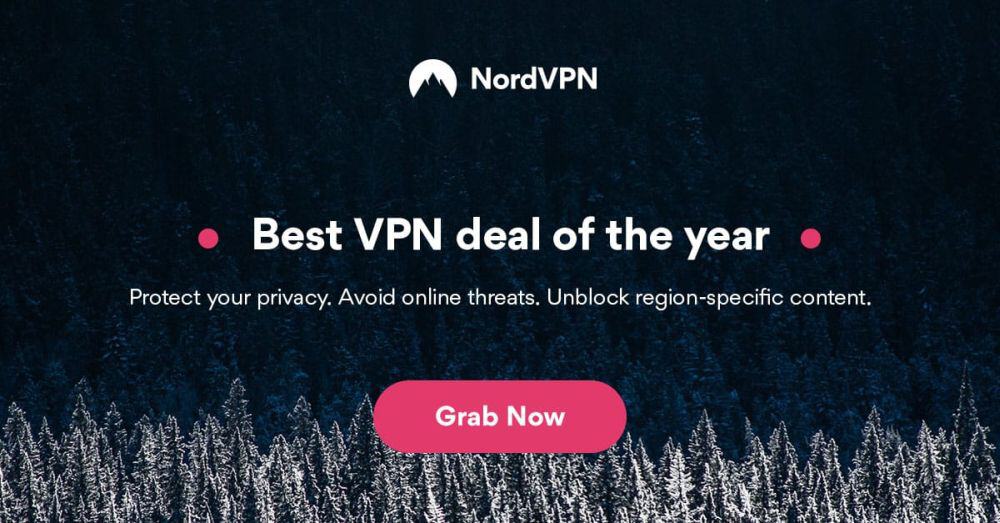 When your number one priority is security, then you should look into NordVPN. This company has exceptionally strong security, with the 256-bit encryption and no logging that you'd expect. But they offer more than this: they have a special double VPN service. This means that your data is encrypted on your machine and then sent to a server, where it is encrypted again and sent on to another server before it is decrypted and sent back on its way. This second layer of encryption provides the ultimate in security, which is important for those who want to stop government snooping.
The server network available is generous, with over 5,700 servers in 60 different countries so you can hop around restrictions with no problems. The software supports a wide range of platforms including Windows, Mac OS, Linux, iOS, Chrome OS, Android, and Windows Phone, so you can protect all of your devices at once.
Read our full NordVPN review.
Pros
Unblocks American Netflix
Extensive server park of over 5,400 different servers
Strong encryption is used on all connections
No logs and encrypted connections for total privacy
Live Chat Support.
Cons
Some servers can be unreliable
Can't specify City or Province in App.

The Australian penchant for dangerous predatory animals extends pretty well to the VPN industry thanks to providers like Surfshark. While just launched in 2019, they have aggressively expanded both their server network (numbering more than 3200 nodes in 65 countries) and app functionality, yielding one of the most full-featured privacy solutions you'll find anywhere.
What's more, Surfshark has absolutely no appetite for government censorship and surveillance. They offer unbreakable 256-AES-GCM encryption to shroud your connection and anonymize your traffic, along with obfuscation and anti-censorship modes that auto-enable when your VPN app detects the need. This means there's not a geoblock you can't bypass, nor government firewall you can't tunnel through (Surfshark even works in China!)
The beautiful part is that Surfshark is dirt cheap, yet sacrifices nothing in terms of UI. They don't limit bandwidth, traffic type, or even the number of simultaneous connection you can have with a single subscription. Backed by a solid no-logging policy, the Aussie government will never be able to requisition records of your activity.
Pros
Bypass government censorship with NoBorders mode
Torrent safely on any server, no guesswork required
Zero restrictions on simultaneous connections, apps available on every major device
Absolutely no logging of connection data, IP addresses, bandwidth used, or traffic
24/7 live chat ensures maximum uptime.
Cons
Overall, not much to complain about
Apps may be too simplistic for power users.
Read our full Surfshark review.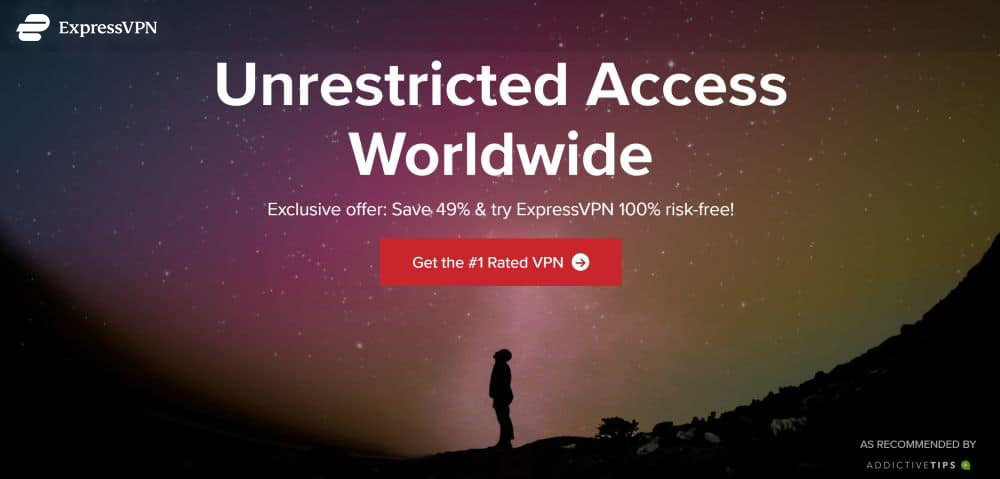 When you're looking for the fastest VPN speeds, ExpressVPN is a great choice. The are a favourite among serious internet users thanks to their fast connections, good security, and rock solid reliability. The offer a massive server network of more than 3,000 servers in 145 locations in 94 different countries, so it's perfect for getting around blocks or restrictions on internet content.
In addition to this, the strong 256-bit AES encryption will ensure that your data is not visible to outsiders, and the no logging policy will protect your privacy. The easy to use software supports many different platforms including Windows, Mac OS, Linux, and Android, and it includes useful extra features like a kill switch and a speed test to help you find the fastest server to connect to.
Read our full ExpressVPN review.
Pros
Unblocks US Netflix, BBC iPlayer and other streaming services
Super fast servers (minimal speed loss)
Torrenting allowed
Strict no-logs policy for personal information
Live chat support available.
Cons
Max 3 connections simultaneously
Slightly pricier than competition.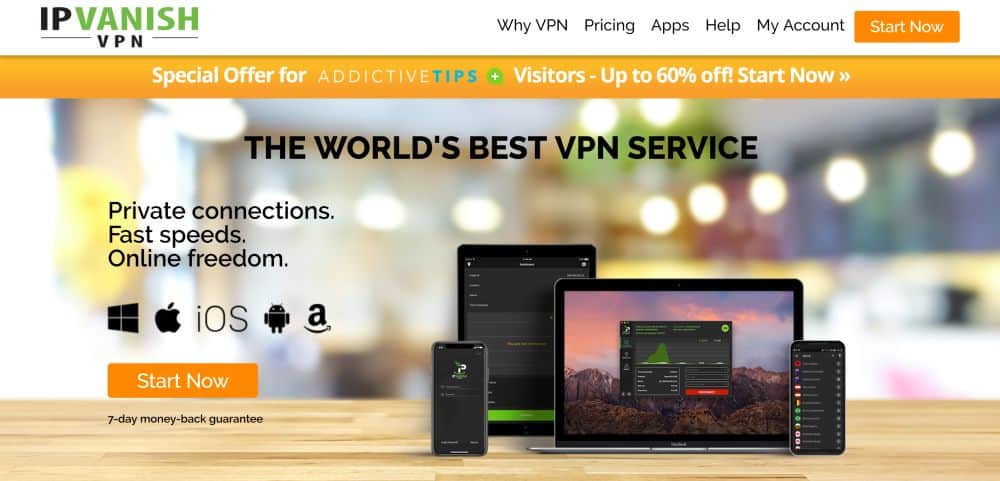 If your biggest worry is that you don't want a VPN which will slow you down, then we recommend you try IPVanish. This company is known for its lightning fast connections which let you stream high definition video and browse with no lag time.
The security offered is strong enough to keep you safe, including 256-bit encryption and a no logging policy. The server network of 1,300+ servers in more than 60 countries isn't the single largest among top-tier providers, but it's still plenty large enough for you to get around geo-restrictions. You can install the software on Windows, Mac OS, Linux, or Android.
Read our full IPVanish review.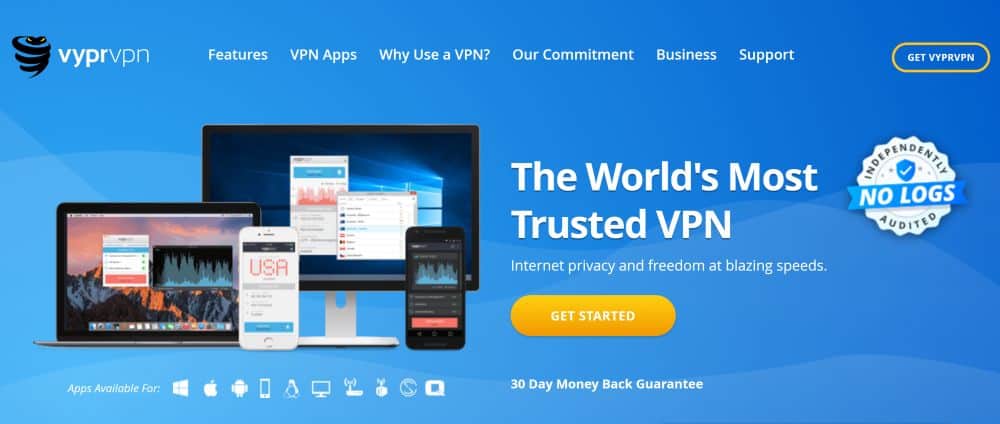 Lots of Australians travel, either for fun or for business, and many go to China each year. If this includes you, then you should look into using VyprVPN. As well as the strong encryption that we expect, VyprVPN has a special feature that lets you use the service even on networks with anti-VPN settings.
In China, it's typical for the government to restrict internet access and to discourage the use of VPNs through VPN-detection methods which won't let you pass encrypted data over the internet. This makes it a problem for anyone who wants to access sites which are blocked by the Great Firewall. VyprVPN uses their special Chameleon protocol to encrypt not only the data itself, but also the metadata such as the origin and destination of the data. It's very hard for any network to tell whether you're using a VPN, so you can use the service even where VPN-detection exists.
This makes VyprVPN the ideal choice for users who travel frequently. The large server network covers more than 700 servers in 70 different counties, and you can install the software on Windows, Mac OS, iOS, or Android.
Read our full VyprVPN review.
Conclusion
Australians get kind of the short end of the stick when it comes to internet freedom. Despite the fact that internet access is fast and relatively affordable in the country, the restrictions on internet content are far more strict than in other comparable countries. From banned horror movies to censored computer games to blocked sites for streaming TV shows, Australian users experience a much more limited internet than people elsewhere in the developed world.
The good news is that there is a way around these restrictions. Using a VPN will help you to evade blocks by letting you access websites as if you were browsing from another location. In addition, a VPN will improve your cyber security and prevent the government from snooping into your communications or your internet use. Any of the four VPNs we have mentioned will be of great help to users in Australia who want to experience a more free internet.
Is there a favourite service that you like to use when browsing the internet in Australia? Do you use one of these VPNs, or is there another which you prefer? Tell us about it in the comments below.