We are reader supported and may earn a commission when you buy through links on our site.
Learn more
How to Get a German IP Address From Any Country
Your IP address is your digital identity card, so get a German IP address to unlock access to some of the best Internet freedoms in the world. The most effective method for spoofing into Germany is by using a VPN – but not just any provider will do. Check out the 5 best VPNs for getting a Germany IP below.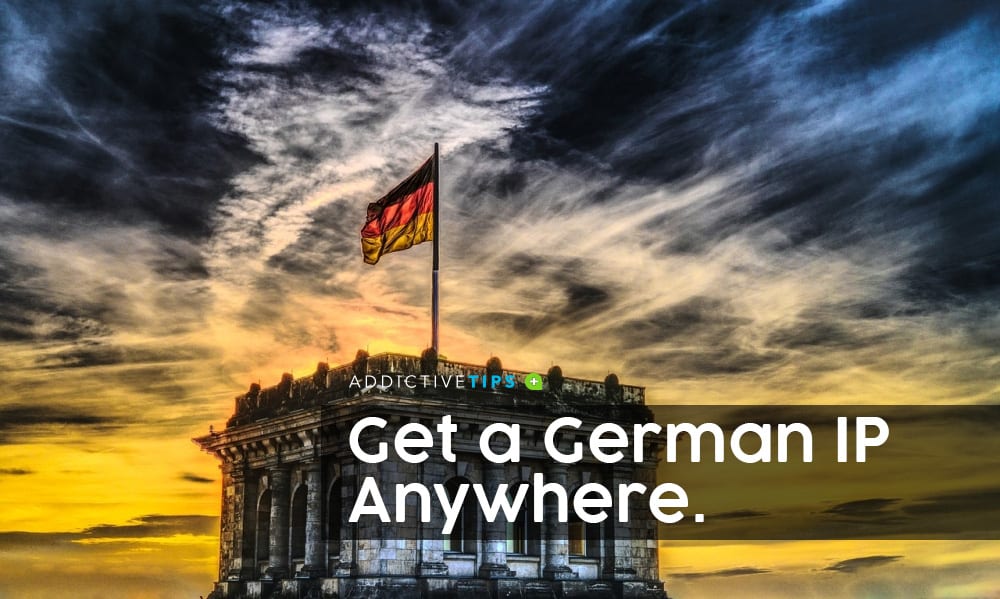 The Internet is everywhere and it allows one to access almost any resource no matter where it's located. No longer must you be in Japan to enjoy Japanese content, in the US to enjoy American content or, in our particular case, in Germany to enjoy German content.
Unfortunately, for all sorts of reasons–good and bad–several sites limit the access to their resources only to people located within their own country. There could be several reasons for that. For instance, German banks might restrict access to people located in Germany as a way to deter fraud. A German Broadcaster might have to do the same because of copyright restriction. They might, for example, only own the right to distribute some content in Germany.
You can "spoof" into Germany with a local IP using these secure VPNs:
NordVPN – Best for German IP – NordVPN offers more servers in Germany than many VPNs and proxies have in their entire network, making it the most robust solution for spoofing a German IP anywhere.
Surfshark – Multi-hop, static, and obfuscated IP addresses available in Germany, dirt cheap.
ExpressVPN – Tons of servers, outstanding speed, and a great logging policy.
PureVPN – Highly capable VPN with tons of cybersecurity extras.
IPVanish – One of our favorite VPNs for heavy streaming, torrenting, or VoIP calls.
VyprVPN – Ideally suited to breaking through the toughest censorship with its Chameleon protocol.
The good news is that there are ways around these limitations. The way content providers identify your location is by your IP address. Appearing to be located in a different location is just a matter of using a different IP address. It's actually quite a bit more complicated than that in the background. But there is software and services you can use to make it much simpler.
Today, we'll start off our discussion by explaining what IP addresses are, why they exist and how they are used to identify your location. Then, we'll discuss the various advantages there are to having a German IP address. We will then introduce Virtual Private Networks or VPNs and tell you how they work and why they can be used to change your IP address. We'll discuss the criteria for choosing a VPN provider and present the best five we could find.
30-days money back guarantee
What's An IP Address?
IP addresses are unique identifiers assigned to each and every device that connects to the Internet. You've probably come across them before. They're a string of four numbers between 0 and 255 separated by dots such as 10.245.117.253 or 4.2.2.1. (Actually, this is true of version 4 addresses but IP version 6 is also available. They also use IP addresses but they're longer strings of numbers, allowing for more unique addresses.
IP addresses are assigned in a hierarchical fashion. For instance, an Internet Service provider will be assigned addresses under 145.230.0.0. That means that all IP addresses starting with 145.230 are theirs and are distributed amongst their clients. By knowing what range of IP addresses is assigned to each ISP–which is a publicly available information–it's easy to know where an IP address is located.
How Do They Work And What Are They Used For?
Think of the Internet as a city. In that city, the Internet Protocol, or IP, is the way people exchange information. It is somewhat like the postal service of the Internet. If Tom wants to send something to Bob, he needs to put it in an envelope, write Bob's address on it and also his own as a return address. He then puts the envelope in the mail and it gets delivered to Bob's address. The Internet works the same way.
Now, let's pretend Tom and Bob are not people but computers, each connected to the Internet. Both have a unique IP address, just like everyone in the city has a street address. When Tom needs to send something to Bob, he puts it in a packet (the Internet equivalent of the envelope) and adds the destination IP address to the packet. Tom also adds his own IP address so that Bob will know where to send the reply. After that, Tom just sends out the packet on the Internet where the miracles of technology manage to route the packet to the destination IP address. When Bob receives it, he just sends the response out to the source IP address that Tom had added to the original packet.
Besides being used to send responses to packets, IP addresses can also be used to pinpoint any computer's location, at least to a certain extent. It's done by looking up who owns the range if the specific IP address through a process called reverse-DNS. This is what some suppliers use to block (or allow) users from certain locations.
The Advantages Of Having A German IP Address
As we've hinted in our introduction there are a few advantages to having a German IP address. The main advantage of having a German IP address is to access Internet resources (servers, websites, or services) that will only accept incoming connections from Germany. What are these sites, you may ask? The first type of geo-blocked site that comes to mind is media providers. One such example would be the German Netflix, Other examples include the streams from most German broadcasters
RELATED READING: How to Unblock Netflix Germany Anywhere in the World
Another use for a German IP address is to improve your search results for German content. Most search engines consider your location when calculating search results. If you're looking for a café in Berlin, you have better chances of finding it by using a German IP address.
Gaming is another area where it could be beneficial to have a German IP address. What if you want to download a game that is only available on the German market? Only a German IP address will be able to do that.
And finally, if you're a German living abroad, you might want to need a German IP address simply to do what you're used to doing every day. Just because you're on vacation in a different country doesn't mean that you shouldn't be able to access your bank, for example.
The Best Way To Get A German IP Address – Use A VPN
Back to our Tom and Bob example (the computers, not the people), some would readily suggest that getting a German IP address is simply a matter of inserting the proper German address as the source of every packet. The receiving end would see them as coming from a German IP address, right? Well, it would, but it would also send the response back to that address instead of the real source address and it would never reach its destination.
What we need is a system that will make the packet seem to arrive from Germany while preserving the possibility of sending the responses back to their real origin. There are a few ways that can be accomplished but the best way by far is to use a Virtual Private Network or VPN.
What's A VPN?
A VPN is a system that securely extends a private network across an unsecured public network such as the Internet. Its users can send and receive data across public networks as if their computers were directly connected to the private network. First created to be used by businesses and organizations to give users remote access to their local network through the Internet, they are now often used by ordinary Internet users to increase their privacy and security.
How Do VPNs Work?
A VPN works its magic by building a virtual (hence the "V" of "VPN") tunnel between a client application that runs on your computer and a VPN server somewhere in a remote location. Every packet of data leaving the client computer will necessarily go through the tunnel and exit it at the server end, which is usually connected to the Internet. Furthermore, all the data between the client and the server will be encrypted in a way that no one can decipher it (hence the "P" of "VPN").
LEARN MORE: VPN Encryption Guide
The remote system you're communicating with will see all data as coming from the VPN server instead of coming from your computer. This is why we can use a VPN to make it appear like we're located somewhere we're not. There is almost no way that traffic can be traced back to you or your computer. Similarly, all responses from the remote system will arrive at the VPN server and will be sent back on through the same tunnel to your client.
So we can see that with a VPN, we can accomplish what we need: to make it appear like we have a German IP address. We don't really need to change our computer's IP address, we just need to fool the remote resource who will see all our packets as coming from the VPN server we're using. If we choose a German server, we'll appear as coming from Germany.
Comparing VPN Providers And Choosing One For You
There are many VPN providers out there. Too many. This makes choosing the best one a daunting task that can intimidate the toughest of us. Generally speaking, there are a few important features you need to consider when shopping for a VPN
Zero-logging policies – VPNs that keep logs of your activity leave you vulnerable to legal repercussions, as the law may change to require providers and ISPs to fork over everything from your traffic to your DNS requests and more. Strict zero-logging policies provide better anonymity.
No bandwidth usage restrictions – Streaming is a data-intensive process. You need to ensure that your VPN doesn't limit your bandwidth. To avoid sudden interruptions, go for providers that allow unlimited bandwidth.
No restrictions on traffic – Many VPN suppliers prohibit certain types of traffic, most notably P2P and torrents. Many Kodi add-ons use these protocols to function. Make sure you pick a provider that allows any traffic.
Software compatibility – If you want to enjoy the protection a VPN provides, you'll need to make sure that it can function on that device you'll be using. The best VPNs work on a wide variety of platforms.
But more specifically, since we're looking at getting a German IP address, there's one criterium that is even more important than the others.
Availability of servers located in Germany – To make it look like you're coming from Germany, you need to connect to a server in that country. It's no use, then, to consider providers with no servers in Germany.
The Best VPN Providers for German Spoofing
At addictive tips, we've tested several VPN providers. In fact, we've tested most of them. And we found a handful that match our criteria and that are good options to get a German IP address. Each of them meets all of our criteria, and will make an excellent privacy solution overall.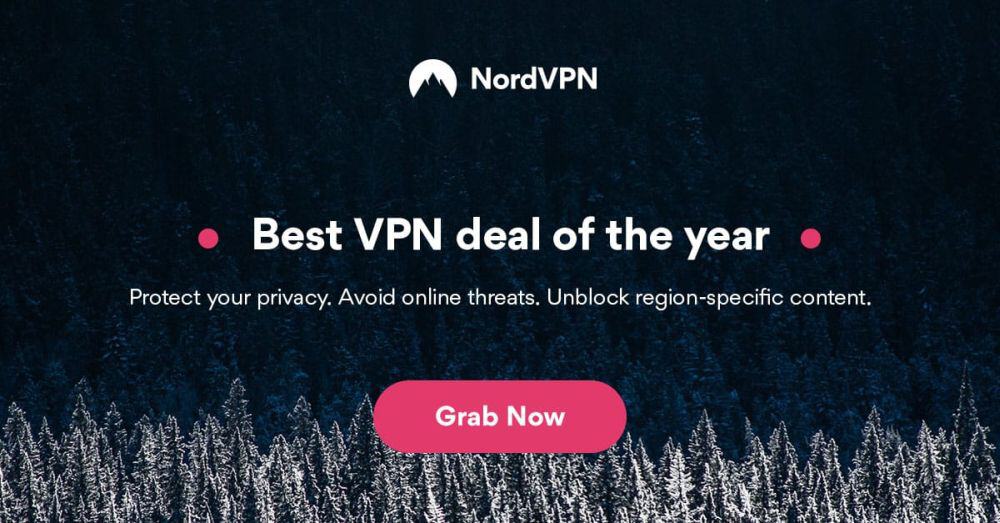 NordVPN has been around for over a decade, making it one of the oldest providers. It is still popular today thanks to its huge server network and excellent value for money. Their network of servers is one of the largest with 5,700+ servers in 60 countries around the world. And at 246, they're by far the provider with the most servers in Germany. Although they've been criticized for suffering from speed issues, this is something NordVPN has made great efforts to address recently. Privacy is NordVPN's strongest point. Being based in Panama means they are free to retain no user information whatsoever.
NordVPN offers 256-bit encryption on OpenVPN with 2048-bit Diffie-Hellman keys as standard. They also several additional useful security features including a kill switch and shared IP Addresses. Other unique features include Double VPN servers (which means your data is encrypted twice and rerouted through two servers for extra protection) and Onion Over VPN servers (which will redirect your data through the TOR Network as well as a VPN for additional security).
Read our full NordVPN review.
Pros
Servers optimized for unblocking Netflix
Most VPN servers with different IP addresses
Strong encryption is used on all connections
Based in Panama
Great customer service via chat.
Cons
Very little
Can't specify City or Province in App.

Surfshark is an overall exceptional VPN, but many will pass it by due to its modest server network size (numbering just over 800 nodes in 50 countries). However, that would be a mistake, especially if your goal is to spoof a German IP.
In fact, Surfshark over delivers on German servers specifically, offering standard connections in Munich, Frankfurt, Berlin, and Nuremberg. However, there are also static IP and even multi-hop servers available in Germany. This offers a huge amount of utility to those trapped behind harsh censorship in their home countries; or for those trying to fool websites with shared IP blacklists like Netflix. Indeed, every German server "just works" to unblock Netflix!
Rounding out the offering is unbreakable 256-AES-GCM encryption, obfuscation across the entire network, adblocking, a kill switch, and even unlimited simultaneous connections. Did we mention Surfshark keeps no logs? Yeah, it's good, we know.
Pros
Every server optimized for unblocking Netflix, BBC iPlayer, Hulu, and more
One of the first VPNs to implement RAM-only servers
Expansive anti-ad and anti-malware database constantly updated
Based in the British Virgin Islands, where there are no data retention laws
Refund requests are simple and fast–no waiting or hassle.
Cons
Connection speeds won't impress users of other high-end VPNs
Power users may wish for more settings to fiddle with.
Read our full Surfshark review.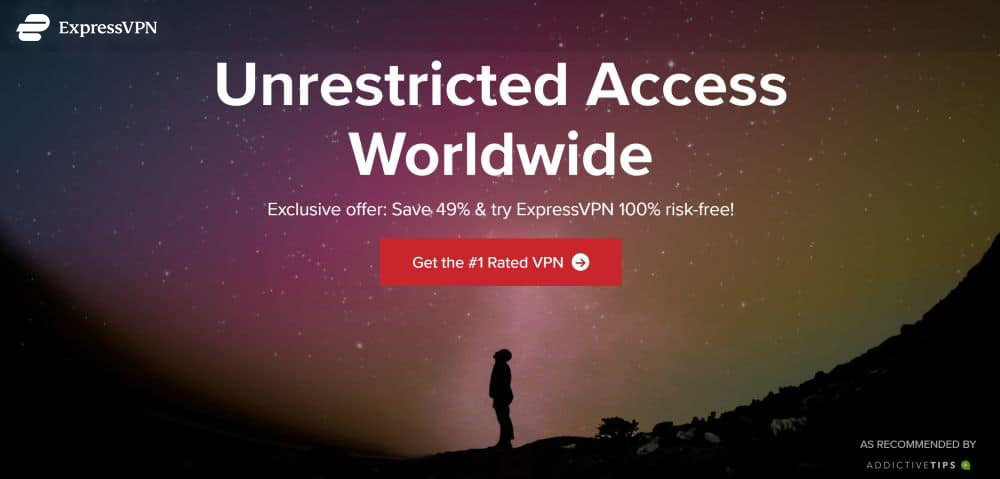 ExpressVPN is one of the fastest VPNs, and with today's media-intensive apps, speed is king. This provider offers consistent speed across all its servers and it does so without compromising security. Using resilient encryption standards like OpenVPN connections encrypted with 256-bit AES as default, ExpressVPN's 4096-bit DHE-RSA keys are identified by an SHA-512 hashing algorithm. This puts ExpressVPN in the premium category of VPNs.
This provider retains minimal individual data. Based in the British Virgin Islands, they are not legally required to retain any user data at all. The client app features a "network lock" which is equivalent to other provider's kill switch that protects your privacy by stopping all network traffic if the connection drops.
ExpressVPN boasts an impressively robust server network, number 3,000+ nodes in 94 countries worldwide. What's more, the company maintains servers in four separate locations in Germany, giving you plenty of options to dial in the best connection.
Read our full ExpressVPN review.
Pros
Unblocks US Netflix, BBC iPlayer, Hulu and Amazon Prime
Reliable and fast connections
Supports ALL devices
Strict no-logs policy
Customer Service (24/7 Chat).
Cons
Max 3 simultaneous connections
Slightly more expensive than some other options.
PureVPN is known for fast and unrestricted access to the internet. They have a huge network of 2,000+ servers in 141 different countries. They're everywhere. And for Germany, they have a massive number of servers at 201. They feature speedy connections, strong encryption practices, a zero-logging policy, unlimited bandwidth, DNS leak protection, and a quick kill switch to make sure your data always stays safe.
And as far as encryption goes, PureVPN leaves nothing to be desired and use only the best. They use top-of-the-line, military-grade (up to) 256-bit encryption to protect and safeguard user's data from falling into the wrong hands. Furthermore, PureVPN offers all the latest security and connectivity protocols including OpenVPN, L2TP/IPSec, PPTP, SSTP, and IKEv2. Finally, PureVPN wrote their own software for all major platforms.
Read our full PureVPN review.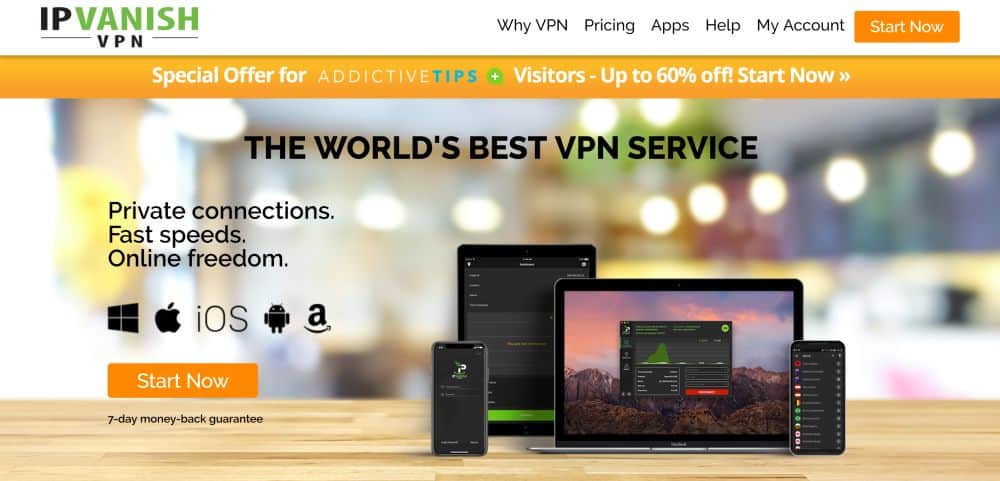 IPVanish is one of the biggest and also one of the best VPN providers, with a reputation is based mainly on top-notch security and privacy. This provider offers both L2TP and OpenVPN protocols using 256-bit AES encryption. They have a few great additional security features including an automatic kill-switch (which will cut your internet connection automatically if the VPN connection goes down) as well as a feature which allows users to switch IP addresses periodically for extra online privacy.
IPVanish also has privacy policies which are among the best. Their no-logging policy is one of the most comprehensive you can find anywhere. Even their own employees have no way of knowing what you're doing with the service. This is how private it is.
IPVanish offers fast and consistent connection speeds. Their vast network of servers includes more than 1,300 servers in over 75 locations around the world including 43 servers in Germany. You can use IPVanish on almost every device, including iOS and Android, and your subscription offers 5 simultaneous connections.
Read our full IPVanish review.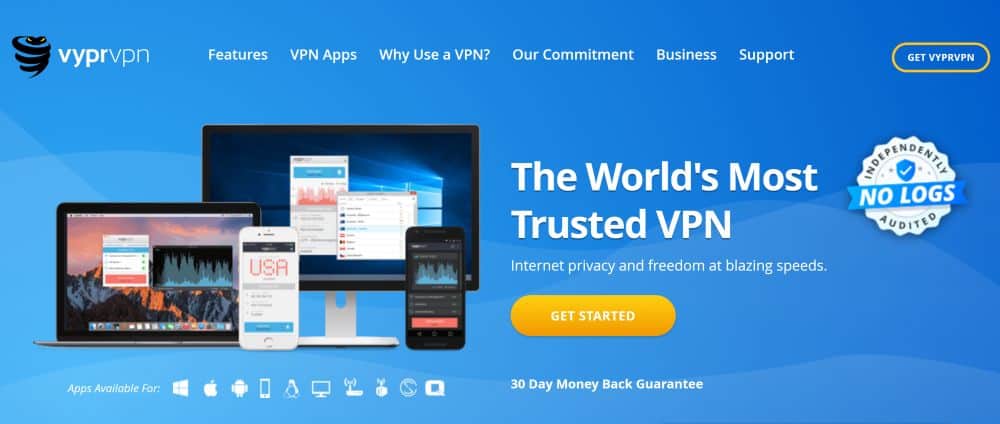 Known for some unique security features, VyprVPN (or rather, its parent company GoldenFrog) owns its entire server network. This means that your data stays within the company and also that it can customize servers for the best performance. There are over 700 servers in 70 different locations. While they don't provide server count figures, they only have servers in one location in Germany. This may be a drawback for the scope of this article, but VyprVPN is such an excellent provider it still warrants a spot on this list.
VyprVPN delivers superior speed and encryption without sacrificing privacy. Users get unlimited bandwidth, a great zero-logging policy, and both DNS leak and kill switch support. And for ultimate security, its trademarked Chameleon technology uses the OpenVPN 256-bit protocol and scrambles the metadata to prevent deep packet inspection (handy for users in places like China and Iran), VPN blocking and throttling. This allows you to start the VPN from a location that normally blocks VPN connections.
Read our full VyprVPN review.
Conclusion
There are several advantages to having a German IP address but fortunately, you can appear to have one even if you're not located in that country. Using an appropriately located VPN server, the resource you're accessing will be fooled into thinking you're somewhere you're not. We've explained what VPN are, how they work and we let you in on the most important factors you should consider when choosing one. With that information and our Top 5 best VPNs for Germany list, you should be able to easily select the best VPN provider for your purposes.
If you want to share your thoughts, ideas or comments about the subject, we love to hear from our readers. Don't hesitate to use the comments below to start a discussion!