We are reader supported and may earn a commission when you buy through links on our site.
Learn more
How to Watch Game of Thrones Online, Outside US
Westeros may be protected by a giant wall of ice, but you can easily unblock Game of Thrones with a VPN. If you're tired of researching how to watch GOT online reliably, this guide is for you. We'll help you pick the best VPN for GOT, and show you how to use it to unblock HBO's hit show anywhere in the world.
New episodes of Game of Thrones routinely draw tens of millions of viewers. The series has an enormous following that shows no signs of dwindling, even with the final season on the horizon. Watching Game of Thrones through HBO can be something of a hassle, however. The service isn't consistently available around the world, and if you want to stream on a mobile device or tablet, you might be out of luck.
Looking to catch up on Game of Thrones? Get past HBO's geoblocks anywhere in the world with these VPNs:
NordVPN – Best for HBO – NordVPN is a stream-spoofer's best friend. It offers more connections in the US than many lesser providers offer in total, each guarded by the unbreakable NordLynx protocol. Enjoy buffer free streams anywhere in the world with NordVPN.
Surfshark – A new VPN that came out of the blue with one of the most sophisticated site-unblocking packages we've seen in years.
ExpressVPN – The tried-and-true solution for unblocking Netflix US, with buffer-free streams accessible the world over.
IPVanish – A secure, reliable choice for low-powered streaming devices like Amazon's Firestick.
VyprVPN – One of the most secure providers, with a self-owned network and censorship-busting Chameleon encryption.
A lot of fans have found success watching Game of Thrones through a VPN. Virtual private networks create a safe, private tunnel to the internet, stopping third parties from accessing your data and keeping your identity a secret. This makes it easy to stream HBO movies and shows from any country, all without leaving your couch.
30-days money back guarantee
Evaluating the Best VPN for Game of Thrones
Two things should be at the top of your list when looking for a streaming-oriented VPN: speed and privacy. Every VPN promises fast downloads and strong encryption, but how do you make sense of all the technical features you need to research and compare? We've made things easier by providing a list recommended VPNs below. We made our choices based on the following criteria, ensuring you'll have the best VPN for watching HBO, Game of Thrones, and any other TV show you want!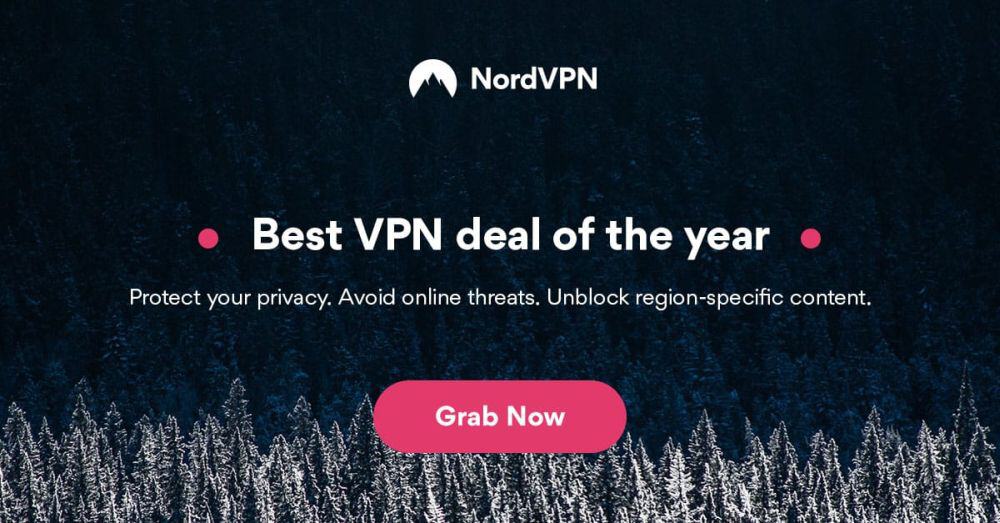 NordVPN has several stand-out features, but none are more impressive than its network. Users have access over 5,600 servers in 60 different countries with NordVPN, more than twice the size of most competitors. With this many locations you're guaranteed a fast connection anywhere in the world. NordVPN makes sure you have unlimited access to that network by providing unmonitored traffic, no speed caps or throttling, unlimited bandwidth for all devices, and no restrictions on P2P or torrent downloads on select servers. And with nearly 2000 American servers, spoofing past HBO's geoblocks of Game of Thrones is a simple matter.
NordVPN's zero-logging policy covers everything from bandwidth to traffic, time stamps, and even IP addresses. Not even the tiniest trace of identifying data sticks around on the company's servers, so you're guaranteed an incredibly private connection each time you log on. Providing even more security are an automatic kill switch and DNS leak protection features, 256-bit AES encryption on all data, and full support for bitcoin payments!
More of NordVPN's best features include unique servers that offer specialized features such as faster P2P downloads, double encryption, onion routing, and DDoS protection; open and private access to the internet in countries like China, Russia, and Turkey; easy to use custom apps for Windows, Mac, Linux, Android, iOS, and more; reliable Netflix access even when other VPNs are blocked.
Read our full NordVPN review.
Pros
Works with Netflix, BBC iPlayer without breaking a sweat
Most VPN servers with different IP addresses
Torrenting/P2P explicitly allowed
No logs and encrypted connections for total privacy
Customer Service (24/7 Chat).
Cons
Some servers can be slow and unreliable
Can't specify City or Province in App.

Surfshark is one of the best new solutions for viewing blockbuster content like Game of Thrones online, no matter where you are in the world. Launched in 2019, they've already constructed an incredible network of more than 3200 servers in 65 countries, with tons of options throughout the United States. These include static IP and multi-hop servers, though you won't need that to get past HBO's geoblocks.
In fact, all you need to do is select your server, then grab a bowl of popcorn. Surfshark "just works" to access streaming sites, due to its potent combination of 256-AES-GCM encryption, blanket obfuscation on every server, plus baked-in smart DNS functionality. Even stubborn sites like Netflix which employ sophisticated VPN blocking methods are no match.
If you're worried about your ISP taking a dim view, don't be. Surfshark's encryption, coupled with a strict no logging policy, ensure they have no idea what you're up to. This is especially true since there will be no record left behind on Surfshark's RAM-only servers.
Pros
Bypass government censorship with NoBorders mode
Server selection is dead simple and quick
Accepts cryptocurrency payments for enhanced anonymity
Absolutely no logging of connection data, IP addresses, bandwidth used, or traffic
Helpful 24/7 live chat with an actual human being.
Cons
Overall, not much to complain about
New-kid-on-the-block status may not instill same trust as larger providers.
Read our full Surfshark review.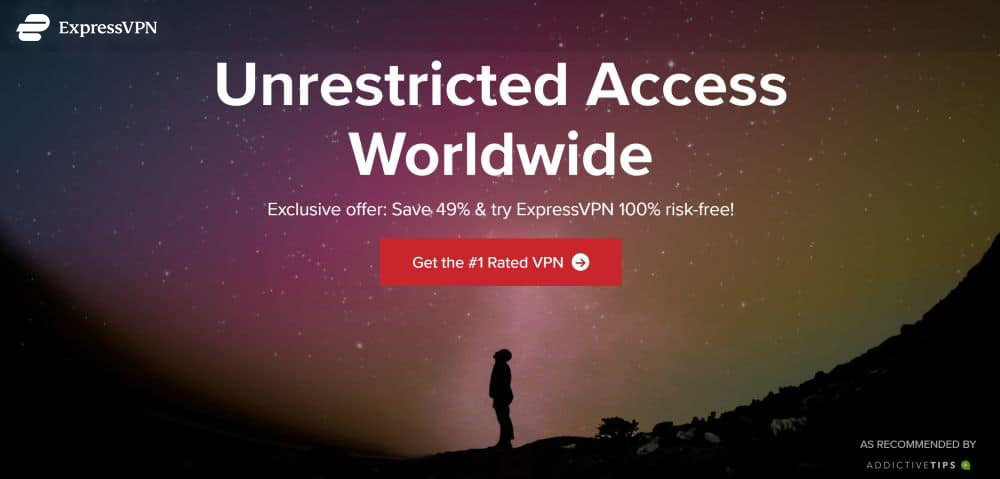 ExpressVPN is one of the easiest-to-use VPNs around. The service focuses on creating friendly software that lets you connect and customize with just a few clicks. Why mess around with configuration files or complicated settings screens when you can just click a button and log into the fastest server available? Using ExpressVPN means you'll spend less time installing and more time streaming, no matter which device you use.
ExpressVPN has a well-deserved reputation for speed. It boasts a server network of over 3,000 nodes in 94 different countries, each of which deliver incredibly fast downloads no matter where you're located. If you feel like your connection is lagging, simply fire up the built-in speed test that offers detailed results for the entire network, then choose a faster server, all with just a couple of clicks!
ExpressVPN's custom software offers DNS leak protection to ensure your identity never sneaks through. There's also an automatic kill switch to pause your internet in case you lose connection to the VPN. Data leaving your device is secured with 256-bit AES encryption and backed by a zero-logging policy on all traffic, DNS requests, and IP addresses. When you mix that with unrestricted bandwidth and unmonitored traffic, you've got a stellar recipe for a fast, reliable, and smart VPN for all your streaming and downloading needs.
Your ExpressVPN subscription also includes no restrictions on bandwidth, P2P network downloads or torrent traffic; reliable access to Netflix streams through the website; bitcoin payments for anonymous subscriptions.
Read our full ExpressVPN review.
Pros
Unblocks US Netflix, BBC iPlayer, Hulu and Amazon Prime
Super fast, reliable connection
Secure encryption & VPN protocols
No logs for personal data
Live Chat Support.
Cons
Expensive month-to-month plan.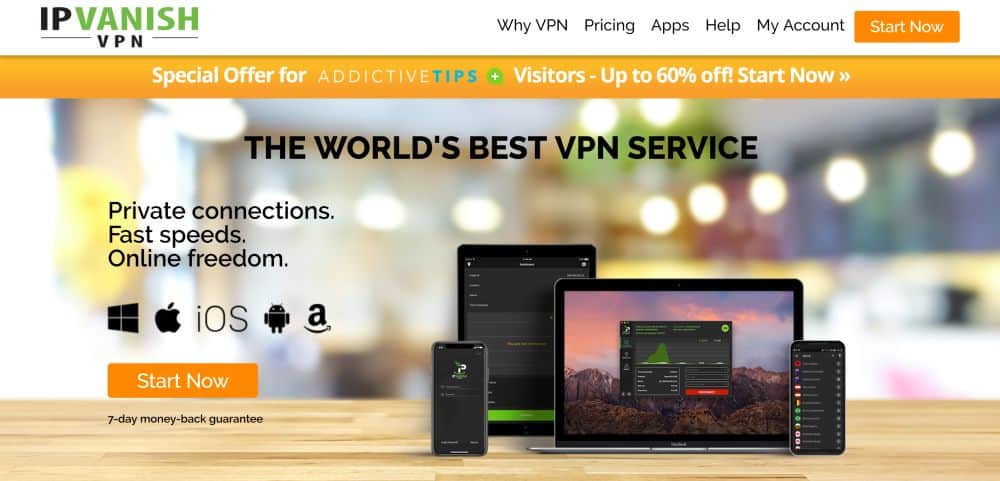 IPVanish knows a thing or two about staying invisible online. Everything about the service from the custom software to the security protocols are designed to keep you hidden, all you have to do is log in and start streaming. IPVanish starts by locking down data with 256-bit AES encryption, tough enough to keep all prying eyes at bay. DNS leak protection and an automatic kill switch also help keep your identity from slipping by outside your tunnel of encryption. A zero-logging policy on all traffic ensures none of your activity can be linked to your account, providing an incredible amount of online privacy.
The IPVanish network contains over 1,300 servers in 60 different countries with a combined 40,000 shared IP addresses for all users. This forms a solid foundation for online anonymity, and it offers plenty of options for accessing geo-blocked content or bypassing censorship walls, too. Best of all, you'll be able to take advantage of these features with unlimited bandwidth, no speed throttling, and unrestricted access to P2P networks and torrent downloads!
IPVanish features at a glance include some of the best anonymity features in the business, including automatic IP refreshes and third party DNS server options; a huge server network with consistently fast connection speeds for top quality HD video streams; smartly built custom apps for Windows, Mac, Linux, iOS, and Android devices; the ability to download movies and TV shows through BitTorrent with full anonymity.
Read our full IPVanish review.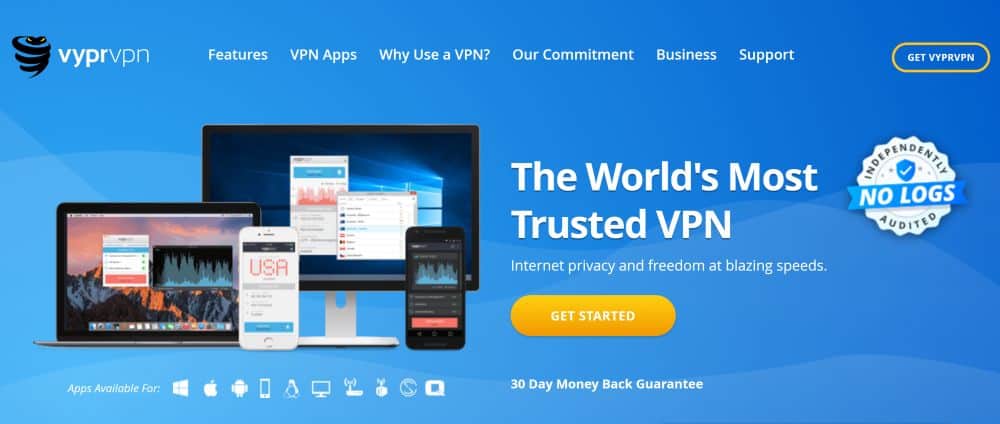 When privacy is a huge concern, VyprVPN is the best solution. The company owns and operates its entire network of 700 servers in 70 different countries, giving them exclusive access to hardware and software for an amazing amount of security. 256-bit AES encryption locks your data down tight, and a solid zero-logging policy for DNS requests and traffic protects your identity. It's an incredible foundation for the best in online privacy, but VyprVPN doesn't stop there!
One of the most unique features offered by VyprVPN is Chameleon. This exclusive protocol takes encrypted data packets and wraps their metadata in a second layer of encryption. This defeats deep packet inspection (DPI), a method often used by ISPs and governments to throttle connections or spy on user activity. If you're worried about online censorship or open internet access in places like China, Chameleon is here to save the day. You don't even have to lift a finger to use it, just sign up, log in, switch it on, and enjoy the private internet!
VyprVPN's standout features include the exclusive Chameleon technology to help defeat censorship blocks and government firewalls; a self-owned network of 700 servers in 70 different countries for fast access around the world; excellent custom apps for all modern devices, tablets, and smartphones; unlimited bandwidth and no restrictions on P2P or torrent traffic.
Read our full VyprVPN review.
Unblock HBO Now and Watch Game of Thrones Worldwide
In recent years HBO has released two popular mobile companions to its TV offerings: HBO Go and HBO Now. HBO Go works like a portable version of your cable subscription, allowing access to HBO's TV shows and movies on demand. Go requires an active contract with a cable TV provider to work, unfortunately, which can be a deal breaker for true cord cutters.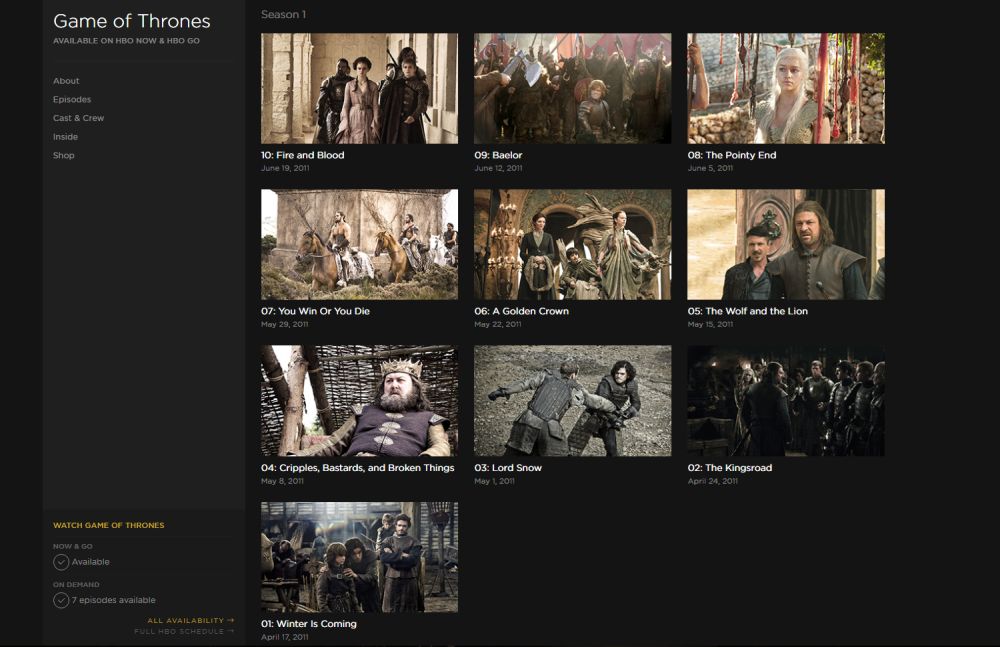 HBO Now aims to fill the gap created by HBO Go by providing access to HBO's content without a cable subscription. Think of it like Netflix with Westworld, The Sopranos, and Game of Thrones, all you have to do is sign up and start streaming. The catch is that HBO Now isn't available outside of the U.S., Canada, and portions of Latin America. Rights issues make a worldwide release difficult, if not impossible, so the situation looks pretty grim for Game of Thrones fans.
A lot of people are turning to VPNs to access HBO shows outside of the U.S. and Canada. With a VPN you can simply sign in, choose a server located in the right country, then start streaming. You still need a subscription to HBO Now, of course, but you won't have to sign up for an additional cable service to watch Game of Thrones.
The only problem with unblocking HBO using a VPN is the company's terms of service prohibits viewing the content outside of the above named regions. Even if you're from the U.S. or Canada and traveling abroad, you're not supposed to access your account. HBO has started terminating some accounts that stream videos through a VPN, all without issuing refunds. A lot of people still use VPNs to unblock Now, but it's risky. Your best bet is to just sign up for HBO through a cable subscriber and use the HBO Go app.
A Warning About Free VPNs
It can be tempting to use a no-cost VPN service when streaming Game of Thrones. They're all over the place, after all, including mobile marketplaces and browser extension sites. In addition to poor all-around performance, free VPNs can be a danger to your privacy. They need money to keep their servers online, and if they're not getting it from the users, it has to come from somewhere else. The most common form of income for a no-cost VPN is to log customer data and sell it to third parties. This is quite literally the opposite of protecting your privacy, which makes using any free VPN for any reason a huge risk.
In addition to privacy concerns, free VPNs are also known for the following:
Slow speeds – Most free VPNs have incredibly poor download speeds. If you're planning on streaming Game of Thrones in HD, a free VPN simply won't cut it.
Limited bandwidth – Another feature common to free VPNs is limited bandwidth. An average TV episode eats up around half a gigabyte, which is more than many free services offer in the first place.
Blocked file types – Want to stream Game of Thrones from a torrent or P2P network? Many free VPNs block both these protocols, so you won't even be able to see the opening credits.
If you want to stay safe online, always go with a reliable and trusted paid VPN service. The market is incredibly competitive and prices are always falling, meaning you can stay safe for about the same price as a fancy coffee per month.
Wrapping Up
HBO is famously tight with its content, but with a little ingenuity and a VPN on your side, you can unblock Game of Thrones streams from anywhere in the world in just a few minutes. We've shown you everything you need to get started, along with recommendations for our favorite VPN providers.
How do you usually watch new episodes of Game of Thrones? Got any tips or tricks you think might help out other fans? Let us know in the comments below!