We are reader supported and may earn a commission when you buy through links on our site.
Learn more
How to Watch the Premier League With a VPN, Outside UK
It isn't hard to unblock and watch the Premier League from anywhere if you have the right VPN. But which one to choose? Today's article presents the top VPNs for the Premier League, plus everything you need to know to get started streaming the match fast.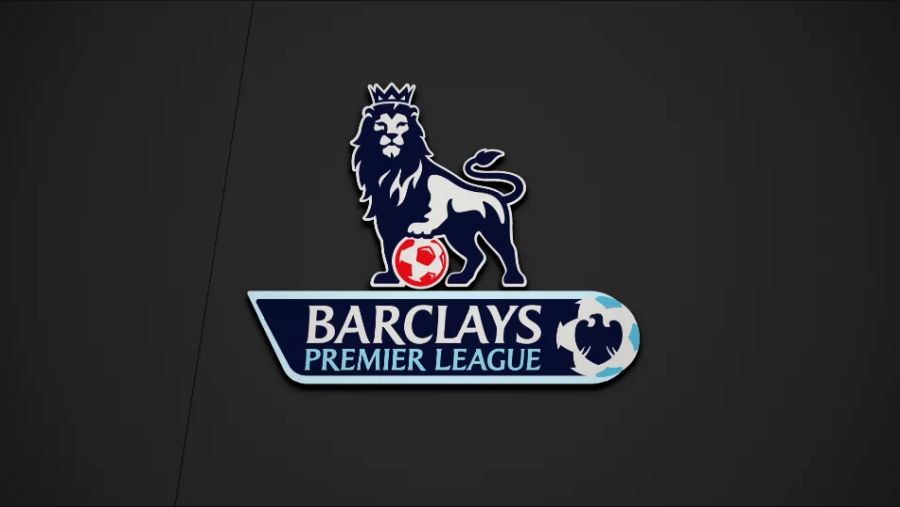 The Premier League, also known as the English Premier League outside of the UK, is an association of men's football clubs that serves as the country's prime source of soccer competitions. League matches are broadcast to hundreds of territories and could be watched by an estimated 4.7 billion people. Despite this wide availability, it's not always easy to catch live football as it airs, especially with unusual region locks in place. That's where a virtual private network comes into play.
You can bypass Premier League's geoblocks by borrowing a UK IP address with these VPNs:
NordVPN – Best for Premier League – NordVPN offers the most reliable access to UK servers for unblocking Premier League. Military-grade encryption locks down your privacy while speedy servers allow for buffer-free football streams, even in HD.
Surfshark – Modernized server network with a few unique tricks up its sleeve for beating website restrictions anywhere in the world.
ExpressVPN – Ludicrously fast network speeds, dynamic rotating IPs in the United Kingdom, and zero logging.
IPVanish – Excellent balance of privacy, performance, and price. Great for streaming on Firestick.
VyprVPN – Your best choice when connecting to UK servers from heavily censored countries.
VPNs provide an array of online anonymity and privacy features by creating a private tunnel between your device and the internet. With a VPN you can change your virtual location and stream sports from around the world just like a local. If you can't watch the Premier League from your location, or if you want to broaden your football options, read our guide below for the best VPNs for the job.
30-days money back guarantee
Evaluating the Best VPN for Watching Premier League
Staying safe online is something every internet user should keep in the front of their mind. With threats like mass surveillance, nosy ISPs, and malicious hackers at large, there's always the chance your data will fall into the wrong hands. Worse still, you'll likely never know when or how much information was compromised, either!
LEARN MORE: Victim of identity theft? Here's 8 things to do about it
VPNs can help protect your online identity while providing a host of other privacy and convenience features. VPNs work by encrypting your traffic and sending it through a secure tunnel to the internet. Outside parties can't decipher the contents of these encrypted packets, allowing you to surf, download and stream whatever you like in complete secrecy.
Choosing the best VPN for sports and football streams can be an imposing task. After all, there's a lot of information to research and compare! We've streamlined the process by providing a few recommended services below. We made our selections using the following criteria, ensuring you get the fastest and the best VPN for watching Premier League games.
Logging policy – Online privacy can't exist if your VPN keeps traffic logs. Stored data can be accessed or even sold to third parties, turning your confidential internet activity into public information. If no logs are kept, however, your data stays safe.
Server network size – The more servers a VPN operates, the better your chances of connecting to a fast, lag-free node in the region of your choice. It also gives you more options for foreign IP addresses, which is perfect for watching sports broadcasts from around the world.
Security features – Two features are vitally important in a VPN's custom software: DNS leak protection and an automatic kill switch. Both of these lock down your identity in case of an accidental disconnect. If a VPN doesn't offer them, you should try another service.
Jurisdiction – Where a VPN is registered makes a difference in your online privacy. Some countries have strict data retention laws that force VPNs to keep hidden logs and share them with government agencies. To keep your data safe, always stick with a service that can put customer privacy first.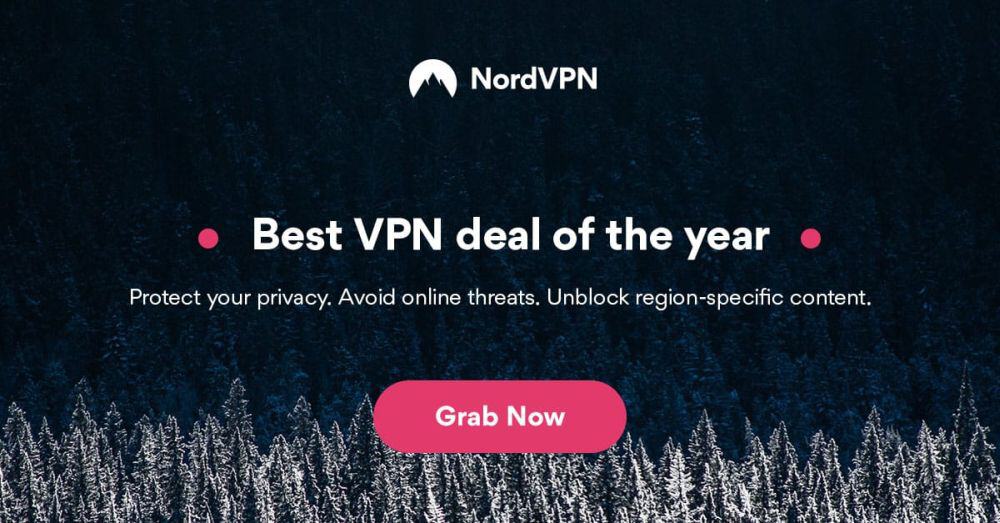 Need variety in your VPN? NordVPN has got you covered! The company's top feature is its massive server network of over 5,600 servers in 60 different countries, a list that's constantly growing as time goes by. This gives you an incredible amount of freedom when it comes to choosing a fast server in any location, and it's perfect for frequent travelers, too. NordVPN puts some of its servers to work as feature-specific nodes, as well. If you need faster P2P downloads or double encryption, for example, all you have to do is click the server and you're set.
NordVPN's zero-logging policy is also worthy of praise. It covers everything from bandwidth to traffic to time stamps to IP addresses, ensuring almost none of your activity is ever recorded. Most VPNs stop at banning traffic logs, but with NordVPN you get the complete package. Rounding out the service's privacy features are 256-bit AES encryption on all data, an automatic kill switch to prevent accidental identity reveals, and DNS leak protection keep you safe even if you lose your connection to the VPN.
Your NordVPN subscription also nets you incredible server-specific features like onion routing, dedicated IP addresses, DDoS protection, and more; well-designed and lightweight apps for Windows, Mac, Linux, Android, and iOS; reliable access to Netflix videos even when other VPNs are blocked; and unlimited bandwidth and no restrictions on P2P or torrent traffic.
Read our full NordVPN review.
Pros
Very affordable plans
Different IP addresses aervers
Torrenting/P2P explicitly allowed
Retains no metadata of your browsing
Live Chat Support.
Cons
Some servers can be unreliable
Sometimes slow in procesing refunds (but always do).

Surfshark hasn't been around all that long, but they're already widely hailed as one of the best VPNs for streaming. They offer a massive network numbering 3200+ servers in 65 countries, with tons of UK IP addresses available for spoofers to unblock the Premier League. There are even static IPs and multi-hop connections within the UK, adding an incredible amount of flexibility for bypassing various types of website blocks and network restrictions.
And if you live in a heavily censored country that throttles connections or makes it hard to spoof at all, Surfshark offers Camouflage obfuscation and NoBorders anti-censorship methods. You don't have to worry about configuring them, they "just work" out of the box automatically as the need arises.
Speeds are excellent on Surfshark's RAM-only network, which also prevents them from storing logs of your activity. Share your subscription with a friend, thanks to unlimited simultaneous connections.
Pros
Reliably unblocks Netflix US, UK, Japan, and more
Multi-hop connections readily available
VPN obfuscation on any server with special Camouflage function
Logging policy independently audited and verified
Helpful 24/7 live chat with an actual human being.
Cons
Server network is not nearly as expansive as major competitors
Apps may be too simplistic for power users.
Read our full Surfshark review.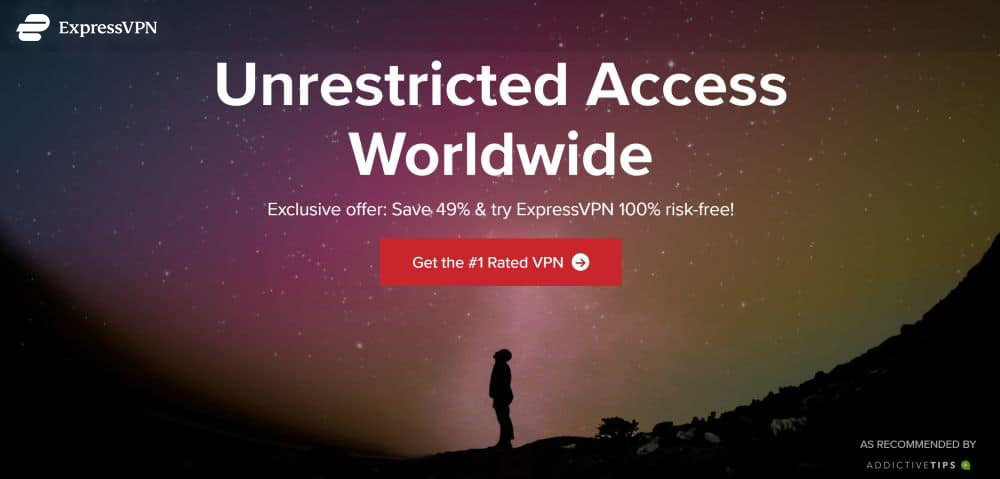 When you need speed and ease of use, ExpressVPN is the way to go. Custom software for a wide variety of platforms makes the user experience as seamless and straightforward as possible. Whether you're on an iPhone, Android tablet, or Mac OS PC, all you have to do is open the app and tap a single icon to connect. ExpressVPN automatically finds the fastest servers and starts encrypting and protecting your connection right away.
Speed is crucial when it comes to VPNs, especially if you're streaming live sports. ExpressVPN operates a network of over 3000 servers in 94 different countries, each offering low-lag connections to cities around the globe. A built-in speed test lets you take a look at the performance of each server at a glance. If you're not already connected to the fastest one available, you can make the switch in seconds. ExpressVPN manages to preserve these lightning-fast speeds while delivering 256-bit AES encryption, a zero-logging policy on all traffic, DNS requests, and IP addresses, and both DNS leak protection and an easy-to-use automatic kill switch.
More of ExpressVPN's best features at a glance include deep configuration options to provide increased anonymity in countries like China and Saudi Arabia; no restrictions on bandwidth, P2P network downloads, or torrent traffic; easily break through Netflix blocks with a wide variety of worldwide servers; accepts bitcoin payments for anonymous subscriptions.
Read our full ExpressVPN review.
Pros
SPECIAL OFFER: 3 months free (49% off - link below)
Super fast servers (minimal speed loss)
Torrenting allowed
Strict no-logging policy
Live chat support available.
Cons
Month-to-month plan has high cost.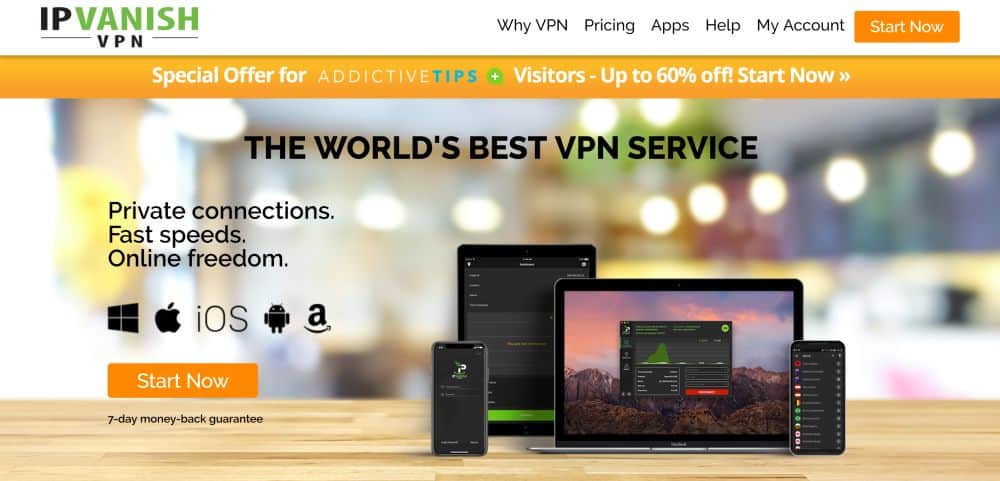 The best part of the IPVanish experience is how easy it is to disappear online. IPVanish combines a large network of servers with strong security features to ensure your internet activities stay safe and anonymous. For starters, all data is locked down with 256-bit AES encryption and backed with a zero-logging policy on all traffic. DNS leak protection and an automatic kill switch protect your identity in case of an accidental disconnect, as well. IPVanish also comes with a variety of added port and protocol options that let you fine tune your privacy for the best balance of speed and encryption.
It's hard not to talk about IPVanish's server network. The company has a robust 1,300 servers in 60 different countries, offering a highly useful array of node selections. Over 40,000 shared IP addresses help keep your identity a secret, and if you need a little extra protection, an IP shuffling feature lets you change IPs automatically. All of these features come with unlimited bandwidth, no speed throttling, and unrestricted access to P2P networks and torrent downloads.
Best IPVanish features at a glance:
A large server network with strong and reliable connections that are perfect for live sports streams or HD videos.
Lightweight custom software for Windows, Mac, Linux, iOS, and Android devices.
Watch movies and download content through BitTorrent with full anonymity.
Private access to add-ons and streaming content through Kodi.
Read our full IPVanish review.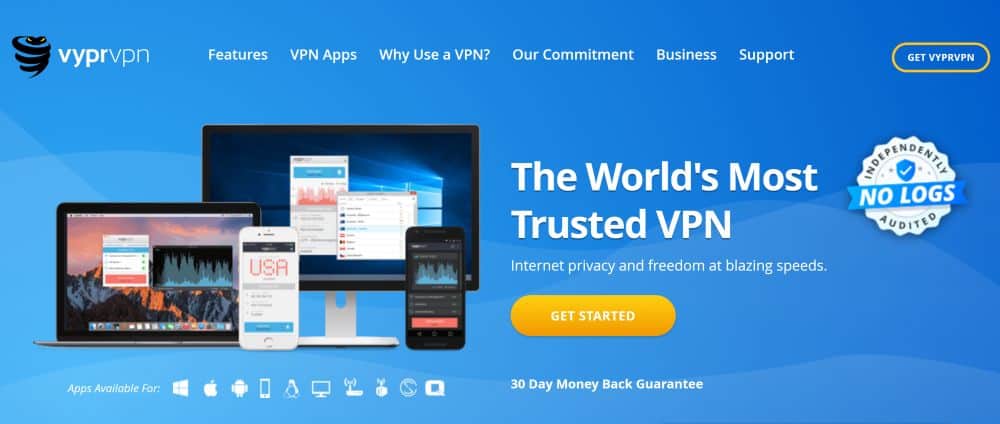 VyprVPN is great for securing your online privacy. The company has a number of features that keep you safe on the internet, including exclusive encryption protocols and a wide variety of privacy-oriented configuration options. VyprVPN also owns and operates its entire network of servers, over 700 in 70 different countries. This unusual setup means third parties never have access to Vypr's hardware, allowing them to perform all maintenance and upgrades for optimal security. Strengthening this is an array of VPN-standard features ranging from a zero-logging policy on traffic and DNS requests to an automatic kill switch, DNS leak protection, and 256-bit AES encryption for all data.
An incredible addition to the VyprVPN experience is Chameleon, a unique protocol exclusive to Vypr's service. Chameleon takes encrypted packets and wraps their metadata in an extra layer of encryption. This defeats deep packet inspection (DPI), which is often used by ISPs and governments to spy on user activity or throttle download speeds. Chameleon can even help break through tough censorship blocks like the Great Firewall of China, keeping you safe while ensuring open access to the world wide web.
VyprVPN's best features include:
Wide variety of encryption protocols to select, including exclusive Chameleon technology for improved anonymity in China.
Highly customizable apps for PC, laptops, tablets, and mobile devices.
Unlimited bandwidth and no restrictions on P2P or torrent traffic.
An incredible self-owned network of private servers.
Read our full VyprVPN review.
Access Premier League Streams Through Kodi (Worldwide)
If catching football/soccer on local channels or navigating subscription service contracts isn't your thing, the open source media center Kodi offers some good alternatives. With the right add-ons you can access live sports, broadcast TV channels, blockbuster movies, and tons more, all from the comfort of your favorite device.
To get your Kodi installation ready to stream, check out our step-by-step guide for the best Kodi add-ons for Premier League.
How to Watch English Premier League Soccer in the U.S. – Subscription
Even though the Premier League is a UK-based organization, soccer fans in the U.S. enjoy some of the most flexible access to the sport's broadcasts. A lot of this is thanks to a solid partnership between Premier League and NBC Sports. NBC rolled out its Sports Gold service with a specially designed Premier League Pass subscription just for soccer fans.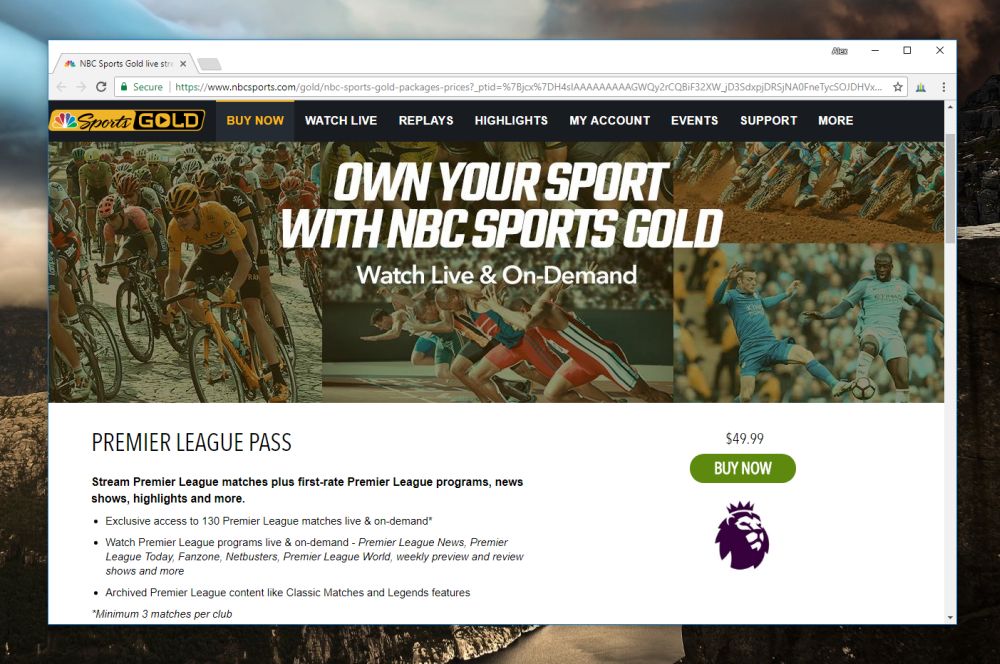 The Pass includes 130 games from every club in the League. You can watch the matches live or on-demand from your PC or a wide array of mobile devices, including Android, iOS, Roku, and Amazon Fire TV. The pass is $50 per season and replaces all League games featured on NBC Sports, so if you want access to soccer, you'll need to subscribe.
NBC's Premier League Pass terms of service specify that only users within the United States are intended to watch these broadcasts. VPNs aren't specifically forbidden, which means if you have the Pass and are traveling abroad you should be able to switch virtual locations and keep streaming soccer. Unfortunately, a U.S. credit card is required to sign up for the service, so if you aren't a resident you won't be able to use a VPN to sign up for the Premier League Pass through NBC Sports Gold.
How to Watch English Premier League Soccer in the U.S. – Online Streams
If you only want the best football matches and need streaming access to more devices than just your TV, you might want to consider the sources below. You won't get as many matches as the Pass option above, but you'll save a fair bit of money and will be able to keep up with the biggest games each season. Better still, you can watch from the comfort of your own smartphone, if you like!

Sling TV – Add the English Premier League channel to your account and watch the top matches every weekend for just $25 per month, starting with a free seven-day trial. Sling TV also lets you stream to mobile devices, tablets, and TV box sets.
fuboTV – Subscribe to gain access to NBC Sports Network's coverage of the League's games, including all broadcasts on multiple devices, including smartphones, Roku, and Chromecast. After a free seven-day trial you'll be prompted to subscribe for $15 a month, by far the cheapest way to watch the English League in the U.S.
How to Watch Premier League in the Middle East
Football fans residing in Middle Eastern countries and North Africa will have access to Premier League matches through the beIN Sports network. When the beIN Sports Premier League HD channel launches in 2017-2018, fans will have access to 24-hour coverage of all 380 Premier League games, complete with pre-match coverage, highlights, interviews, and post-game analyses. You'll even get limited access to videos and score updates through the beIN Connect mobile app.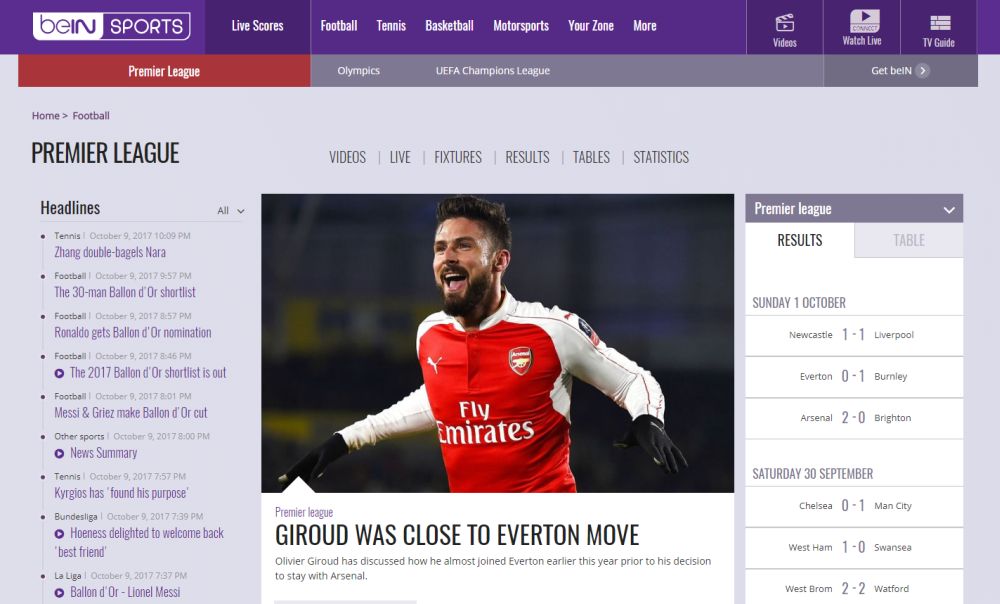 Watching Premier League clips through beIN Sports with a VPN is surprisingly straightforward. All you have to do is visit the beIN videos site, find the highlight or interview you want to watch, then click to start streaming. Some content may be restricted in certain regions, so to gain better access simply switch to a VPN server located in the Middle East. If you need a hand unblocking beIN Sports with a VPN, check out our guide for a step-by-step walkthrough.
How to Watch Premier League in Canada
Two networks jointly hold Canadian rights to broadcast Premier League Matches in English: Sportsnet and The Sports Network (TSN). Both channels are available through cable TV subscriptions and will air a combined 190 games each season. On-demand content isn't available, unfortunately, so you'll need to catch the matches as they're broadcast.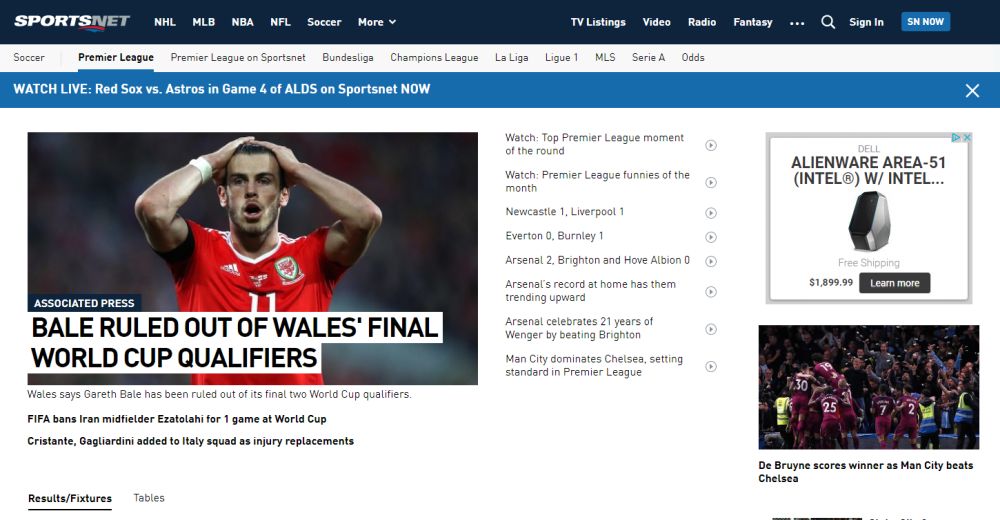 Where to Watch Premier League Football Live
Rights negotiations for Premier League matches are incredibly complex. There are hundreds of countries and billions of people under the organization's umbrella, meaning several dozen broadcast and cable channels are involved in distributing content around the world. There's no one reliable source to get the best access to the most games in every region. Most soccer fans will need to rely on local broadcasts to catch the latest content, which means TV-only access for the majority of households.
If you can't use one of the above methods with a VPN for streaming access, here are a few suggestions for catching League football on your local TV channels:
United Kingdom, Ireland – Sky Sports, BT Sport
Germany, Austria, Switzerland – DAZN
India, Nepal, Pakistan – STAR Sports
China (mainland) Tencent, PPTV
Central America – SKY Sports
Australia – Optus Sport, SBS
Japan – J Sports, NHK
---
Wrapping up
By now you have a solid plan to unblock Premier League football no matter where you are in the world. We've shown you various methods depending on your means and location, all of which rely on the central tactic of downloading and using a VPN on your device.
How do you get your Premier League football fix? Share your thoughts (and secrets) in the comments below!