How to fix Google Meet microphone not working
Many video conferencing tools aim to provide users a simple UI that allows them to easily create or join meetings. Each online conferencing platform goes about this their own way but it is normally an easy process.
While creating or joining a meeting is simple, managing the audio and video for it can be a problem. If the audio on your system isn't set up correctly, you have a firewall that may block audio streams, or an app is unable to connect to the device, you won't be able to speak or hear others during a meeting.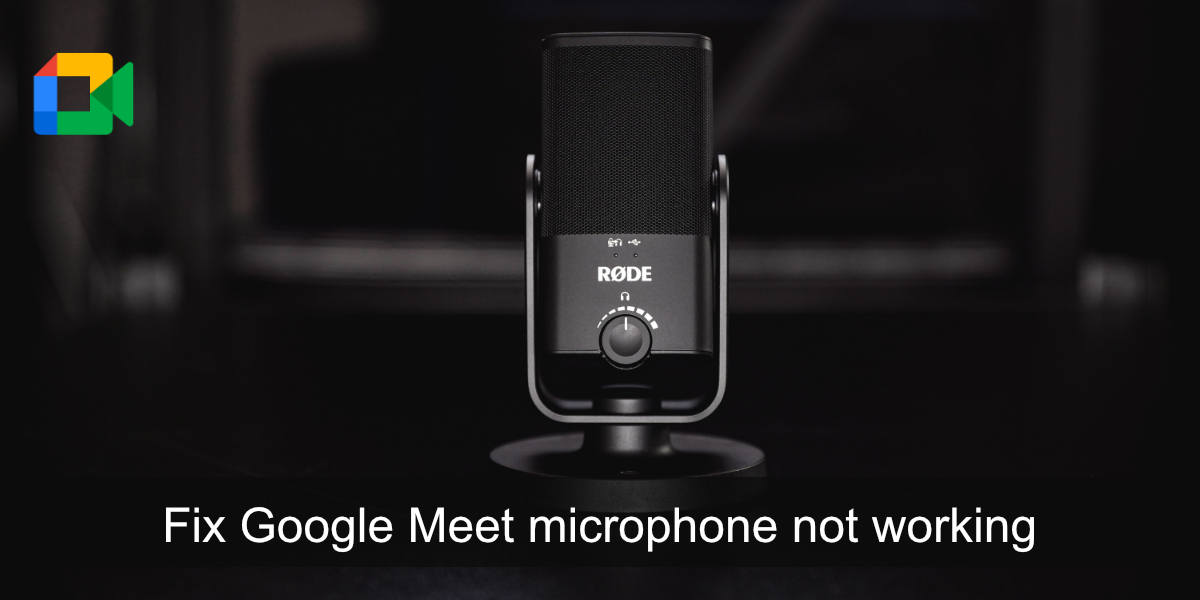 Fix Google Meet microphone not working
If you're mic isn't working after you join a Google Meet meeting, there are a few things you can do to fix the problem. Go through each item listed below to get the mic working.
1. Mic check
We need to first check if the mic is working in other apps. The easiest way to do this is to open a voice recording app. Windows 10 has a stock app called Voice Recorder. Launch it and speak into the mic. If you're able to record your voice, the mic is working. If you're unable to record your voice i.e., the mic isn't detected, you will need to fix it before you can join a meeting.
On macOS, use the Voice Memo app to run the mic check.
2. Check audio input device
Windows 10 and macOS allows users to connect multiple audio devices, and switch between them when they need to. That said, you cannot use two devices at the same time. You must choose one. Make sure your mic is set as the default audio input device.
On Windows 10;
Open Control Panel.
Go to Hardware and sound>Sound.
Go to the Recording tab.
Right-click your mic and select Set as default device.
Right-click it again, and select Set as default communication device.
Click OK and test the mic again.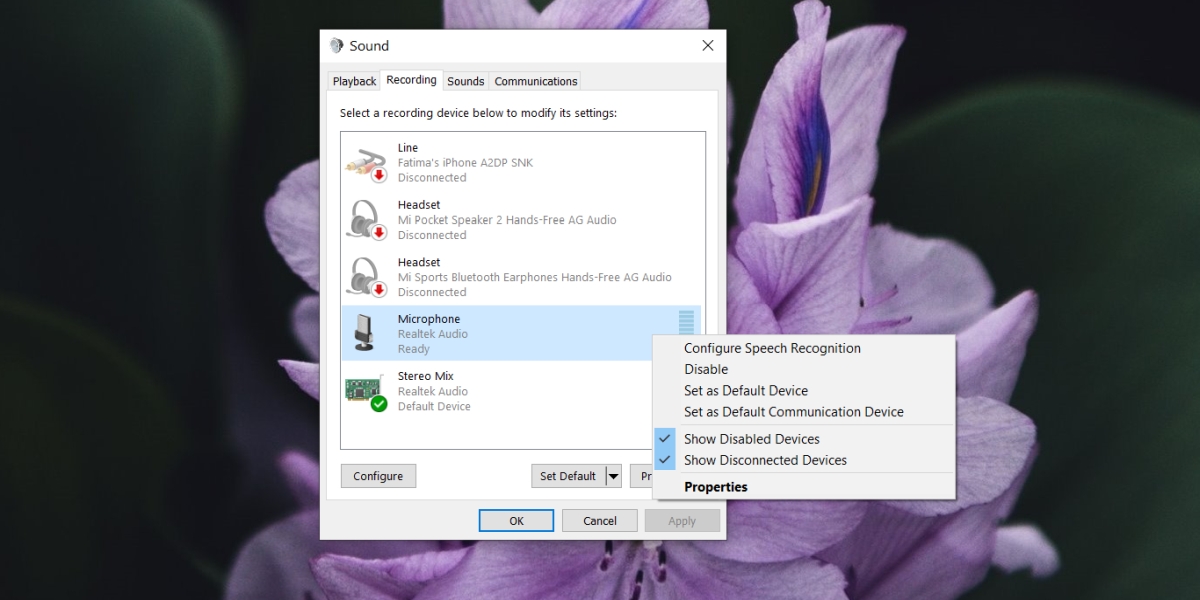 On macOS;
Open System Preferences.
Go to Sound.
Select the Input tab.
Select the mic you want to use.
Test the mic again.
3. Check mic in Google Meet
Google Meet allows users to select the mic that is in use.
Join a Google Meet meeting.
Click the more options (three dots) button and select Settings from the menu.
Open the mic dropdown and select the mic you want to use.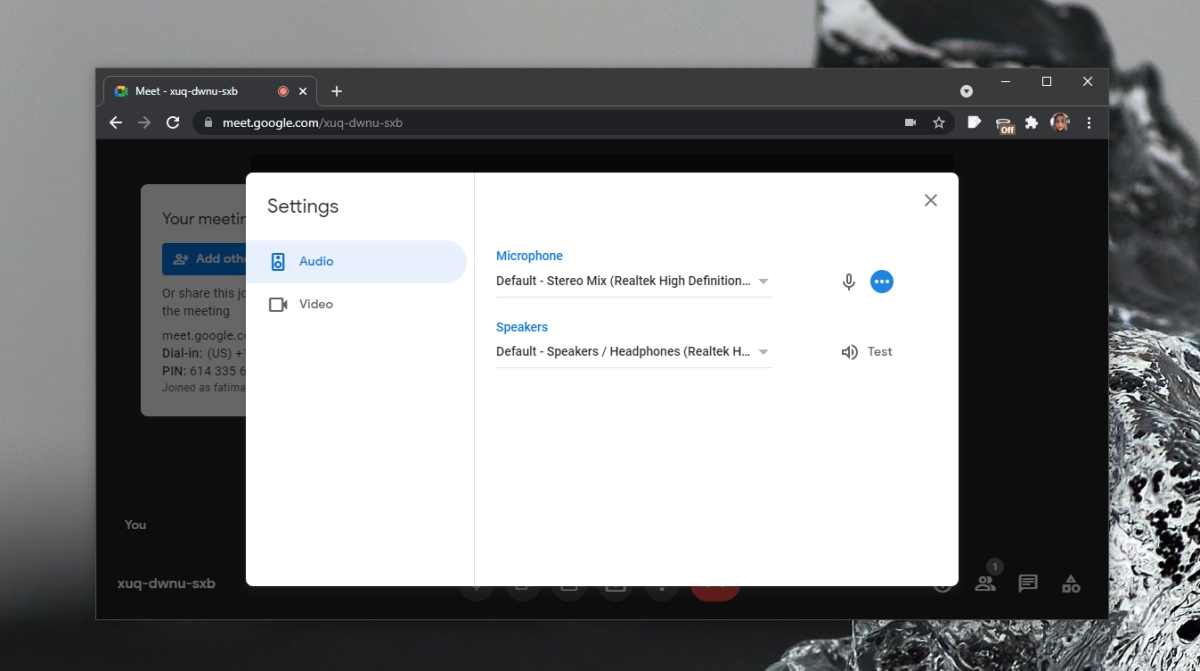 4. Check browser permission
Make sure the browser that you're using to join the meeting has access to the mic. Additionally, make sure that the Google Meet website is allowed to use the mic.
Visit Google Meet.
If you're using Chrome, click the padlock icon in the URL bar and select Allow for the mic.
If you're using Firefox;

Paste this in the location bar: about:preferences#privacy.
Click Settings next to Mic.
Use the search bar to find the meet.google.com domain.
If you can't find it, quit and join the Google Meet meeting and the browser will prompt you for permission.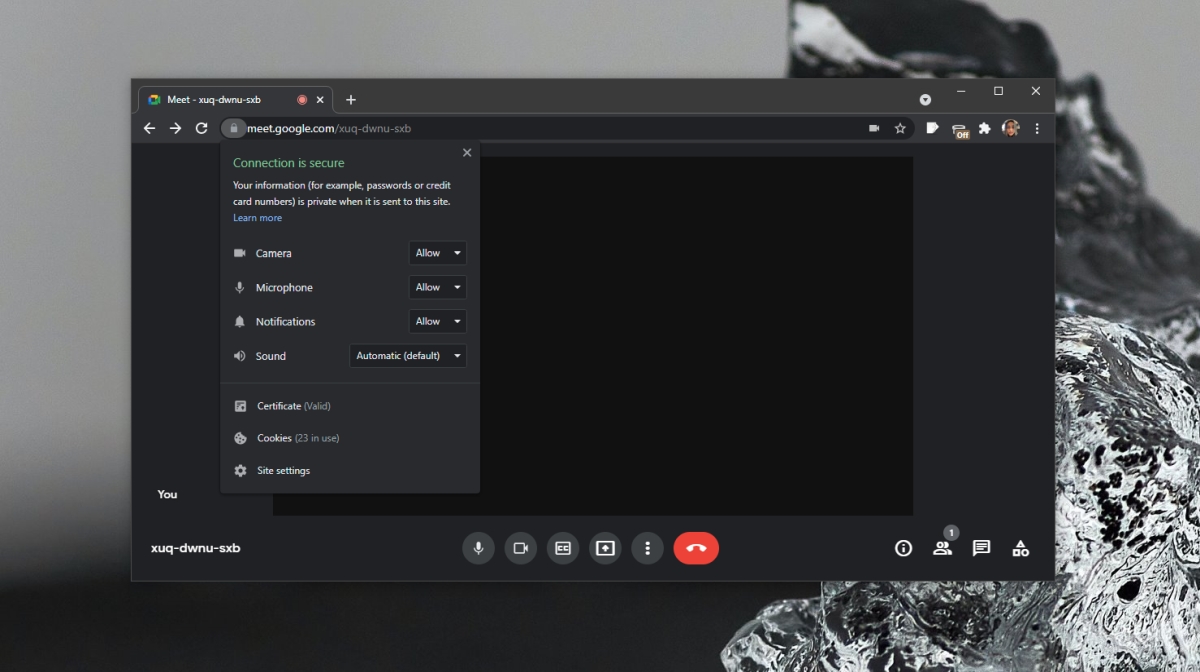 5. Check mic mute/unmute status
A meeting host can mute you. You can also mute yourself. Make sure your mic is on. If you think the host has muted you, message them and confirm.
Conclusion
Google Meet works in the browser so as long as your mic is working, you should be able to use it in any modern browser of your choice. If you have mic problems, check out these tips for fixing a mic on Windows 10.