How to add Microsoft Teams Contacts
Microsoft Teams is normally used with a company or organization account. This account is generally connected to an active directory and when it is used with Microsoft Teams, it syncs all sorts of data with it. This includes, but is not limited to Contacts.
The contacts that are automatically synced to Microsoft Teams are usually the ones that you've emailed using Outlook or people you've collaborated with using Microsoft 365. Users aren't restricted to these contacts. They can add more contacts whenever they need to.
Microsoft Teams Contacts
Microsoft Teams users are free to add any external contact they want but the UI is designed in such a way that users are led to believe contacts outside of Microsoft Teams cannot be added.
Add Microsoft Teams contacts
To add a contact, internal or external, to Microsoft Teams, follow these steps.
Open Microsoft Teams.
In the column on the left, click Calls. If you do not see Calls, click the more options button (three dots button) and select CallS from the overflow menu.
Click Add Contact.
Enter a name for the contact. Microsoft Teams will look for it in your teams' directory and tell you if it was unable to find it. Ignore this and click inside the name field again to dismiss it.
Click the Add button.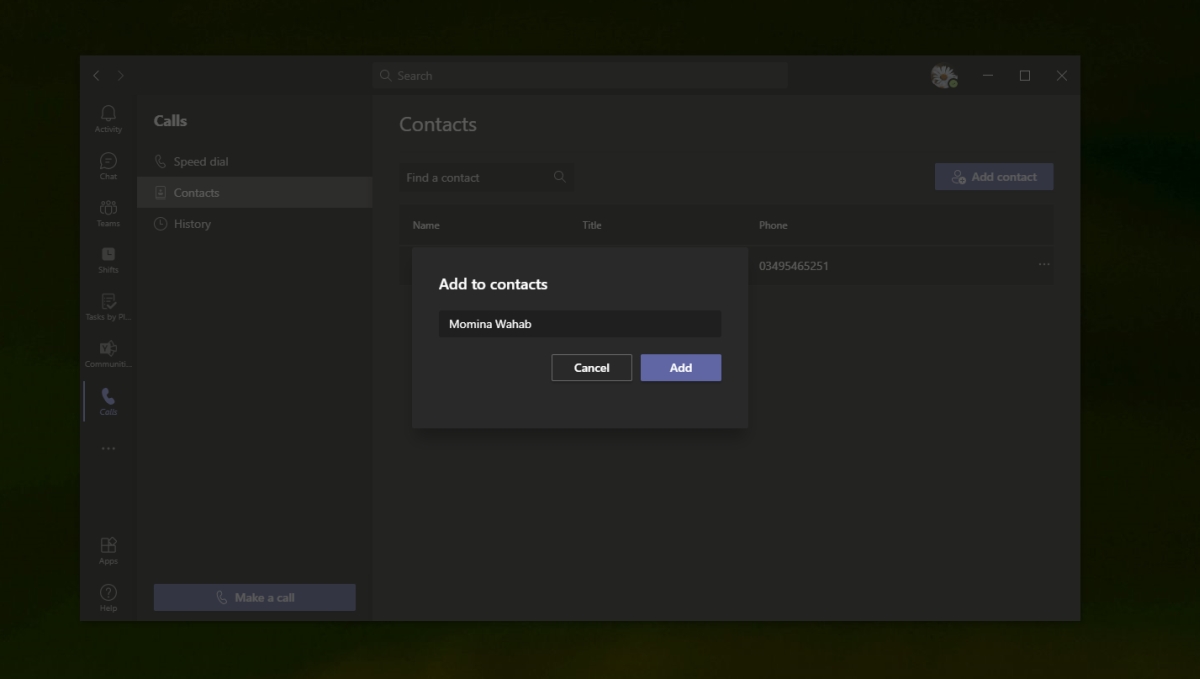 Enter a phone number for the contact, and their company name and title if you want.
Click Add.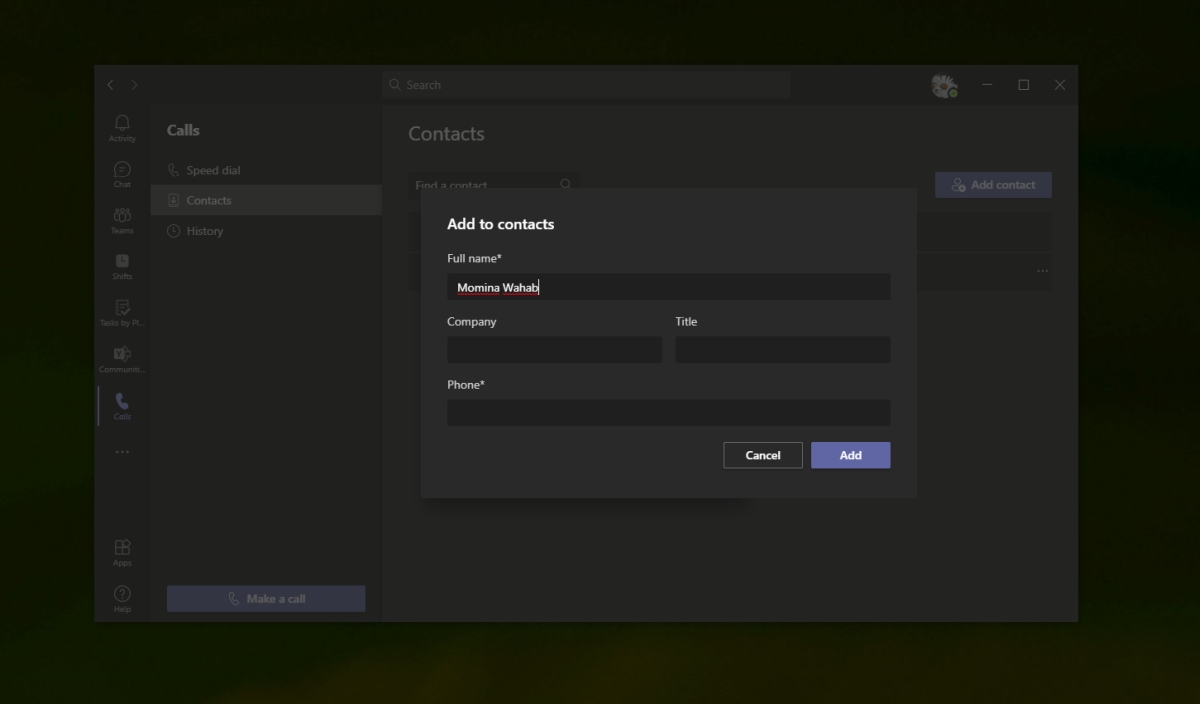 Limitations for Microsoft Teams contacts
Microsoft Teams is not an email client. It has no email-related features that is why the contacts in Microsoft Teams do not support an email field. Microsoft Teams can work as a calling (VoIP) solution and for that reason, the contacts that you add to it have a phone number.
You cannot add an email to a contact's information even if you wanted to. The contacts that are automatically synced to Microsoft Teams only sync with a phone number. In the absence of a phone number, they may not sync at all.
Conclusion
If you do not plan on using Microsoft Teams to make calls, adding contacts isn't worthwhile. To send messages i.e., emails, you have to use Outlook. Microsoft Teams is not, nor has it ever claimed to be, an email client. Despite the many app integrations it has to offer, Outlook, or any other email service, is not one of them. Other information fields that you will find for contacts on a phone or an email client are also absent.