Microsoft Teams DND (Do Not Disturb) Not Working When Presenting (FIX)
Microsoft Teams can open Microsoft 365 files in the app itself. Files like PowerPoint presentations can not only be edited directly in Microsoft Teams, you can also present from within the app. Most PowerPoint presentation tools are available in in Microsoft Teams.
Microsoft Teams DND when presenting
When presenting anything, whether it's a slideshow or a document, the one thing you do not want interrupting the presentation is notifications.
Notifications tend to show up as they arrive and some apps e.g., a mail client, will show notifications more often than others. To keep these notifications from interrupting a presentation, Microsoft Teams has a Do Not Disturb mode that you can enable.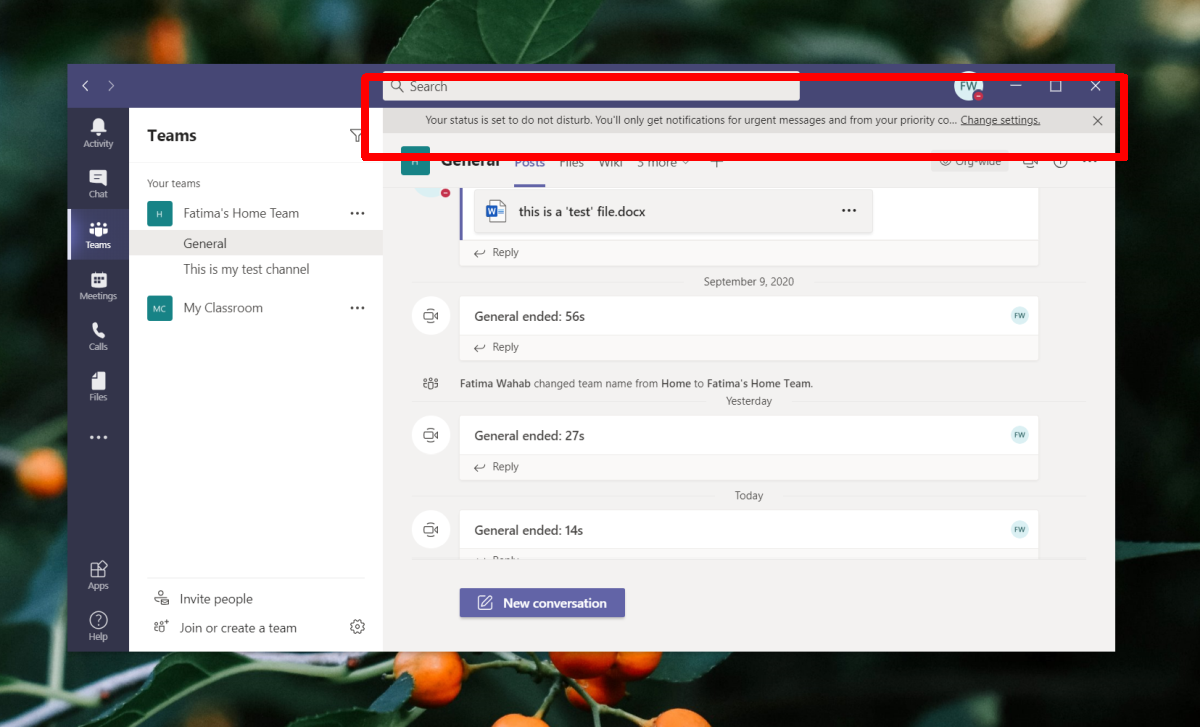 Enable Do not disturb in Microsoft Teams
To enable Do not disturb in Microsoft Teams, follow these steps.
Open Microsoft Teams.
Click your profile at the top right.
Go to your online status (Available by default) and select Do not disturb.
Manage Do Not Disturb exceptions
When you enable Do not disturb, you can add exceptions to it. These exceptions allow notifications from whitelisted contacts to show up even when Do Not Disturb is enabled.
Open Microsoft Teams.
Click your profile icon at the top right.
Select Settings from the menu.
Go to the Privacy tab.
Click Manage priority access.
Add/remove contacts.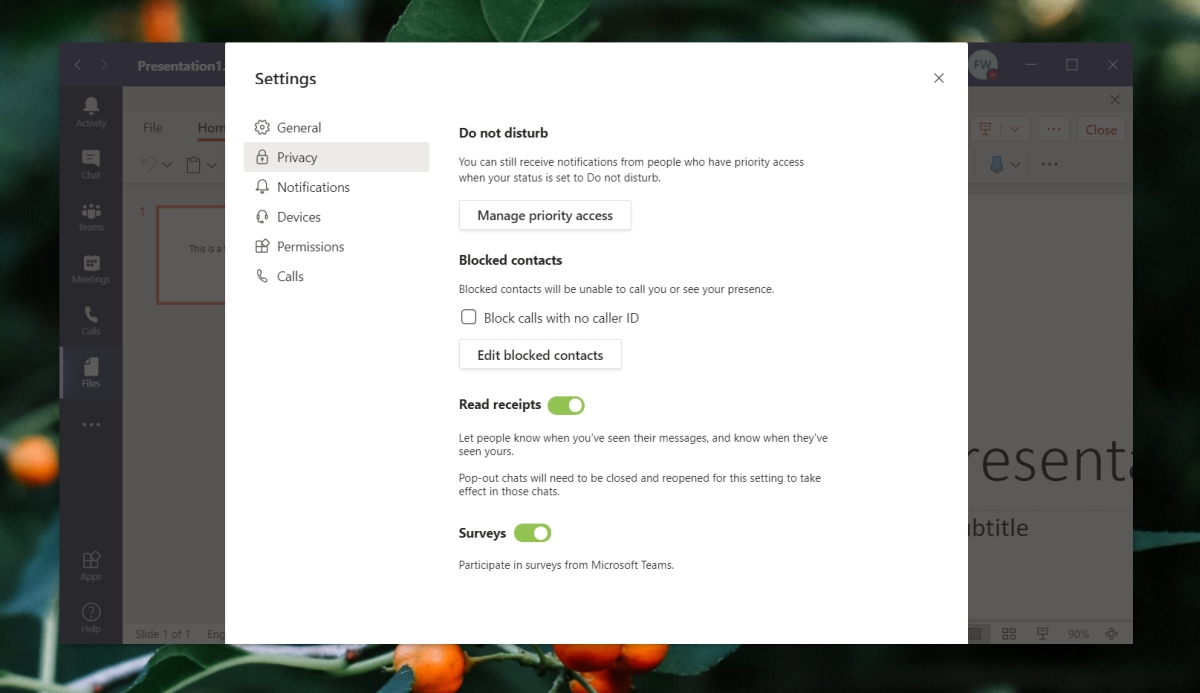 Use system-wide Do Not disturb
The Do Not Disturb feature in Microsoft Teams will block notifications from the app. Other apps on your system will still be able to show notifications. To keep other apps from showing notifications, use the Do Not Disturb feature on your OS.
Focus Assist – Windows 10
Open the Settings app (Win+I).
Go to System>Focus Assist.
Turn on the 'When I'm using an app in fullscreen' switch.
Tap the Win+A keyboard shortcut to open the Action Center.
Click the Focus Assist toggle so that it reads 'Alarms only'.
All notifications will now be blocked until you turn Focus Assist off.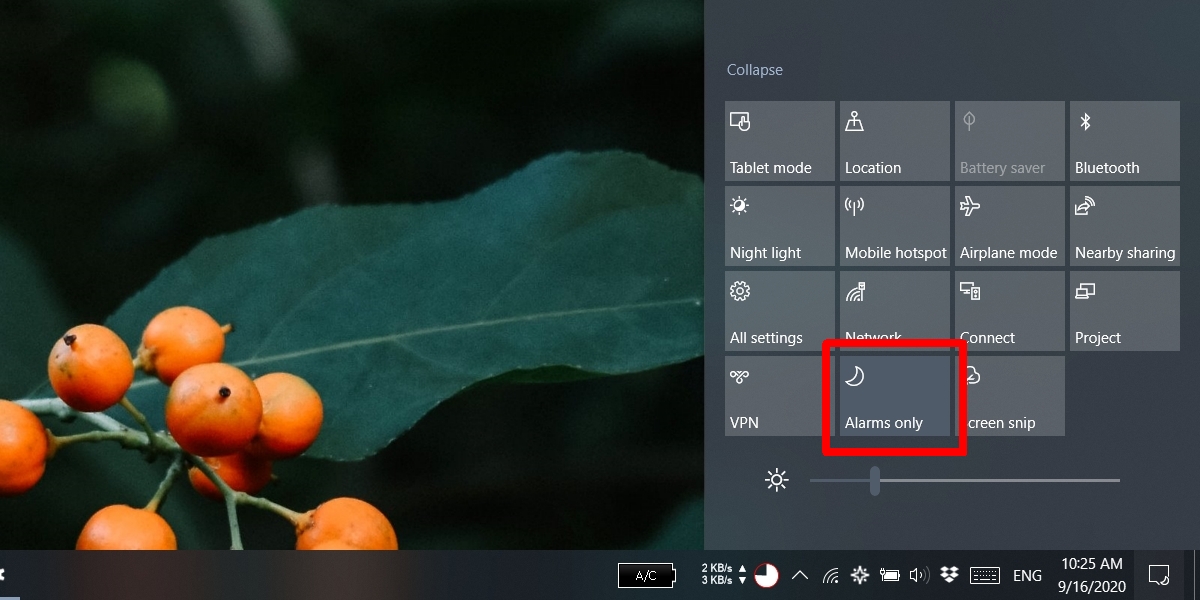 Do Not Disturb – macOS
Open the System Preferences on macOS.
Go to the Notifications preference.
Select Do Not Disturb from the column on the left.
Enter a time when Do Not Disturb should turn on and off automatically.
Alternatively, click the notifications center icon at the top right of the menu bar.
Go to the Notifications tab.
Scroll up.
Turn the Do Not Distrub switch on.
All notifications from apps will be blocked.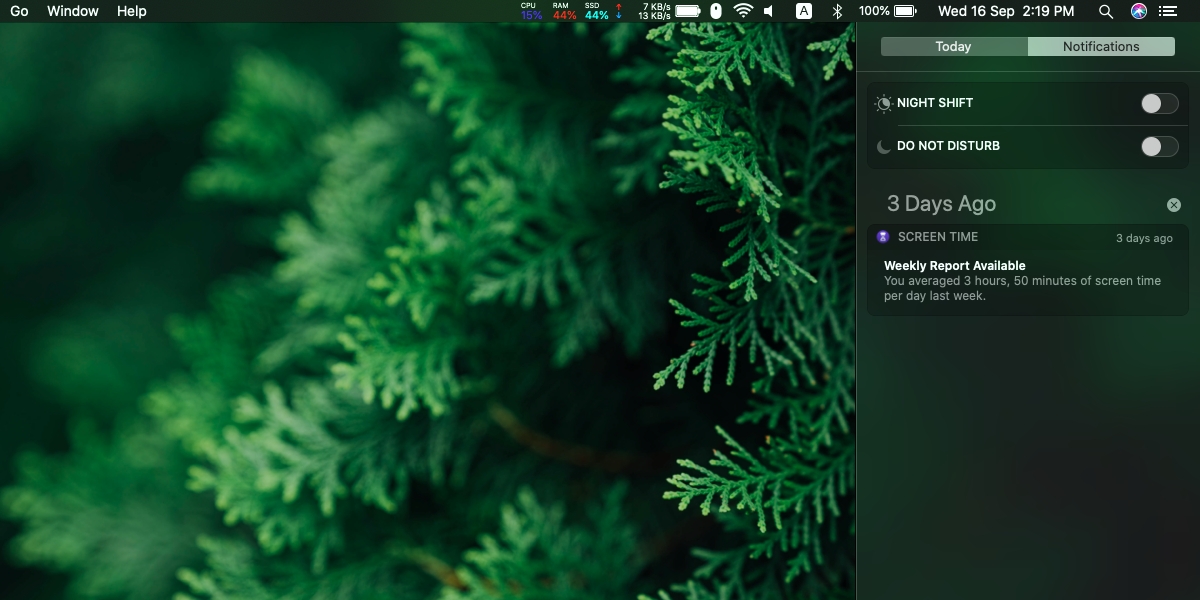 Conclusion
Do not disturb is best used manually if your presentations aren't always at the same time. If you have fixed time for presenting or for going into a video/audio meeting, you can use the scheduling feature. Scheduling Do Not Disturb is only possible on the OS-wide feature and not in Microsoft Teams.