Access All Downloaded Files From A Separate Tab In Firefox 20
I'm a long time Chrome user but Firefox 20 has almost won me over with its new Downloads button and Private Tab – a little add-on that allows me to open private browsing tabs within a normal browser window in Firefox. Not only does Firefox 20 make me realize how much more useful many Firefox add-ons are compared to Chrome extensions, it also solves a problem I've had for quite a while. My Downloads folder is always cluttered because it takes two clicks to open a downloaded file in Chrome in the Downloads folder, and I have little motivation to move that file somewhere I can find it again, or delete it if it isn't going to be used later. The new Download button in Firefox 20 tackles this problem excellently. I can access downloads and drag & drop them to any folder from a little button and its popup at the top. Not everyone is happy with the new Downloads button in Firefox 20 because it moves the location where you can access all downloads from. Downloads Tab is an add-on that consolidates both the old and new downloads view into something that more people would be happy with, and returns the downloads to a tab in a Firefox window.
Appearance wise, the add-on adds a button similar to the default one, except it's white. You will have to drag this button on to the tabs bar from the Customize menu.

Downloads Tab offers one-click access to your Downloads; clicking the button opens Downloads in a new tab that you can drag & drop files from. The question is, why use this add-on when you can just disable the new Downloads viewer altogether?
With Downloads Tab, the new Downloads button will continue to function, which means you can still view download progress from it, either on the button itself or by opening the popup. Whenever you need to view all downloads, you have the Downloads Tab button to open them for you in a new tab. The tab allows you to drag & drop files to any location, and is in no way a part of the default library view where downloads now appear.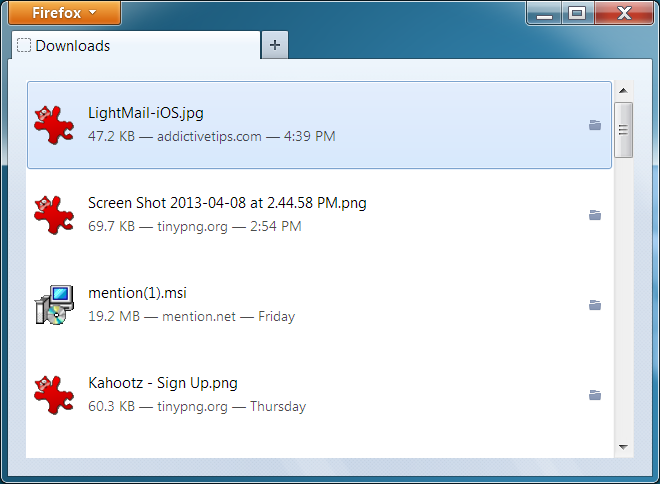 Where the downloads button is an excellent change to Firefox's UI, moving the downloads to the same window as the bookmarks library isn't an improvement for most people. That's why Downloads Tab has got to be useful for anyone interested in using the default Downloads button to monitor download progress, while still having one-click access to all downloads in the same tab.
Download Downloads Tab For Firefox