Access, Manage & Share Cloud & Social Media Content With CloudKafe
A decade ago, no one probably thought that cloud computing and social network applications would dominate our lives in such a short span of time. Though with so many such services and products at your disposal from the likes of Dropbox, Google, Facebook, Microsoft and many more, it can become quite difficult to keep a track of all of them in their separate apps. Thankfully, we've seen several apps for many platforms that let you manage them all from one interface, and CloudKafe is the latest to join that club. This web app allows to access, manage and share your content from many major cloud, social networking and image sharing sites and applications from a single window with ease.
The level of accessibility CloudKafe provides is simply impressive, masking it dead simple to manage cloud service, especially if you takes advantage of many of them. The web app supports a truckload of services already, with the list expected to grow soon. As of this writing, it supports Dropbox, Google Drive, SkyDrive, SugarSync, Box, Facebook, Instagram, Flickr, Evernote, YouTube, Vimeo and Yahoo accounts, in addition to some slightly less popular ones like CX.
To get started, head over to the CloudKafe website (link provided at the end of the post) and click the 'Sign Up for free' button.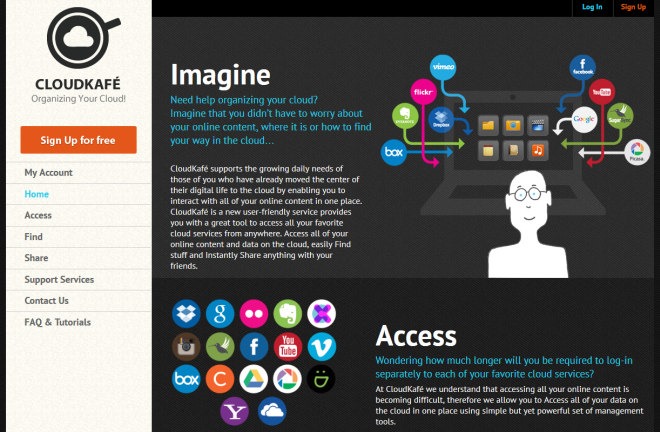 This in turn will take you to the sign up page. To make the sign up process even easier, CloudKafe allows to sign in to the service via Facebook. Though you can also create a new account by entering your name, email address and password.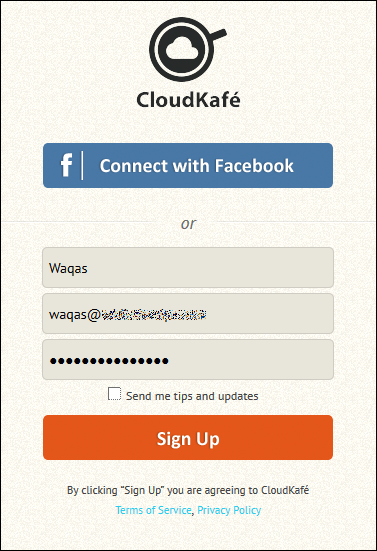 CloudKafe also requires email verification before you can start using the service, so make sure you check your mailbox for an email from CloudKafe and follow instructions provided in it to verify your email address.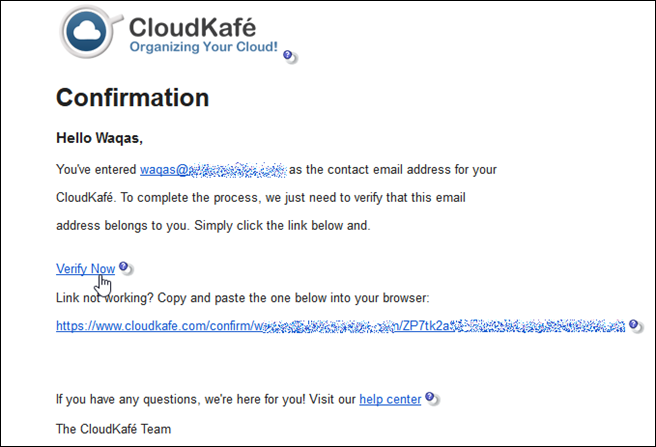 Not only does CloudKafe let you access all the supported services from a single interface, it also keeps them separately organized based on content type. This becomes apparent as soon as you activate your account; you'll see all these categories in form of circles in the interface. The current group of categories includes documents, pictures, videos, notes, and contacts for now, with music being in the pipeline.

Clicking a category circle pops up further sub-circles that let you add your relevant service(s), be it an image sharing site or a cloud storage provider. Application not yet tied to your account are presented with their circles greyed-out, though you can click the Add button to add your desired service to the bucket.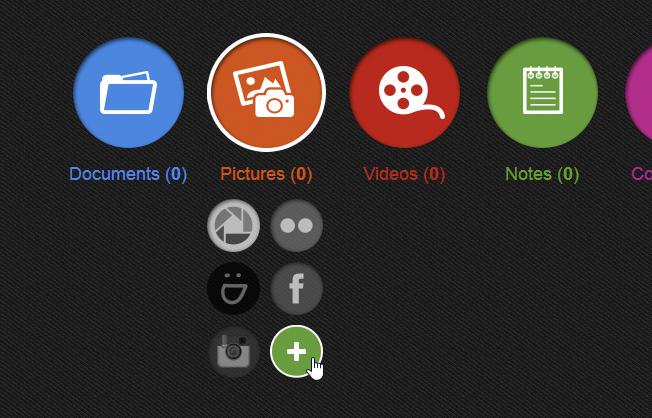 CloudKafe can also redirect you to the sign up page of the services that you don't currently have an account on, in case you want to take them for a try. If you want to use a service that you already have an account on, you can select the pertaining button and click Next to grant the app permissions to your account.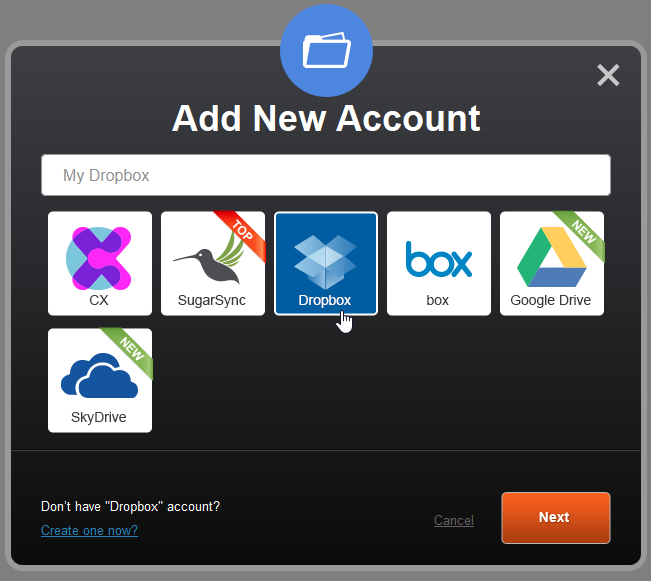 The linked applications automatically appear on your dashboard. You can navigate to other categories or add new services by clicking the miniscule circles at the top and following the sign in process mentioned earlier. I was fairly impressed with the slick dashboard UI of CloudKafe, along with its various features and options that work as a one-stop shop to control all your online content. You can download or upload files from Dropbox and other cloud services, manage your Google or Yahoo contacts, organize images on Facebook, Flickr or Picasa, and lots more. You can also search all your cloud content, and share files with your friends via email.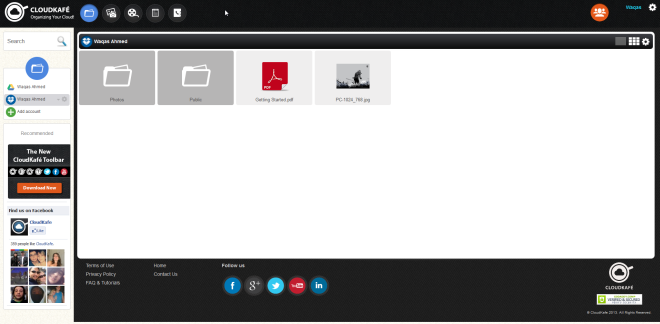 While not a unique service of its kind, CloudKafe does a marvelous job at bringing various web apps to one location, and is worth a shot for everyone who uses these services.