How To Add Multiple Twitter Accounts On Twitter Web
The Twitter app for iOS and Android supports multiple accounts. You can add as many as you have and easily switch between the two. Twitter web has no such feature. In fact, the web interface is lacking in many areas which is why people prefer to use third-party desktop apps for Twitter. Twitcher is a Chrome extension that fills in this particular gap and lets you add multiple Twitter accounts on Twitter Web.
Add Multiple Twitter Accounts
Install Twitcher and visit Twitter. Sign in to your account. Once you're signed in, click your profile picture at the top right. In the menu that opens, you will see an 'Add Account' option. Click it and you will be redirected to the Twitter sign in page. Enter the username and password for the second account you want to add.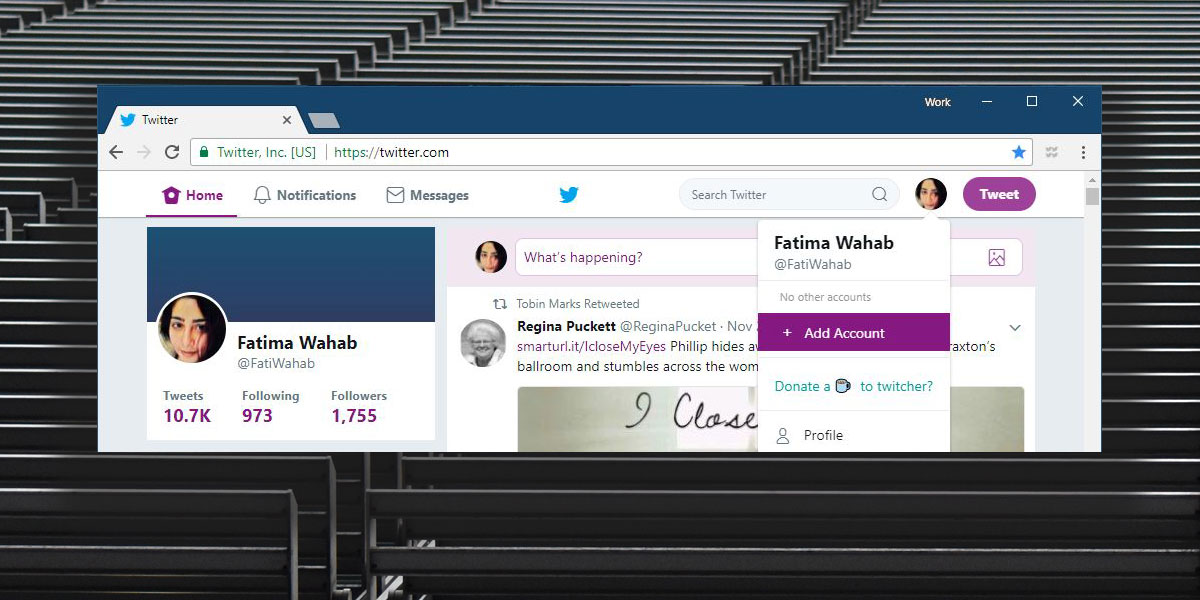 Once you sign in to the second account, you will be redirected to your Twitter home feed. The first account you signed into is the one you're redirected back to. To switch accounts, click your profile picture at the top right again. This time, the dropdown will list the second account you signed into. If you click on it, you will be switched to the second account.
You will get a seamless experience switching between the accounts. You can read your feeds, tweet, and reply to tweets. What you can't do is get notifications for both accounts at once. Twitcher only makes it easy to switch between accounts but it cannot manage notifications for multiple accounts. In order to see new tweets and new notifications for the second account, you're going to have to switch to it.
If you want to sign out of Twitter, use the log out option however, if you only want to log out of one account and not the other, simply drag & drop it out of the menu. When you sign out of your main Twitter account, you're signed out of both. When you sign in again with the extension enabled in Chrome, your second account will already be signed in. If you're not happy with this, as it may pose a security risk, you can go to Twitcher's options and disable accounts there.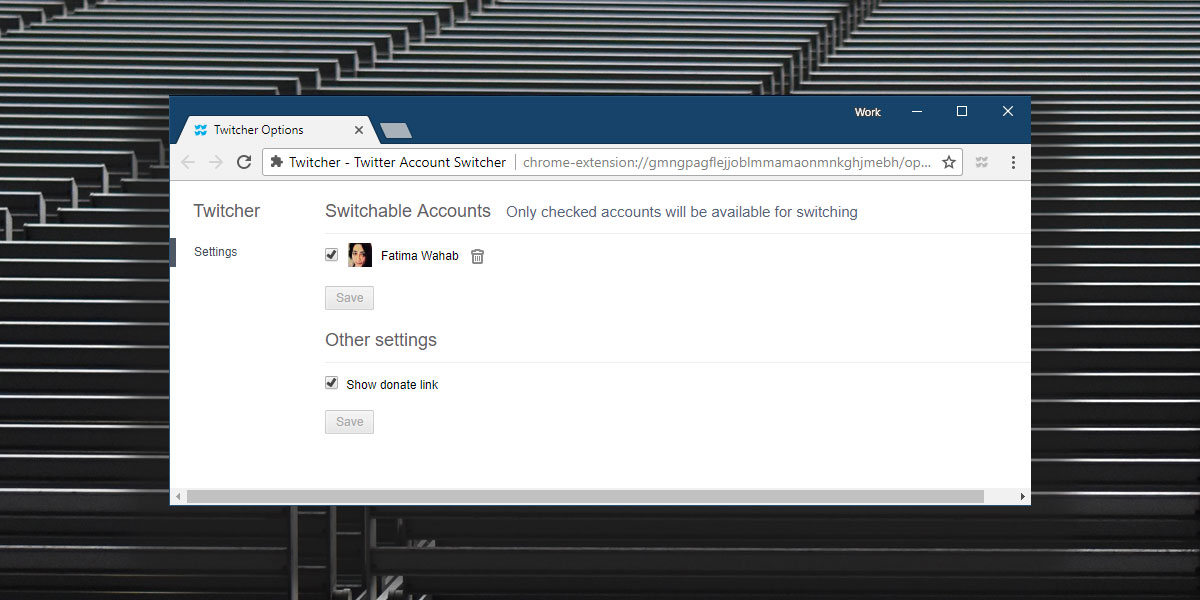 Twitcher is free but the developer does ask you make a donation to their coffee fund. If you don't want to see the donation option in the menu, you can disable that as well from the extension's options.