Disable The CSS On AskReddit To Get Around The Bot Username Prank
The mods of popular subreddit AskReddit are playing a rather amusing prank at the moment. Every single post and comment appears to have been posted by the same user 'bot'. It's likely a prank that's based on helpful yet often times confused Reddit bots that join a conversation thread. The prank is pretty harmless and if you go to any other subreddit or if you go to the front page, your username and that of other users will appear as it is. If you're having trouble following conversations as  result of this prank, the solution is pretty simple; disable the CSS on the subreddit. Here's how.
There are several ways to disable the CSS of a subreddit. You can modify the URL or you can use an extension. You can even go and tinker with the web console in your web browser. It all depends on what you're most comfortable with. We're going to detail each method here.
Extension/Add-on
This is possibly the easiest way to go about disabling the CSS of a subreddit. The extension/add-on to do the trick is called Reddit Enhancement Suite, RES, and it is one of the most popular Reddit extensions available. Install it and visit Reddit to access its options panel.
Expand the 'Appearance' section and select 'Stylesheet loader'. Turn the Stylesheet Loader off from the button at the top and reload the subreddit. RES is available for Chrome, Firefox, Safari, and Opera.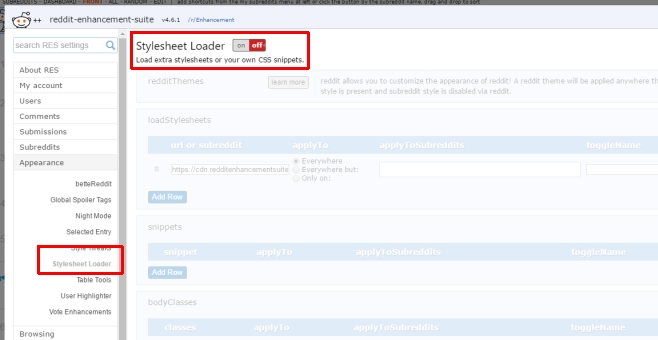 Install Reddit Enchancement Suite
Modify URL
You can modify the URL of a subreddit to strip it of its CSS. To do so, simply add '.compact' after the URL, any URL. The resulting UI isn't that great to look at but it gets the job done in our case.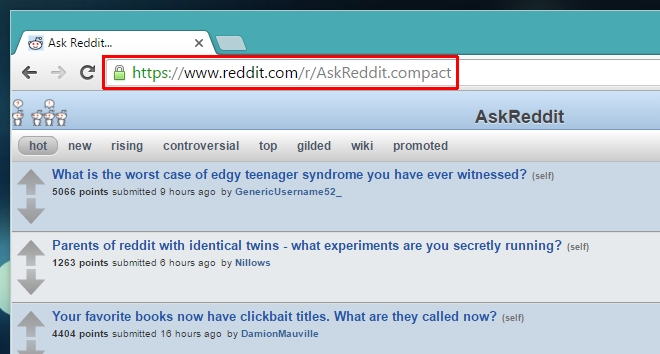 Disable CSS Via Web Browser Console
This solution is browser specific. Your browser must support disabling of CSS in the web console for it to work. As far as we know, Firefox allows this but Chrome doesn't.
To disable the CSS of a particular subreddit, or any other page for that matter, visit it and open the web console (Ctrl+Shift+K). Go to the 'Style Editor' tab and in the column on the left where all style sheets that have been applied to the current page will be listed. Simply click the eye button next to a style sheet to disable/hide it.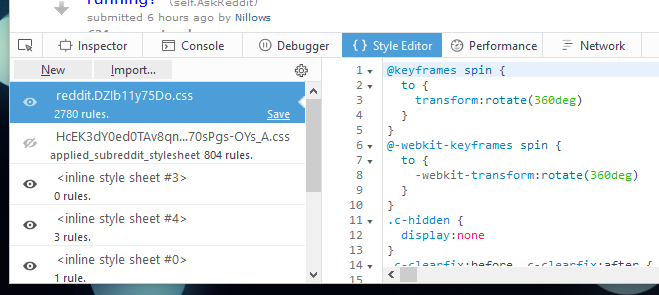 Disable CSS In Chrome Via Extension
There is an extension available in the Chrome web store that will let you disable all style sheets on the current page but the results aren't that great. It's called Web Developer and it has a dedicated section for disabling CSS. Install it and click the extension's icon. Go to the CSS tab where you will see a 'Disable All Styles' option.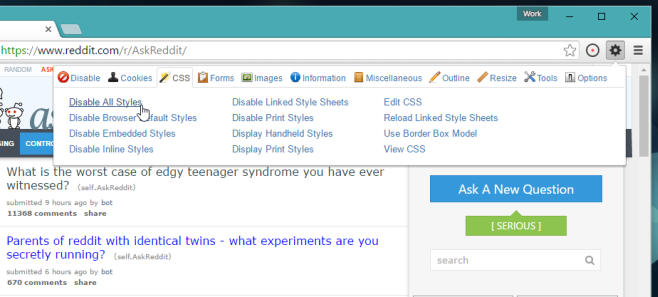 Install Web Developer From The Chrome Web Store