Discord Update Failed: Won't Install or Stuck on Connecting? (FIXED)
Discord can be used from a browser but it does have a dedicated desktop app for both Windows and macOS. For messengers, a desktop app is better than using them via the browser because you don't have to find the right tab or window to access the web version of the app. A desktop app is also more powerful and isn't limited by the capabilities of a browser, nor is it subject to its vulnerabilities.
Discord Update Won't Install?
The Discord app for Windows 10 is a standard desktop app. There is no UWP app which means that the Discord app can't be updated automatically via the Mircosoft Store app.
How to update Discord
The Discord app is one of the few desktop apps that can download and install updates itself. Much like Chrome and Firefox, it will download a new version of the app when it is available in the background. When you next run the app, you will see the splash screen telling you an update is being installed.
The update only takes a few minutes to install and you can start using it. Users will not see a prompt telling them that a new update is available and that they need to download it.
In most cases, the update will install without any trouble but there will be exceptions. Sometimes the app gets stuck in an update loop.
Discord Update Failed Loop (FIX)
If Discord is stuck in an update loop, you can try the following fixes.
1. Run Discord with admin rights
An update might be stuck because an app is unable to make changes to files that need to be updated.
Open the Start menu and go to the Apps' list.
Look for Discord in the Apps' list.
Right-click it, and select More>Run as administrator.
The app will run and update on launch.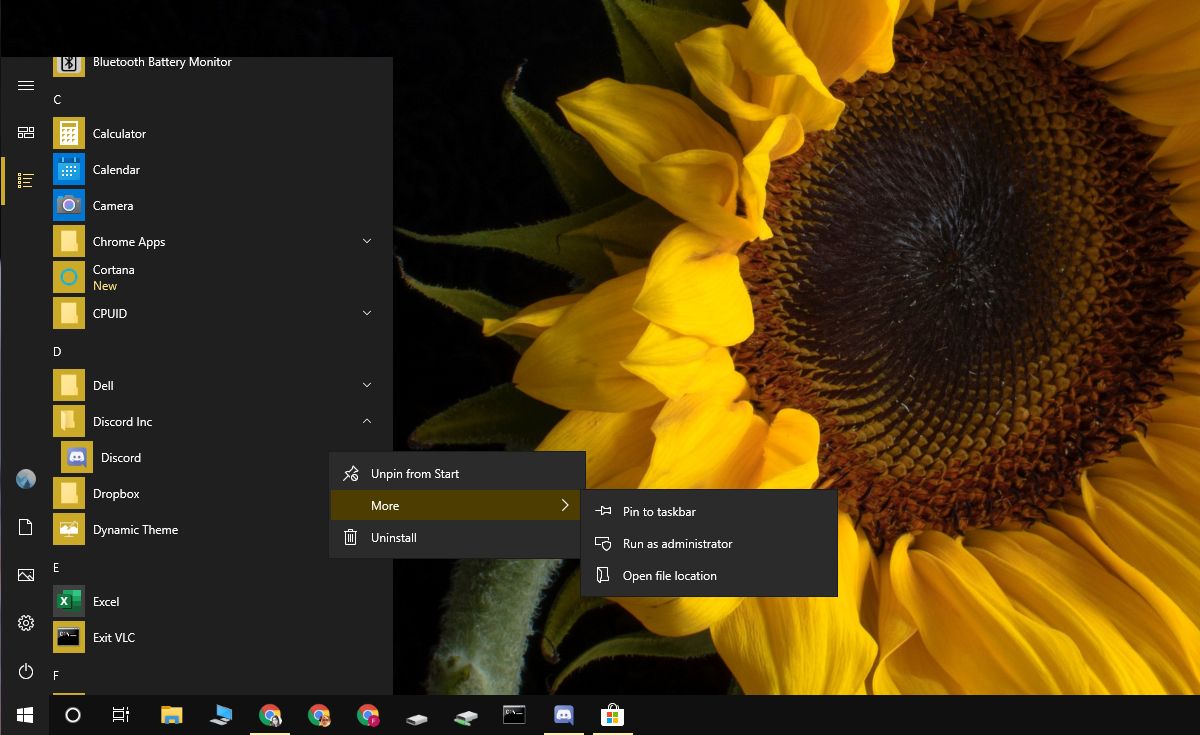 2. Clean install Discord
The update problem might be with the app itself that's trying to download and install. The only way to fix it is to clean install Discord.
Open the Control Panel.
Go to Programs>Uninstall a program.
Select Discord from the list of installed app, and click the Uninstall button.
Once the app has been uninstalled, download it from the official Discord website.
Run the executable file. It will install the latest version of Discord.
3. Disable Windows Defender/anti-virus
Discord is a trusted app but an overzealous anti-virus may block it from updating. It may think an app is malicious simply because it's trying to make changes to files that belong to an installed app.
Open the Settings app.
Go to Update and Security.
Go to the Windows Security tab and click Open Windows Security.
On the Windows Security window, go to Virus and threat protection.
Click Manage Settings under Virus and threat protection settings.
Turn Real-time protection off.
Open Discord with Admin rights and the update will install.
Discord
Discord is generally a stable app and you won't run into too much trouble with it, especially if you're using it on Windows 10.
There may be occasional problems with the update but nothing that cannot be fixed with a clean install of the app.