How to enable alerts for a sender in Gmail
Gmail does not send notifications for all emails that you get. If you've enabled tabbed inboxes in Gmail, you only get alerts for a message that arrives in the Primary inbox. This is normally really useful because it means you won't get emails for social interactions i.e., every time someone mentions you on Twitter or likes a post on Facebook. You can generally turn off alerts for these inboxes. If you happen to have an email that keeps getting sorted to a different tab, you have two options. You can enable notifications for that tab and thus invite lots of useless alerts or, you can enable alerts for a sender by using a filter. We recommend the second option.
Enable alerts for Primary inbox
Before you start, make sure you have email alerts enabled for the Primary inbox. On your desktop, visit Gmail in your browser. Click the cogwheel button under your profile photo, and select Settings. On the Settings page, select the General tab and make sure you've enabled alerts for the Primary or default inbox.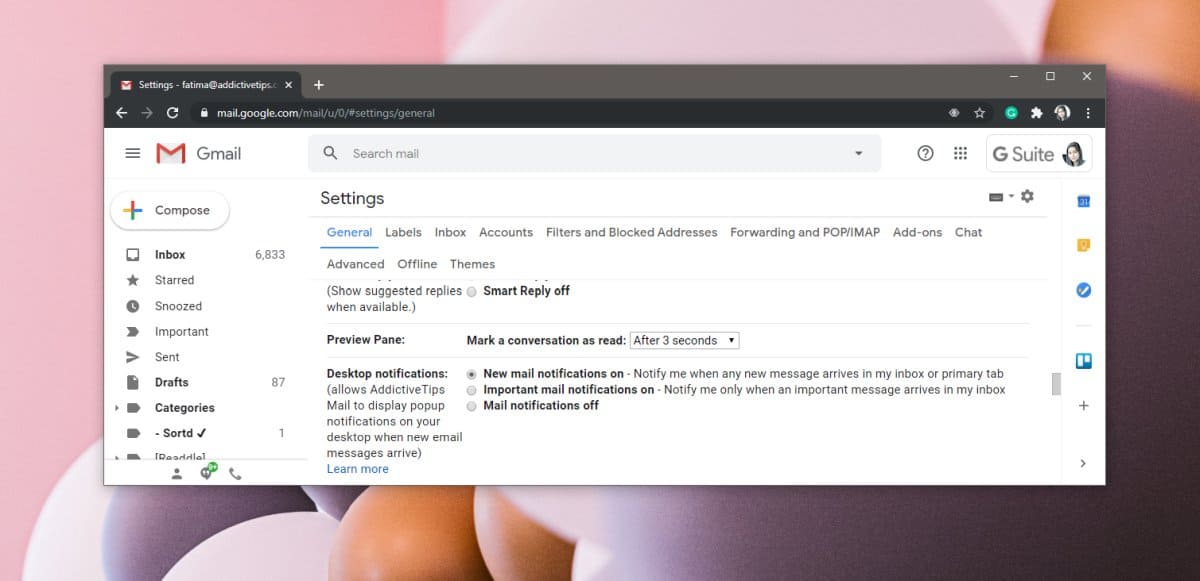 On your smartphone, open the Gmail app and go to your account settings. You can do this by tapping the hamburger icon at the top. Scroll to the bottom of the navigation drawer. Select your account, and under General settings, tap Notifications. Make sure you've allowed notifications for emails that arrive in the Primary inbox.
Now that the alerts are set up, it's time to create a filter for the sender. Open a message that you have received from the sender. Click the more options button and select 'Filter messages like this'. Do not change anything in the dropdown that opens. It will add the sender's email as the filtering criteria which is all you need. Click the 'Create Filter' button.
On the dropdown that opens, enable the 'Categorize as: Primary' option. If 'Primary' is not set in the dropdown, open it and select Primary. Click Create Filter.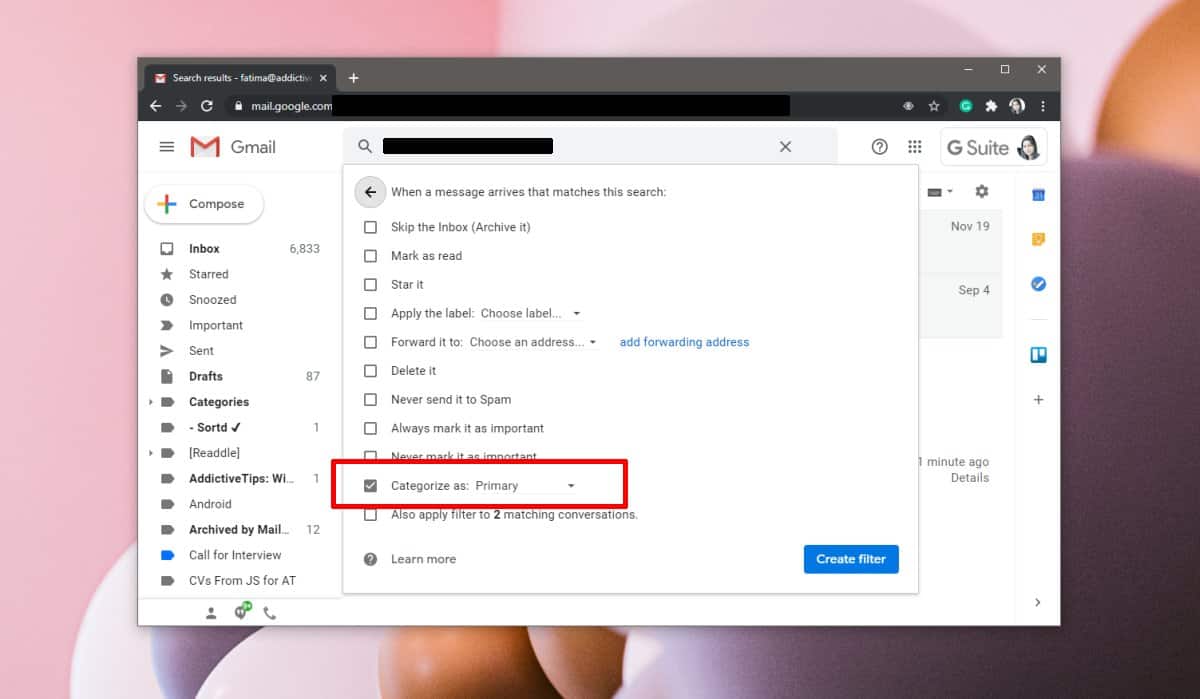 From this point forward, all emails from that sender will be sent to the Primary inbox and since we've already enabled alerts for emails that arrive in the Primary inbox, the alerts will automatically be sent.
In theory, you can also train Gmail to just sort an email to the Primary inbox. To do this, you will have to open several different emails received from the sender and mark them as important. This should do the trick but since Gmail will apply an algorithm that looks at things other than the email, you may still end up missing alerts for certain messages. If that's a risk you cannot take, we recommend using filters that are fail-safe.