Force Netflix To Stream In HD By Selecting A Higher Video Bitrate
The basic Netflix plan doesn't support HD streaming but the HD and Ultra HD plans, as their names signify do. Streaming in HD doesn't just require you're subscribed to the right plan but also that you have the bandwidth to receive an HD video stream. Assuming you have both the right plan and bandwidth to support it, you might still end up with a low resolution video. Netflix might start streaming in SD and then switch to HD but if it is stuck in SD despite the conditions for it to stream in better quality, here's how you can force it to steam in higher quality.
Open Netflix and start watching. Even if it starts streaming in low quality, give it a few minutes. If it doesn't start streaming in HD, you're free to take matters into your own hands. With the stream still open, hit Ctrl+Alt+Shift+S.
A pop-up will appear with information on the video bitrate available for the stream. Select a higher bitrate, such as 450, and click 'Override'. Give it a few seconds. The video might start buffering again and if it does, wait it out. Once it starts playing again, the stream will be in HD.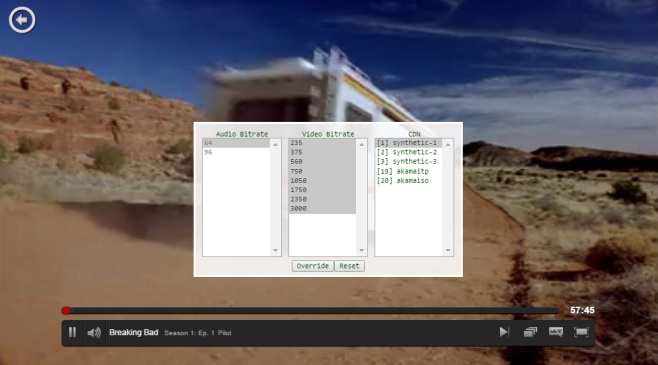 A few things you should make sure you've already done before you try this. Make sure you've set the playback quality under Account Settings to high. Make sure you're on the right plan because this in no way helps you get HD for a cheaper price. Make sure your bandwidth isn't being throttled or consumed elsewhere.