Google Play Music All Access: What It's About & How It Works
Google finally unveiled its much anticipated music subscription service yesterday; while the service was still just a rumor, the general opinion about it was that it would give services like Spotify and Rdio a run for their money. The service is called Google Play Music All Access and as the name suggests, it has been built as a subscription-access component of the existing Google Play Music service, which has itself been revamped interface-wise as well. It's currently available in the US only, and comes with a one month free trial, after which it'll cost $7.99 per month to those who sign up by June 30, and $9.99 per month after that. Subscribers will be able to listen to the thousands of songs available on Google Play without having to purchase individual tracks.

You can sign up for All Access here. You will be able to start listening to the songs you've recently played from the 'Listen Now' tab in the left side bar, go to your Library, create a radio station or discover new artists based on the ones you like.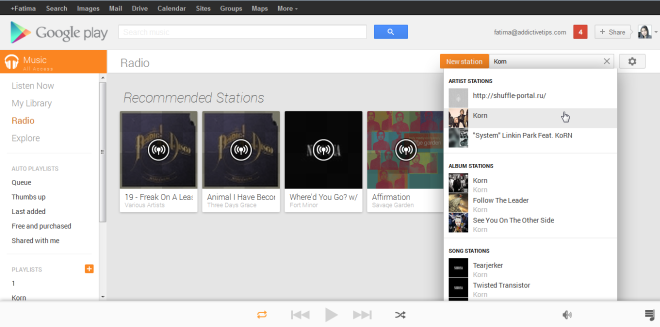 The service keeps tracks of your favorite music and creates a 'Thumbs up' playlist containing all songs that you've liked. The Radio and Explore sections are the main features of All Access, letting you discover and play music based on what you like. When listening to tracks from a radio station, you can remove them selectively from the queue, and add them to one of your playlists or your library. You can also curate a new endless radio station from any of the songs in the queue, which will be automatically and intelligently compiled by the service based on that song.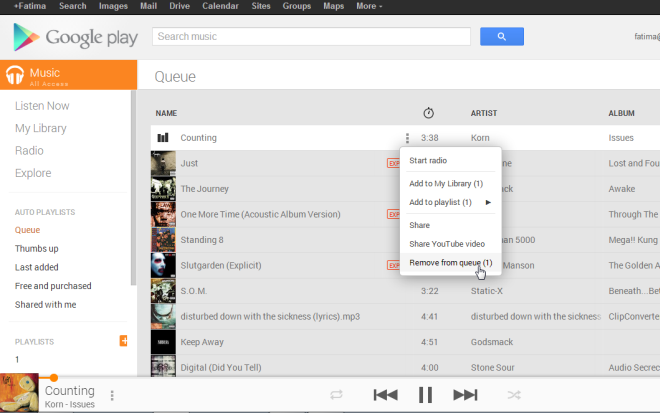 The mobile apps of Google Play Music have also been updated to add the new features, in addition to revamping the old ones. In addition to having a much more organized interface using the Holo Light theme, the Android app lets you access the Radio and Explore section just like the web version, and you can tap on the menu button while any song is playing to curate an unlimited radio stream based on it. You can also explore radio stations suggested by the service. If you don't like a song in the list, you can simply swipe it away on either side to dismiss it. You can also start playing any of the songs instantly, or even curate a radio station based on them any time you want.
Google Music All Access differs from other similar streaming services in that it has no free plan for streaming music that you haven't yourself uploaded or purchased, which is the least Google's audience expects. When compared to services like Spotify, Grooveshark, or Pandora, it is possible that the absence of such a free plan might end up keeping many users to stick to the basic Play Music without the subscription. The aforementioned and other similar music services do impose some form of restrictions or limits on users with a free account, but most of them still consider having a free offering important enough. Perhaps this might not effect Google since it's a huge company that can wait a few years before churning out a profit, and because Play Music itself remains free for streaming the music you upload or purchase, and accessing it from anywhere. In the meantime, any bugs in the service can be ironed out, and better features can be added. If you've tried the service out, let us know what you think of it and if it's tempting enough to earn your patronage.