How To Buffer Full YouTube Videos Before Playing
Unless you have always been using YouTube on a high-speed T2 or T3 broadband internet connection, you surely must have noticed how the YouTube streaming experience has deteriorated over the years. A few years ago when I had a terrible 256K 'Broadband' connection, I had to leave a YouTube tab open for about half the total viewing time of the video before I could start playing it smoothly till the end. Now when I have a better connection speeds, YouTube decides to switch to 'Dynamic Adaptive Streaming over HTTP' (DASH); it is purportedly better for faster connections, but on relatively slower ones like mine, it seems like a step backwards! Recently, we came across a browser extension called YouTube Center that lets you mitigate at least one of the issues I have – and I know you have, too – with the world's most popular video streaming website.
Once you install YouTube Options, you will see a settings option right next to the 'Sign In' button on YouTube. Clicking on that reveals, well, options for YouTube video playback, layout, and more. For the purposes of this post, we are only interested in Playback, so switch over to that tab for a second and disable 'Dash Playback'.
Now, when you start streaming a YouTube video, it will continue buffering all the way even if you pause the video at the start. We tested YouTube Options on Mozilla Firefox, and were successfully able to completely buffer a 1:25 minute long 720p stream of a Grand Theft Auto V trailer. Without YouTube Options, it wouldn't go past the first 30 seconds for me unless I played the video as it buffered the rest.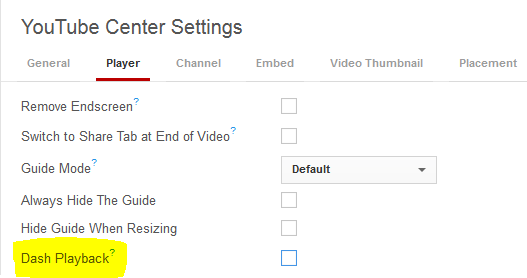 All in all, YouTube Options is the easiest way to get back the video streaming experience of years past. I'm not going back to DASH until I get Google Fiber!
YouTube Center is available as an extension for all major browsers including Chrome, Opera, Firefox, Safari, Internet Explorer, and Maxthon. Since it hasn't been released on the Chrome Web Store yet, you will need to enable developer mode from Tools > Extensions, download the CRX file from the official GitHub page linked below, and drop it on the Extensions page for installation.
Be sure to let us know what you think of YouTube Options, and video streaming with or without DASH by leaving a comment in the comments section below.