How To Check When And Where Your Netflix Account Was Last Used
A single Netflix account can be shared by two or more people depending on the type of account you have. The smallest subscription plan available restricts you to SD quality and viewing on one screen at a time. Other plans allow you to watch on up to 4 screens. It makes sharing a single account much easier. If you suspect your Netflix account is being shared between one too many people, people you haven't shared it with, there's a pretty simple way to check. Netflix lets you review your last watched activity on a per-profile basis. Not only can you tell if your account is being used by someone else but also through which profile, at which time, and on what device.
Open Netflix in your browser and click the profile button in the top right. From the menu that opens, select the profile you want to view recent activity for. Open the drop-down menu again and select 'Your Account' from the menu.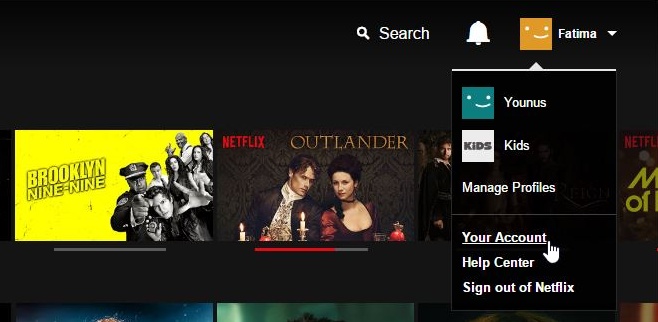 Scroll down to the My Profile section and click View Activity. The My Activity page is where you can get your first clue. It lists every single item that has been viewed by the current profile. If you find anything odd, a show that the actual owner of the profile is unlikely to be interested in, it's your first red flag.
The definitive proof lies in the recent account access log. Click the 'See recent account access' link at the very top of the My Activity page.

Here you can see the time and public IP of every single Netflix session for the current profile. You can also see what device, desktop or phone, the account was accessed through.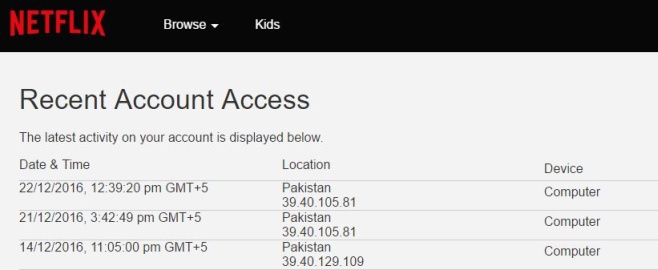 The log is a pretty easy way to tell if someone has access to your Netflix account, or if your kids have been watching it when they should really be asleep. It does also tell you if a friend you share the account with has been sharing it with other people.
The solution is to change your Netflix password and talk to your friends and family about keeping the account's credentials confidential.