How To Reset Auto Open Settings For Downloaded Files In Chrome
When Chrome downloads files, it will check if the file could be dangerous. Often, it will flag EXE and even ZIP files when you try to download them. You have to then give explicit permission to download the file. Likewise, for trusted file types that you download, you have the option to open them automatically. You can set Chrome to automatically open a PDF, PNG, or JPG file the second it finishes downloading. The file opens in an external app, i.e. the default app for that file type on your system. If you'd like to disable auto opening for a particular file type or for all file types, there's a fairly easy method to it. Here's what you need to do.
How To Reset The Auto Open Settings
Open the Settings page from the hamburger button at the top right. Scroll to the very bottom and expand Advanced Settings.
Scroll down to the Downloads section and click the 'Clear auto-opening settings' button. This will reset all auto-open preferences you've set.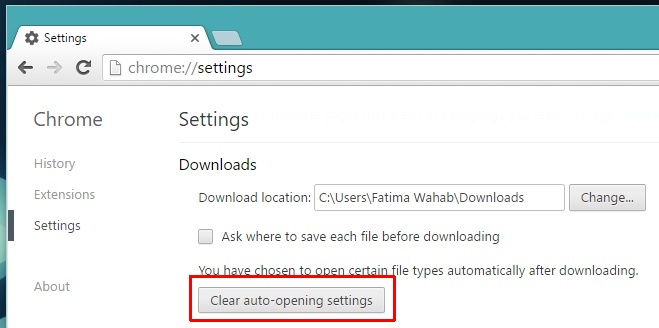 How To Enable Auto Open
If you're curios as to how you can automatically get files to open when they've downloaded, it's fairly simple. Download the type of file you want opening automatically. Click the little arrow button next to the completed download and select 'Always open files of this type'.

How To Disable Auto Open For A Single File Type
You might want to disable auto open for a particular file type, or for all file types. If you want to disable it for only one file type, download a file of the same type or just drag & drop one onto Chrome. When it appears in the download bar, click the little arrow next to it and uncheck the 'Always open files of this type' option.

That's all there is to it.